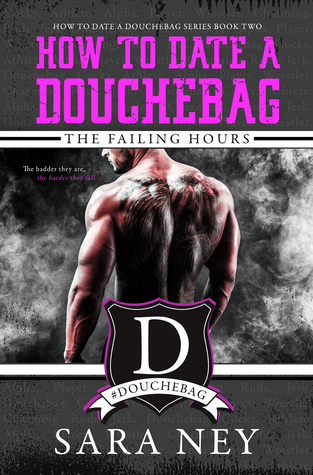 The Failing Hours

by Sara Ney
on January 31, 2017
Buy on Amazon, Buy on B&N, Buy on iTunes, Buy on Kobo
Goodreads


Zeke Daniels isn't just a douchebag; he's an asshole.

A total and complete jerk, Zeke keeps people at a distance. He has no interest in relationships—most assholes don't.
Dating? Being part of a couple? Nope. Not for him.
He's never given any thought to what he wants in a girlfriend, because he's never had any intention of having one.
Shit, he barely has a relationship with his family, and they're related; his own friends don't even like him.
So why does he keep thinking about Violet DeLuca?
Sweet, quiet Violet—his opposite in every sense of the word.
The light to his dark, even her damn name sounds like rays of sunshine and happiness and shit.

And that pisses him off, too.
"The bigger they are, the harder they fall."
I wasn't sure that Zeke could redeem himself in The Failing Hours but he proved me wrong and stole my heart. There is something about Sara Ney's douchebags that make my heart skip a beat and I am just completely in love with this series.
Readers met Zeke in book 1 and honestly he was such a jerk. In The Failing Hours, I literally cringed every time he opened his mouth because of his lack of manners. He was such an ass!
Violet DeLuca is the complete opposite of him – sugar and spice and everything nice. Her parents died when she was 4 but this didn't stop her from loving children and quite literally having a heart of gold.
Zeke and Violet's paths cross when she is assigned to tutor him. And then again when Zeke is assigned to be someone's big brother and he sees Violet playing on the playground with the girl she babysits. But what happens when you cross the confrontational douchebag with the sunshine sweetheart who stutters when she is nervous?
Well let me tell you that Zeke does the unexpected and begins doing things outside of his normal comfort zone. I loved the look inside of his bedroom and no not from the hooking up with girls standpoint, but the nerdy guy who loves history and model planes. Zeke has more in common with Violet than they both realize as he grew up with absentee parents who became successful and rich and forgot all about him. And when the reader finds out the best thing of all about him – how he gambles and bets (and no, it's not what you are thinking!) you will just fall in love with this unexpectedly wonderful, heart full of goodness guy.
And yes I am being vague…and yes you have to read the book to find out what I mean hehehe
Violet brings out the better side of Zeke…and yes readers, we have another douchebag to fall in love with <3
The How to Date a Douchebag series reminds me of New Adult when it first started – how it captured my heart and made me so completely happy. Readers who are looking for their next fun read should pick up this series ASAP and read it – this is one you don't want to miss!

The clock on the wall counts the seconds, steady as the rhythm of my beating heart, which thumps wildly within my chest until the glass door to the library opens, propelled by a gust of wind.
Some new fallen leaves flutter in, the heavy doors slamming from the draft.
Along with them? Zeke Daniels.
He shuffles in, dark gray sweatpants hanging low on his hips, black Iowa Wrestling hoodie pulled up over his head, the university's bright yellow mascot screen-printed across the chest. Backpack slung over one shoulder, black athletic flip-flops, and a pair of black sunglasses perched on the bridge of his strong nose complete the overall ensemble.
He is utterly…ridiculous.
Unapproachable.
Daunting.
His arrogance knows no bounds; I can see it in his loose gait, the exaggerated swagger, and the too-casual way he's dragging his flip-flops across the cold, marble tile floor. It's noisy, irritating, and completely uncalled for.
In the moment, my mind drifts to his personal life, and I theorize that he listens to heavy metal music to sooth his foul temperament, drinks his coffee black—as black as his soul—and his liquor straight up. I imagine once he's had sex with someone, they're never invited back. I go one step further and theorize that they're never invited to spend the night at his place, either.
Zeke Daniels makes his way to a table at the far end of the room, near the periodicals, one out of the way with plenty of privacy.
Sets his bag down in one of the four wooden chairs. Flicks on the small study lamp. Plugs his laptop cord into the base and stands.
Turns.
Our eyes would have met then were it not for those ludicrous sunglasses. I choose the exact moment he lifts his gaze to look down at the ground. Busy myself with shuffling papers on the counter. Count to ten instead of chanting, Please don't come over, please don't come over, please don't come over…
But luck isn't on my side because he most decidedly does.
Makes his way over like a predator at a pace so deliberate, I'm convinced he's doing it on purpose. As if he suspects I'm watching from under my long lashes, dreading his imminent arrival.
He basks in my discomfort.
The distance between us closes, his strides purposeful.
Twenty feet.
Fifteen.
Ten.
Eight.
Three.
His large hand reaches up, pushing down the hood of his sweatshirt, his fingertips pinching the earpiece of his sunglasses and pulling them off his face. My eyes follow the movements as he folds them closed, hanging them on the neckline of his hoodie.
His gaze lingers—those clear gray eyes famous around campus—and finds the shiny silver bellhop bell perched on the counter with the sign next to it that reads, Ring for help.
Ding.
The tip of his forefinger presses down on the small bell.
Ding.
He hits it again, despite me standing not three feet in front of him.
What an ass.
★¸¸.•*¨*•★ Read MORE in this Series ★¸¸.•*¨*•★ 
I LOVED book 1 The Studying Hours (you can read my review HERE)!