Day 7 of our Father's Day Week celebration in honor of the wonderful men we love and read about is an exclusive from Kelli Maine's Give & Take Series.
Enjoy!
---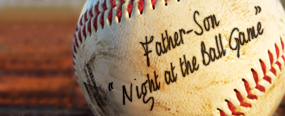 Given A Father

"Where are you going?" MJ asked Maddie, reaching to pull her back as she tried to slip out of bed. It was their weekend together, free of his classes and her job at Turtle Tear. The only thing he had in mind would take place right where they were—in their big bed at the Winston Plantation.
"I have to get to the mall. I have a ton to do before tomorrow." She indulged him in one more snuggle and a lingering kiss before prying his arms from around her and hopping out from under the covers.
"The mall? For what?" He sat up and rubbed his eyes. Maddie wasn't a mall person, so taking off from their weekend of solitude wasn't what he expected.
She stood at the foot of the bed smirking at him as she pulled her pajama shirt off over her head. "MJ. Seriously?"
How was he supposed to think with her tits staring him right in the face? "Seriously what?" He got to his knees, scrambled to the bottom of the bed and grabbed a handful of her breasts before she could get away.
Maddie laughed and gave in to him for a couple minutes, tussling his hair, but refusing to give in to his efforts. "Father's Day," she said.
He looked up at her, blankly. Father's Day. Right. "I had no idea."
She took his face between her hands and kissed him. "I know this is all new to you, but I figured you would've heard it on TV or something. There's been Father's Day ads out for a month now."
MJ pulled her down onto the bed, pinning her wrists as she tried to push her way free. "I've been a little bit busy," he said, "taking accelerated classes to keep up with my old woman."
"Hey!" she said, and bit his shoulder.
He laughed. "I really had no idea. Guess we should both go to the mall."
"You'd have to let me up so I can get dressed."
"Hmmm…that's a tough call." MJ narrowed his eyes in mock concentration before straddling her on the bed. "Screw Merrick. I want you naked."
"Good luck with that. I have things to do today, mister." They wrestled, but Maddie didn't play fair. She kicked and tickled him until she was able to buck her hips and unseat him. They lay on the bed laughing so hard, they had to gasp for air.
"You're the biggest cheater I know," he said, sneaking one more squeeze of her breast in before she sat up.
***
The mall was packed. It was Saturday, what did he expect? "What are you getting your dad?" he asked Maddie.
"Same thing I get him every year. A pair of tan cargo shorts to carry around all of his gardening tools in."
"You get him the same thing every year?" This was a strange concept. Why would anyone want the same gift every single year?
"Yeah," she said, swinging their joined hands between them as they walked, "it's a tradition. Don't you remember me giving him shorts every summer?"
It was the one thing he didn't remember about their summers together. Father's Day. The one day he hadn't been a part of. He shook his head.
"We go to breakfast, I give him his shorts. It's our thing."
MJ didn't have a thing with anyone. "We need some traditions," he told her.
She rose up on her toes and kissed his cheek. "We're going to have so many traditions, you won't remember them all."
Twenty minutes later, Maddie was done with her shopping. "What do you want to get Merrick?" she asked.
He had no idea. "He has everything."
She nodded. "He does have everything. Why don't we go to the sporting goods store?"
It was no sooner out of her mouth when it hit him. The perfect gift.

Father's Day
Maddie and Rachael sat on the front porch of the Westin Plantation House. Both of their eyes were trained on the baseball being thrown back and forth between Merrick and MJ as they played their first game of catch as father and son.
Maddie's heart was in her throat and had been the whole day. First they'd BBQ'd a late lunch, and then MJ had given Merrick a ball glove as a gift. She was fighting back tears watching them and remembering so many conversations with MJ over the years about wanting to toss a ball around with his dad.
It was happening.
She couldn't believe it was happening.
Next to her, Rachael sniffled. She glanced over and found Rachael blinking double time, holding back tears of her own. The two of them looked at each other and began to laugh, letting the tears roll freely down their cheeks.
"It's beautiful," Rachael said. "The two of them finding each other."
"I still can't believe it. I'm overwhelmed by it. He's so happy," Maddie said, watching MJ bring his arm back and wing a ball to the other side of the yard where Merrick plucked it out of the air with his mitt.
"Happy Father's Day," she whispered, wiping her tears away.
---
GIVEAWAY
Book 1 – Taken

Book 1.5 – No Take Backs

Book 2 – Taken By Storm

Book 2.5 – Take Me Back