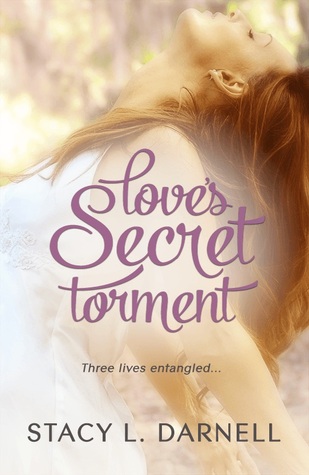 Love's Secret Torment

by Stacy L. Darnell
on March 17, 2015
Buy on Amazon
Goodreads

Three lives entangled…

Sam- Carefree, innocent, and in love. All is destroyed when life has other plans. Love isn't easy, especially when your heart is torn in two.

Alec- The weight of a life changing secret is suffocating. His love for her is his oxygen. Will his love be enough or will he be too late?

Emmett- Life gives and life takes away. Tormented by what and who he can't have. Will he fight or lose his soul?

When fate steps in, their lives are irrevocably changed.

Love's Secret Torment is the story of three people's search for answers as they deal with life's cruel turns. Does surviving their destiny and living with the aftermath come at too great a cost? Join them on their journey as they face the rocky steps of a fate-twisted adulthood.
He stood over me, and I swallowed hard as my gaze traveled from the waist of his shorts, up his naked chest, to his intense blue eyes.
"Are you nervous?" he asked as he took my hand in his.
"No…yes." I choked out a laugh. "I guess it comes and goes. One minute I think this is crazy, and the next I feel like it's normal."
He pulled me up to him, lowered his mouth to mine, and kissed me softly. "It's normal to think that." His teeth tugged at my ear. "But let's not think tonight…let's just feel." He ran his hands through my hair, capturing my mouth with his and kissing me breathless.
I kissed him back just as frantically, losing myself in the feel of him. I stiffened as his hands settled on the small of my back.
"Don't worry." He laid kisses on my neck and inhaled deeply. "You can trust me."
I sighed with relief as his mouth closed over mine again and he tugged at the bottom of my shirt. Lifting it over my head, he stepped back and looked at my black lacey bra. He smiled as he brushed his hand lightly over my skin, leaving a tingling trail across my flesh. Emmett was a force of nature. His presence commanded my attention, and my body answered of its own accord.
Emboldened by his touch, I ran my hands up his chest and over his shoulders, pulling him back to me, kissing him. He reached down and unbuttoned my shorts, never breaking eye contact with me. My body shook slightly as he lowered my zipper and pushed my shorts down to my ankles. I held onto his arms as I stepped out of them, and reached for the waistband of his shorts, tugging them off.
♥Books by Stacy♥
Love's Secret Torment
Amazon | B&N | Google Play | Kobo
Sweet Conundrum coming later this year