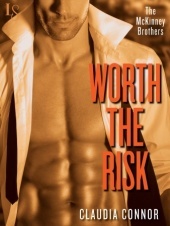 Worth the Risk

by Claudia Connor
on February 3, 2015
Pages: 272
Buy on Amazon
Goodreads

When a McKinney brother falls in love, powerful emotion and overwhelming desire are never far behind.

Two hearts locked away . . . Hannah Walker spends her days coaching children through injury and trauma, one therapeutic horseback ride at a time. She knows all too well how violence can change a child and leave scars that never heal. It's easy for her to relate to the kids; what isn't easy is the thought of facing her own harrowing past.

Millionaire playboy Stephen McKinney could use a little coaching himself. Five years ago he encountered his most horrible nightmare—and the nightmare won. No matter what he achieves, nothing can make up for that awful night . . . or so he believes.

Both desperate for a second chance . . . Stephen is used to getting what he wants. And he wants Hannah. So when she turns him down, he's intrigued. What he doesn't know is that her secrets will lead him to a place he never wanted to go again . . . to a side of himself he's tried to forget . . . a side that would scare Hannah away from ever loving him. Now his only chance to win her trust is to bare his soul, risking everything he tried so hard to protect.

Includes a special message from the editor, as well as an excerpt from another Loveswept title.
Enjoy a sneak peek into Worth the Risk releasing next week on Feb 3rd! And make sure to enter the giveaway below! Good luck!

It was eerily quiet; the only sound was the wind with no tall buildings to block it. A chunk of land divided by wooden fences lay to the right of the barn with another larger, open space rolling out behind it. Stephen walked toward the structure, dirt dusting the shine of his black dress shoes.He pulled at his tie and released the top button of his dress shirt.
Three yards short of entering the black opening, a body stepped out of the darkness. A large man about Stephen's height, filling out a button-down and khakis. His brown eyes studied Stephen like a human lie detector. Not the most welcoming for a children's riding facility. Of course, this might not be the right place. He held out his hand. "Stephen McKinney."
Without a word, the man returned his the firm grip.
"I'm looking for Hannah Walker."
Dark eyes narrowed suspiciously and he dropped his hand. "What about?"
Ahh. So he was in the right place. And he'd bet a cool million the grim-looking man in front of him was another brother. Stephen smiled. "That's between us."
"That's where you're wrong." The man shifted into a tighter stance.
Stephen tamped down his temper, always at a low boil. It wouldn't take much. He lived on the edge of wanting to hurt someone. Then he saw her.
"Nick. I can speak for myself." Hannah came toward him, tightly drawing together the sides of a long-sleeved button-up as she moved, closing herself off. Bit by bit she'd opened up to him over dinner, let her guard down. He hated that she looked braced for another slap.
"Can we talk?"
For a long minute her golden eyes held his, maybe searching for his true intentions. Maybe deciding if she even cared.
She raised her chin a fraction and he caught the challenge in her eyes. "You can talk while I work."
Okay. Not exactly a conversation, but she'd listen.
She turned on her heel and he followed, eyes on the tan fabric hugging her ass and thighs. Long and lean and sexy as hell in her knee-high riding boots. God, he loved this look on her. A cell phone buzzed and he heard her brother answer with a terse "Walker." But he wasn't much interested in what was going on behind him. Not when Hannah was in front.
Her hair was pulled back in a loose ponytail and a light sheen of sweat dampened her hairline. She moved without a word, stopping at a small room off to the left. A brown horse stretched his head over the stall door next to him and Stephen gave a pat while he waited. Hannah returned, arms full.
"Need some help?"
"No."
There was an air of confidence about her here he hadn't seen before and she seemed to have hardened since the other night, which was good. He'd rather her be hard than hurt.
She stopped beside a beast of a horse and talked softly to him as she untied his rope from an iron hook. She looked so small beside him. He opened his mouth to tell her to be careful.
"Watch yourself," she said, beating him to it, then wheeled the horse around to face an arch of light at the opposite end of the barn. She led the animal outside to a horse-size shower, and positioned him on the slab of concrete.
Stephen scanned the open fields, the trees beyond. Not really a farm, that he could see. Just a modest barn with a few horses. Without property lines, it was impossible to tell if this place butted up against the piece Dave wanted or if a strip of land lay between.
When she bent to turn on the water, he couldn't think about anything. He was . . . entranced. By the pull of soft cotton over her breasts, the way they swayed every time she moved. He pictured those breasts in his hands, imagined holding her tight ass and running his palms up her back and around to cup her, tug at her nipples. Shit. Her brothers were right to try to protect her from him.
She picked up a back hoof and cradled it between her thighs while she used a small metal tool to scrape out clumps of mud and grass. Competent and skilled, but he didn't like her so close to something that could hurt her. "Can't your brothers do that?"
"My brothers? Why? It's my job," she said without looking up. "Not theirs."
The animal shifted his weight again and Hannah worked, giving no sign she cared why he was there or that he was there at all. He had to remind himself he didn't want her to. "You ride him?"
"That's part of boarding; feeding, bathing, exercising. He's not so bad, are you, boy?" She reached to pat his head, but he jerked away. "A little moody."
And, as if to prove it, his thick, black tail lifted, and he let loose a foul blow of air so strong Stephen squinted against it. That was followed by heavy chunks of manure, each piece landing on top of the other with a plop.
"Sorry about that. Roma's not much on manners."
Stephen didn't miss her smirk or the affectionate pat she gave his neck. Definitely a different side of her here in this setting, on her ground. "That's some powerful shit. Is that where he got his name? Aroma?"
Hannah smiled, wide and beautiful, even if it was aimed at the horse and not at him.
"He tries, and, no. It's Aromashodu. His owner's a big football fan." She picked up the hose and the animal danced a nervous sidestep, his hindquarters quivering under the drops of water.
Time to get to it. He hadn't exactly planned this, but now that he was here, he couldn't let it go. "I wanted to apologize for the other night. I didn't mean to hurt your feelings."
"You didn't." She continued the bath, sluicing off the excess water with some kind of fancy plastic card.
"Everything okay?" Nick asked, standing in the yawning doorway of the barn.
"Yes," she answered, then looked right at Stephen. "We're finished."
And they were finished. He hadn't come here to change that, except . . . they were finished before they'd even started.
She led the horse back into the barn and he followed, waiting for her to close and secure the stall door. She took her time hanging the rope just so, then finally faced him. He hadn't kissed her, hadn't made her smile again the way he'd wanted to that first day.
So beautiful. He could picture in a castle tower like something out of a fairy tale. And in that same story he'd be the villain. The one who scared small children and dreamed of far worse.
"Stephen!"
They both turned at the sound of a female voice. Camila wobbled on spiky heels next to his car, fanning a bug from her face. "You said a minute. It's been almost twenty."
Had it been that long? Didn't seem like it.
"I have meetings and so do you."
Stephen turned from Camila back to Hannah, a million possible things to say flying through his mind and none of them right.
"Bye," she said softly.
Right. He nodded, repeated it, since it was really the only thing to say. And then he walked to his car, feeling like he'd just lost something really important.


Claudia is giving away a digital copy of this book! Enter for a chance to win by sharing the the link to this teaser post on your social media sites (FB, Twitter, Tsu, Instagram, etc). The more shares, the more chances to win! Leave a message at the bottom of this post with the links to your shares. ONE WINNER will be chosen on Sunday February 1st 10am EST. GOOD LUCK!
 ♥READ THE SERIES♥
Book 1 – Worth the Fall
Book 2 – Worth the Risk