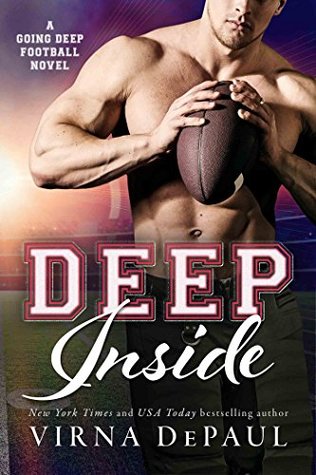 Deep Inside

by Virna DePaul
on January 23, 2018
Buy on Amazon, Buy on B&N, Buy on iTunes, Buy on Kobo
Goodreads

Ruby O'Brien, NFL publicist extraordinaire, lives her life by three simple rules:

#1 - Never date a client.
#2 - Never sleep with a client.
#3 - Never fall in love with a client.

The problem is, she never counted on Alec LeBrun.

Alec, the cocky and talented tight end of the Savannah Bootleggers, repeatedly asks Ruby for a date, and no one's more shocked than Ruby when she finally says yes. Less than twenty four hours later, however, he's engaged to someone else. Lesson learned. Two months later, Alec's single again, acting like a publicity nightmare and requiring up-close supervision. Now Ruby has to help Alec fix his bad boy reputation, even as she protects her heart.

Alec watched Ruby from afar for months, long before circumstances got him engaged to his lying ex. Now he's free to pursue the only woman he's ever truly wanted. Ruby's smart, gorgeous, and super-professional, and he wants her with a hunger he's never experienced before. Too bad Ruby thinks he's still pining for another woman. Now he has to prove her wrong. Jeopardizing their careers isn't part of the plan, but he also refuses to play by her rules—not when doing so means losing the woman he loves.

Can Alex convince Ruby that, sometimes, scoring in love means risking it all? And will Ruby accept that she's not second best, but the only woman Alec wants? For a lifetime.
Enjoy a sneak peek into Virna DePaul's DEEP INSIDE releasing on January 23rd! Make sure to enter the giveaway below – Good luck!!!

Who let in the sun?
Had she fallen asleep with the windows open? Funny, it almost seemed like she was asleep outdoors. With a groan, Ruby shifted and felt socks on her feet. Socks? She never wore socks to bed. Something hard and plastic dug into her upper shoulders. Sometimes she fell asleep with a book or tablet on her chest if she stayed up late working, but that wasn't it exactly. She shifted and tried to snooze through it.
Birds chirped.
Birds?
You know, you could just open your eyes and end this blind investigation. With a groping hand, she felt around to pat down the covers, only there weren't any. Instead, she touched something that made her eyes fly wide-open—the fluffiness of cheerleader's pom-poms.
How much had she drunk last night?
MY. GOD. That's right. She and Alec had gone out to eat after the game, then they'd done a couple of shots after running into Colleen, then they'd returned to the stadium to get her car, only they didn't get her car. Somehow, despite her best efforts to keep things professional, they'd ended up having sex.
On the field!
Ruby looked around. They were outside in a courtyard that had access to the football field on one side and a door to the Bootleggers' locker room on the other. She was lying on a pile of clean clothes knocked over from a laundry cart next to her. And lo and behold, Alec LeBrun was lying next to her. He was still holding the pom-pom, currently covering his manhood. Well, not quite fully covering it, since he was so well-endowed in the length and girth department. Her eyes traced an equally impressive set of abs up to a wide chest and then up to a familiar face and an even more familiar grin.
"Like what you see?" He flexed his chest.
Ruby screeched then threw the pom-pom at him. A myriad of emotions flew in her face. Excitement over finally hooking up with Alec, disbelief because now they'd crossed the professional line, mortification because she was naked though wearing shoulder pads and football socks.
"Wow. I barely remember putting this on last night. I didn't think we drank that much." She sat and slipped out of the shoulder pads, reaching for her dress and using it to cover her upper body.
"Not that much, but we were tipsy. And delirious. And exhausted from amazing sex."
"Wow." Ruby covered her blushed cheeks. She looked back over Alec, who was still staring at her, half like she was a piece of fine art in a Paris museum, and half like she was a frustratingly difficult math problem. "It's fine, Red. We had a great time. We really did."
"Please stop staring at me like that," she said shyly. It wasn't that she didn't like the attention. It was just that they shouldn't have done this—both the hooking up and the hooking up in the outdoors where anybody could've found them.
Alec looked at her with honest confusion. "Why? This is a dream come true for me right here."
"What do you mean a dream come true?" she scoffed.
"Look at you. Wouldn't you stare if you were me?" His eyes followed the lines of her exposed body. "I mean, Ruby fucking O'Brien is lying next to me right now naked, except for shoulder pads and knee-high socks. There's no way this is real life. It has to be a dream."
Ruby tried to stop the grin forming on her face. "Stop, Alec. You've had better, I'm sure." She reached for her purse and phone.
"What did you say?" He sat up and peered into her eyes. "You're kidding me, right?"
She began threading her arms through her dress. It was Monday morning and time to get home, shower, and get ready for work. She'd fucked up. She'd crossed the line and slept with Alec. Worst of all, it'd happened in a field, out in the open. "Stop. I'm not one of your cheerleader ex-girlfriends. What time is it, anyway?" She logged into her phone.
"Hey. Hey. Look at me. Remember yesterday when you told me to focus? Now, you focus." He covered her phone with his hand, then slowly began pulling away the dress, revealing her body. Hungry eyes roved over her. "You are gorgeous, Ruby. You're hardworking, passionate, and damn, girl…you're HOT." With one finger, he poked her and pretended to get burned.
A slow smile unfurled on her face.
"I'm serious. You, the way you climbed on top of me last night, touching yourself…oof."
Was this the acting Alec? The one who could get reporters to chuckle in the face of crisis? Or was he serious? Was he really that into her? Last night, he'd said he was. He'd said he'd always wanted to get with her, but then why run back into Colleen's arms? He'd yet to explain what happened.
"You know what I was afraid of?"
"What?"
"I was scared that when I woke up, you'd be gone."
She watched him.
Eyes were more than just windows to the soul—they were lie detectors, Ruby had always felt. And watching Alec's eyes as he said that, she knew he was telling the truth. His other hand covered her hip, as close as he could get to her skin without actually touching.
Ruby shivered. Just above her goose bumps, Alec slid his hand along her bare leg without actually touching her. She followed his eyes, as they followed his hand like it was leading him to water after days upon days in the desert.
"Scared that this body…" His voice was just above a whisper, as his hand traced back up her leg, across her stomach, and toward her breast. "Would be missing from my life. Scared that these eyes…" His hand scooped the shape of her face without touching it. "Would go home, leaving me to deal with the fact I'd fucked up yet again."
"I wouldn't do that," she said. "I wouldn't just disappear and leave you alone."
"You wouldn't. But other women would. The ones you mentioned would."
She couldn't believe he was giving her goose bumps without even touching her. Ruby felt herself arch into the elusive touch of Alec's palm, but he pulled his hand back just enough to make himself still out of reach. Without the ghost of his touch, her nipples hardened and Alec's fingers flexed just millimeters from one's peak.
"I'm scared"—his gaze moved to hers as he held his hand perfectly still—"that if I try to touch these lips, I won't feel smooth delicious silk. They'll disappear before my eyes."
No, I'm still here, Ruby thought. Somehow, as crazy as this all was, she was still with him. That familiar heat was growing between her legs, slick and warm. And her heart began racing, as her nipples yearned for his touch, or tongue, or teeth grazing them. Hell, anything of Alec's, on her tits would feel nice.
But her mind wouldn't let her relax. It had just been a double shot of whisky, but things got crazy after that, and… "Alec," Ruby began, "we had sex on the field, right?"
"We had great sex on the field," Alec corrected, leading his hand down her thighs and smoothly into the cleft between them. Slowly, he began moving the pads of his fingers in slow, achingly slow, circles over her clit.
Ruby lost her train of thought and melted into the muscles of his chest. Such a wide, strong chest. She imagined waking up to it every morning. How awesome would that be? But no. She had to think this through.
"Do you realize how risky that was?" she asked.
"I do. But I thrive on risky, Red. You know that."
"Yes, but I don't." A terrible thought entered her mind just then. What about when he starts acting up again, Ruby? You want to be with a man who only pulled himself together for one night, long enough to get with you? What if he goes back to the same shit as before? "Alec." She pushed his hand away gently. "As much as this is one of my favorite places in the world and I don't want to ruin it, we need to talk."
Alec stared at her. "Ruin?"
She sighed. "Look, last night was amazing, but it was a mistake."
"Wasn't a mistake to me, Red."
"You're wrong. It's bad enough we overstepped boundaries last night when we decided to throw caution to the wind and have drinks together. Fine. So we did what we did. But now, let's think this through. Okay?"
Last night had been a fluke. Their desire had gotten away from them. Their bodies had taken over, all rationalization left in the dust. Fine. But now she—they—had a choice. They could go back to being professional, get back on track.
The man who could've been carved from marble, that was how hard he was, softened, muscles relaxing, as a sigh escaped his lips. "Okay. Let's talk."
Ruby curled up, using the dress as a blanket. "Look, last night was fun. It really was. And I'm sure right now could be really fun, too. But we can't do this again."
"Why not?"
Ruby didn't know why not. In her heart, she felt a sad pang that she couldn't give him a clear answer, but the truth was, she hadn't known Alec for long in this intimate respect to figure out why. There was definitely fear inside of her. But fear of what, exactly, she didn't know.
Preorder DEEP INSIDE today!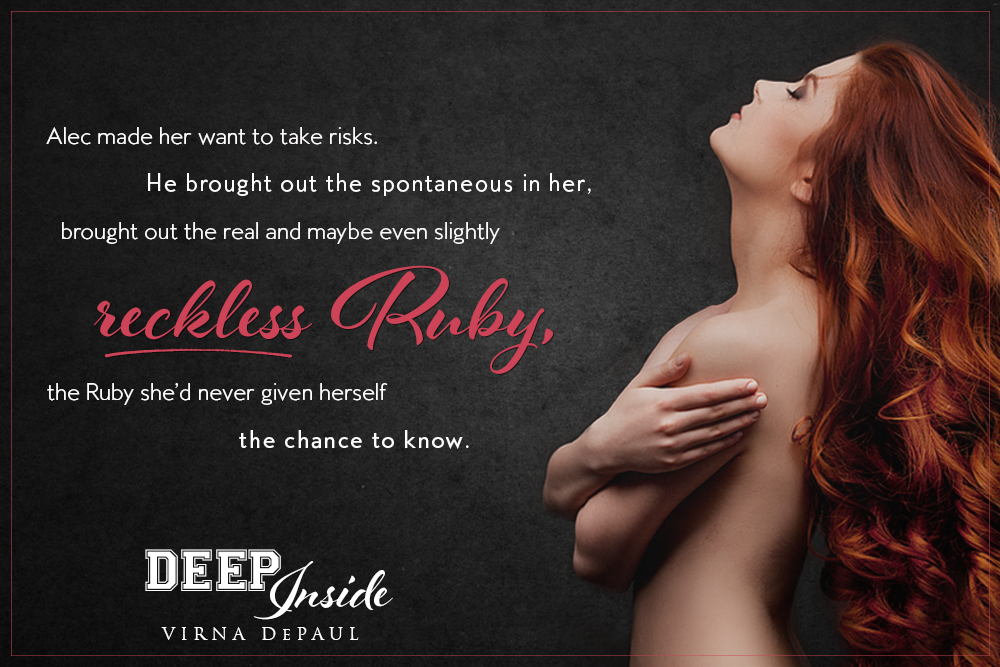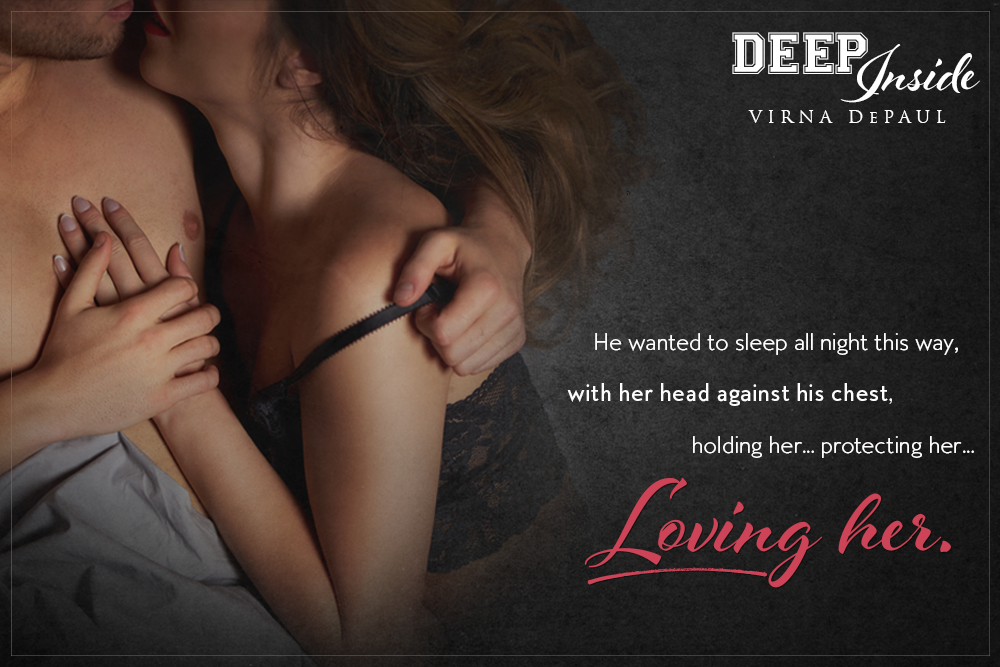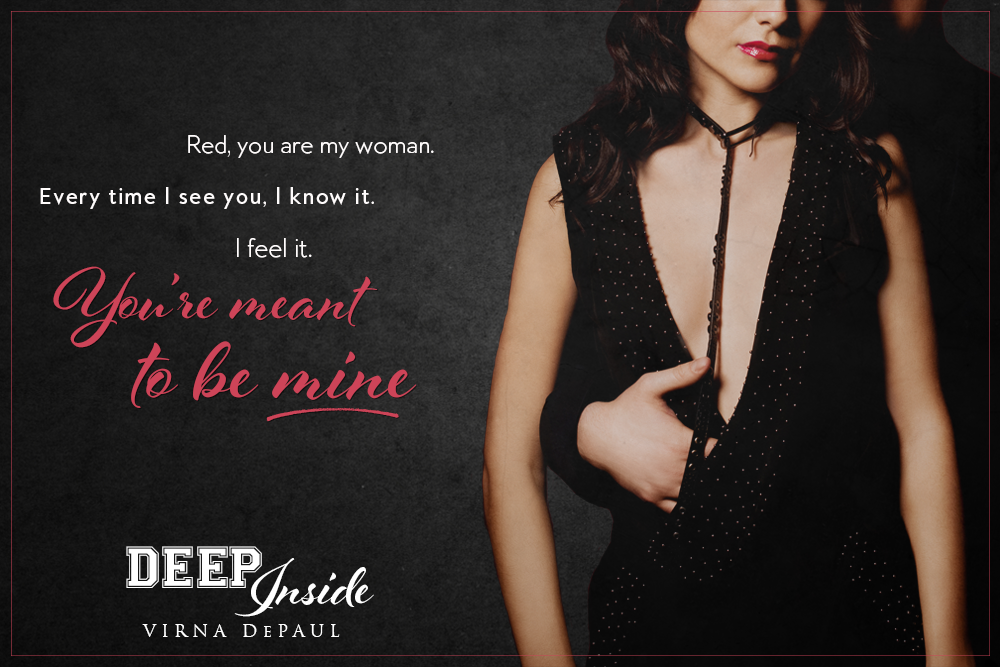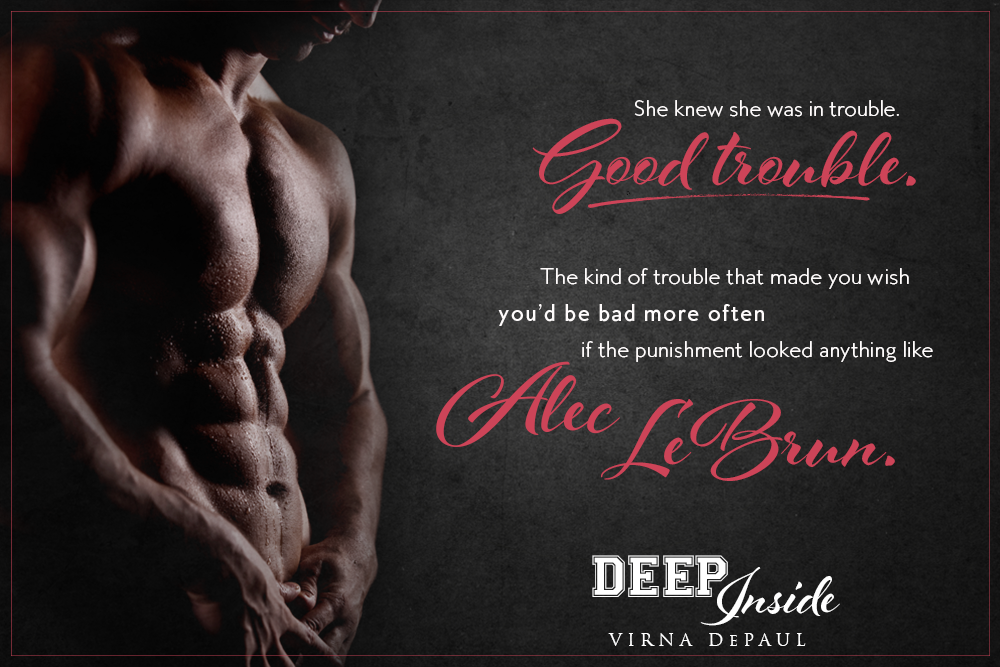 *Giveaway now over – congrats to Anna Bergman!*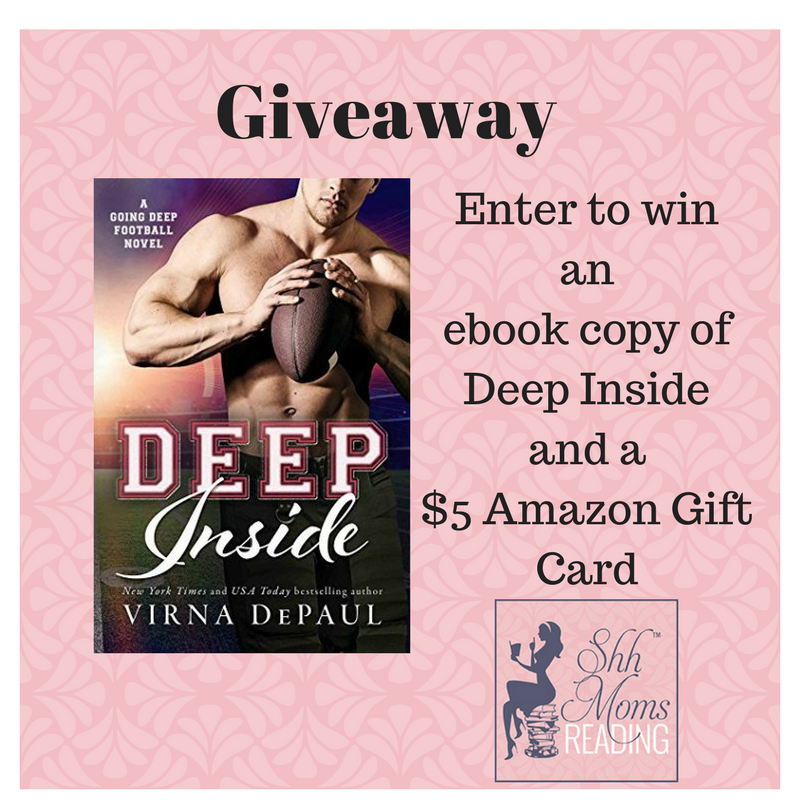 Enter to win an ebook copy of DEEP INSIDE and a $5 Amazon Gift Card!
All you have to do is share the excerpt and giveaway of DEEP INSIDE on your social media (Facebook, Twitter, Instagram). Sample message below:
I entered the Deep Inside #Giveaway @shhmomsreading @virnadepaul #SportsRomance #DeepInside #HEA #ComingJan23rd
Please make sure to post a link to your shares below (the more you do the more chances to win!). One winner will be chosen Friday, January 26th. Thank you for sharing!