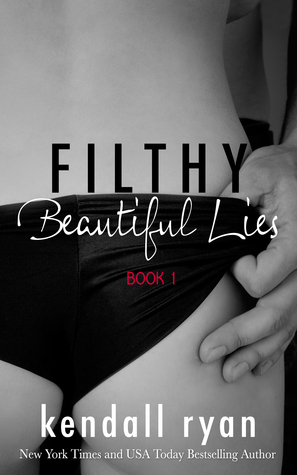 Filthy Beautiful Lies

by Kendall Ryan
on August 18, 2014
Pages: 300
Buy on Amazon, Buy on B&N
Goodreads

**Warning: this book contains an addictively filthy alpha male who will dampen your panties and own your days and nights. Proceed at your own risk.** 

Meet Colton Drake...

I have no idea why she auctioned off her virginity for a cool mill. Regardless, I'm now the proud new owner of a perfectly intact hymen. A lot of good that will do me. I have certain tastes, certain sexual proclivities. My cock is a bit more discriminatory than most. And training a virgin takes finesse and patience – both of which I lack.

Sophie Evans has been backed into a corner. With her sister's life hanging in the balance, the only choice is to claw her way out, even if that means selling her virginity to the highest bidder at an exclusive erotic club. When Colton Drake takes her home, she quickly learns nothing is as it seems with this beautifully troubled man. Being with him poses challenges she never expected, and pushes her to want things she never anticipated.

A sinfully seductive erotic romance where everything has a price and the cost of love is the highest of all from New York Times & USA Today bestselling author, Kendall Ryan
Prologue
Tonight I will be sold to the highest bidder. As I stand here in this quiet room, I try to find that little voice of reason telling me I'm doing the right thing. She's nowhere to be found. Traitorous whore.
I meet my dim blue gaze in the mirror and remind myself that I'm entering into this arrangement knowingly, and by choice. Not the choice I want to make, certainly not my life's ambition, but it's a choice I have to make in order to save someone I love.
In another hour I will belong to someone – a man with sick needs and fetishes that propel him to purchase his companion rather than date a normal girl. Heaven help me.