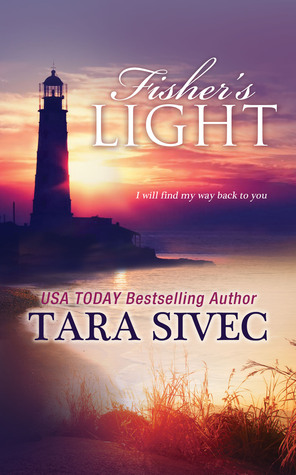 Fisher's Light

by Tara Sivec
on March 24, 2015
Buy on Amazon
Goodreads

Fisher,
I guess this is it, huh? After fourteen years together, starting a life of our own on this island, five deployments and countless letters I've written you through it all, I finally go out to the mailbox and see something I've always dreamed of: an envelope with your handwriting on it. For one moment, I actually thought you'd changed your mind, that all the awful things you said to me were just your way of coping after everything you'd been through. I was still here, Fisher. I was still here, holding my breath, waiting for you to come back even though you told me you never would. You always said you'd find your way back to me. Out of all the lies you've told me, this one hurts the most.

Enclosed you will find the signed divorce papers, as requested.
I hope you find what you're looking for. I'm sorry it wasn't me.
Lucy

To get the ending they want, Lucy and Fisher will have to go back to the beginning. Through the good and the bad, they'll be reminded of why they always made their way back to each other, and why this time, one way or another, it will be the last time.
Denise and I don't get the opportunity often to read and review the same books because we are always so busy but we read Fisher's Light by Tara Sivec together and LOVED IT! So much so that yesterday when we were in the city eating dinner and having drinks, we were reminiscing about some of the scenes that we enjoyed. To celebrate a great release week of Fisher's Light, we have an exclusive look into a scene from the book that really touched us (honestly there were SO many scenes we loved that it was so hard to even choose an excerpt to share!). AND not only that but we have a giveaway too – a signed copy of Fisher's Light and swag! Make sure to enter the giveaway below!!! Enjoy!
Oh and one more thing – you can read our 5 STAR review HERE. Thanks!

I reach behind my neck and grab her hands, pulling them between us. Without taking my eyes off of her, I remove her left mitten and toss it to the rocks at our feet, kissing the tips of each of her fingers as I speak.
"I love your laugh," I tell her, kissing the tip of her thumb.
"I love that you make me want to be a better man," I admit, kissing the tip of her pointer finger.
"I love that you support me even though what I do is hard on you," I tell her softly, kissing the tip of her middle finger.
"I love how strong and independent you are," I state, kissing the tip of her pinkie.
Reaching into my coat pocket, I have a moment of panic when I don't feel what's supposed to be in there. I finally find it shoved down into the corner and breathe a sigh of relief as I pull it out and slowly slide it onto her ring finger.
"I love the way you look at me. I love the way you love me. No matter what, I will always find my way back to you," I whisper, kissing the tip of her finger that now sports a diamond ring.
The lighthouse beacon circles back around at that moment and I see a tear roll down her cheek. The day we had it out and she convinced me that I was being an ass and that there was nothing she could do but wait for me to come home because I was taking her heart with me when I left, I told her to come out to this lighthouse whenever she was feeling sad. I told her that no matter where I was in the world, no matter what time of day, I would know she was here and I would see the beacon from the lighthouse in my mind, guiding me back home to her.
"I know we're young. Shit, I know you're young and I'm an old fucking man already at twenty-two, but I don't care," I tell her with a nervous laugh. "I'm already going to spend the rest of my life loving you. It would be a hell of a lot easier if you were there with me. Please, marry me. Marry me, Lucy Butler. We can travel the world, we can grow old together on this damn island, we can do anything you want. I don't care what we do or where we do it, as long as I'm with you."
I finally stop talking and rub my fingers over my bottom lip as I stare down at her, watching her examine the ring on her finger each time the light strobes across us. I don't want to picture the lighthouse in my mind whenever I close my eyes for the next year and a half. I want to picture this ring on her finger and know that she's mine, know that I have something worth fighting for, worth protecting my own ass for, worth coming home for.
"Yes," she finally whispers as a smile lights up her face. "Yes, I will marry you, Jefferson Fisher."
I let out the breath I was holding as Lucy presses her palms to my cheeks and stares into my eyes. "Keep your head up, stay safe, come home to me, and I will absolutely marry you. Just please, come home to me."
Her voice cracks as she tries not to cry. I pull her against my chest and hold onto her as tightly as I can, wishing I never had to let go, wishing I didn't have to get on the first ferry off the island in the morning and walk away from this woman who is my everything. I take these moments to enjoy the feel of her body against mine, the brush of her hair against my cheek and think for the thousandth time just how perfectly we fit together. I experience it all and I let it consume me, I let it warm my heart and fill my thoughts because after tomorrow, I will have to shut it all off. At oh-six-hundred hours when the ferry pushes away from the island and heads over to the mainland, I will have to close my mind to the smell of her skin and the sound of her voice. I will stop being a lover and become a Marine. I will get the job done and I won't let anything distract me. Distractions can get you killed and I will do everything I can to keep my promise to Lucy.
I will always find my way back to her.