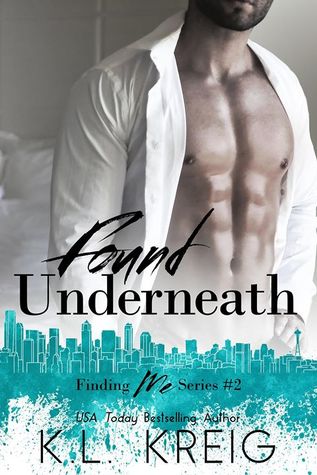 Found Underneath

on May 30, 2017
Pages: 375
Goodreads

It began as a ruse.

Take a girlfriend. Divert the press from the fucked up mess that's my family until my father is re-elected. Stage a public breakup. Move on.

Only that brilliant plan went straight south the moment I set eyes on Willow Blackwell.

I found her.

My center. My future. A soulmate with the will of a mule and the mouth of a harpy.

I now want things I never wanted before. Permanent kinds of things.

Only Fate—and her ex—have other plans for us.

In some sort of cosmic impossibility, our lives unknowingly intersected years before when tragedy befell both our families. Once the devastating truth is finally revealed, the future I'd found in her will come crashing down around us and for the first time in my life I'm completely helpless.

I may very well lose the only woman I've ever loved to a past neither of us saw coming.

*warning: 18+ only. Contains foul language, explicit sex and a hot alpha (or two, or three). NOTE: This is NOT a standalone. It's the conclusion to LOST IN BETWEEN, which MUST be read first.
Enjoy a sneak peek into FOUND UNDERNEATH by KL Kreig #ComingMay30th! This was my most anticipated book this year and I completely LOVED IT! I can't wait for you all to read it! Enter below for a chance to win a $10 Amazon Gift Card!!! Good luck!

"Coraboo," he coos, swinging her around until she giggles uncontrollably.
"She had a juice box in the car," Gemma warns, kissing me on the cheek as she passes by as if we're already sisters or something. I reach up, running two fingers over the spot. "You're on cleanup duty if it comes back up."
Shaw doesn't let that faze him at all. He's now holding her above his head, blowing raspberries on her belly, making her squeal and squirm. It's not until Cora makes this god-awful burping noise that Shaw stops and gently sets her on her feet.
"You okay, Boo?" he asks with concern, squatting down to her level. It's so darn cute, I can't help but picture him doing that with our children.
Willow, good God, get a grip…
She hiccups a few times before answering, "That was fun!"
"You're not going to ralph, are you?" Shaw's brows are now tugged inward.
"What's ralph?" she counters, all guileless and wide-eyed.
"It means you throw up your guts until they're all gone and they're lying on the floor in a big giant blob of nothing but rotten gut parts," her brother, Nicholas, chimes in, miming exactly what he means, noises and all.
Then chaos descends.
"Nicholas," Gemma chastises at the same time Cora screws up her face before crying, "Mommy, I don't want to throw up all my guts. I like my guts. I don't want rotten guts."
Behind me, a baby starts to wail and I turn to see Gemma's husband, whose name escapes me momentarily, try to calm the little boy in his arms, whose name I do remember: Eli. And I guess three years old isn't quite a baby anymore.
"Here, I'll take him if it's okay," I offer, holding my arms wide.
"You sure?" he asks, toggling back and forth between a now howling Cora, who's carrying on about her guts, a taunting bigger brother, who's only making it worse, and the crying little one in his arms.
"Yes, I'm sure. We'll be just fine, won't we, big guy?" I slip my hands around Eli's torso and press him against me, bouncing him as we head into the other room, away from the anarchy.
"Want to play?" I ask, trying to wipe away the tears that have wet his chubby face. Last time I was here, I noticed Adelle had a Little Tikes toy box in the corner of the main living area. We head over there and I gently sit us on the floor. I open the top, pulling out the first thing I see that may interest him. He stops crying immediately when he sees what I have.
"Squigz!" he exclaims, his voice still watery. He grabs the container from my hand and dumps out these multicolored silicone pieces that look like giant molecules with suction cups on each end.
"Wanna see how to do it?" He looks up at me with bright blue eyes, full of life and curiosity and an innocence you can't find anywhere else but in a child. I know he's only Shaw's nephew, but I see a lot of Shaw in him. My imagination starts running wild and free again wondering if Shaw's son would have the same dimple in his left cheek or the same mischief burning inside.
"I'd love to." I smile, trying to focus back on Eli and not this made-up family I keep returning to.
He starts sticking the pieces together, making a random pattern. He stops and hands me a piece. "Youw tuwn."
"That's very nice of you. Can I put it anywhere?"
He nods excitedly, and I attach a blue piece with four suction cups to an orange piece with only one. He picks up a yellow one and sticks it to my blue.
In the other room, it sounds as if Cora has calmed, but Nicholas is now in trouble, being marched upstairs. He's pouting, his bottom lip stuck out. He's trying hard not to cry. I watch him stomp out of sight, giggling to myself.
Eli hands me another piece right as a shadow in my periphery catches my attention. At some point, Shaw came in and sat in that wingback chair. He's casually leaning back, fingers laced and resting on his stomach, watching us. Me, actually. His eyes are nowhere but on me. And he looks the same way he did when he saw me sitting in his chair during our first meeting at his house.
As if he's in awe and struggling to understand why.
I feel as gooey now as I did then.
"Hi," I say. A tiny laugh tries, but fails, to contradict my nerves. "I—" I stop. Swallow hard. Maybe I overstepped my bounds? "I hope this is okay?" I motion to Eli, who is now ripping apart his masterpiece in order to start again.
He nods in slow motion. That's it. That's all I get.
I try giving my attention back to Eli, who is now chattering about a kid named Sid but I'm not following him at all. All I can feel is Shaw's gaze on me, over me, stitching its way through my heart until I start to panic a little at how damn good it feels to have 100 percent of this man's attention.
"You look good," his baritone voice practically sighs. The ordinary compliment drizzles down like a gentle rain shower, but instead of cooling me, my entire being goes hot with desire, whether that was his intention or not.
I slide my gaze to his, expecting it to be fiery and hungry. It's not. It's soft and warm and so damn sweet my stomach falls right out of me.
"You were born to be a mother, Willow." He stares right into my soul as he tells me this.
Shit. I am on fire. Lava crawls through my veins, burning me from the feet up. I've started breathing again, but it tastes of hot air and repressed wants.
He extends his hand toward me and without even thinking I hop up and walk over to him. I step between his legs and lace my fingers with his. He studies our joined hands for a long time, twisting and turning them to various angles. His thumb rubs the outside of mine hypnotically until I feel that single place he's touching me over every inch of my skin.
Everything fades away when he slowly walks his eyes up my body and latches them to mine. He says nothing. And it's okay. Nothing needs to be said. We just breathe, both our lives not so subtly shifting and whirling around us with each inhale and exhale. We stay like this until we hear a female voice call, "Five minutes till dinner," shattering the spell that had opened a place where only we existed.
Shaw never lets go of my hand as he stands, but once he's on his feet, he drops it to my side and takes my face in his stronghold. Uncaring that someone's waiting for us, he lowers his mouth to mine and gives me the sweetest kiss I've ever had in my life. It brims with reverent purpose and burgeoning love.
We break apart, laughing when Eli's little voice drones, "Oooooo, gwoss. Unca Saw and that giwl awe kissing." He runs out of the room, leaving us alone.
Shaw rests his forehead against mine, saying so low I have to strain to hear, "I'm having a hard time keeping up with how fast you're changing me, Goldilocks."
Be still my beating heart.
I feel as though the moments between us are becoming more honest and real by the second. I wrap my arms around his waist and close my burning eyes, emotions threatening to overwhelm me. "So am I, Drive By."
His lips come back to mine, moving just as leisurely and focused as before. With every firm press of them, I crave him more. With each twist of his tongue against mine I feel more lost, but also as if he's found me underneath all the masks I use to hide behind.
Between unhurried kisses, he murmurs my name over and over and I forget where we are. Then he simply rests his lips against mine for a moment before starting gruffly, "Willow, I—"
This book is to DIE FOR! Check out some graphic teasers that KL has shared with readers so far… FOUND UNDERNEATH is a book you don't want to miss!!!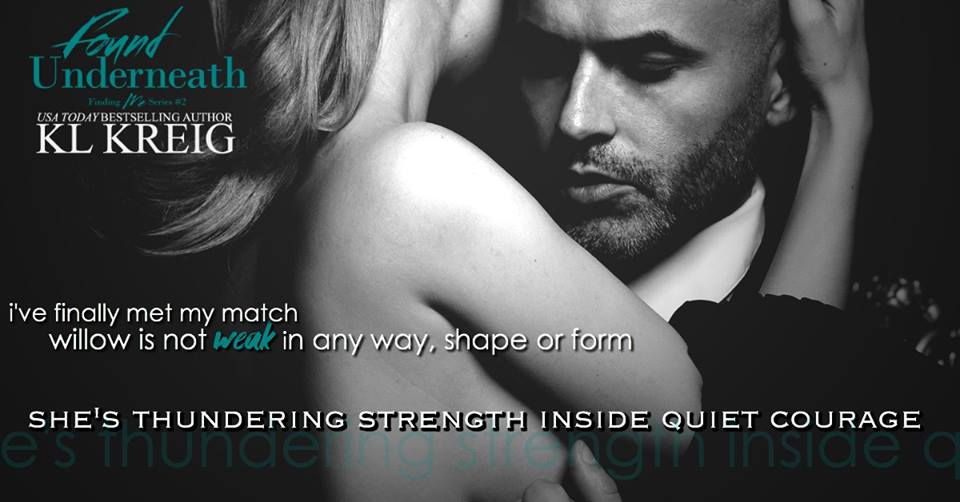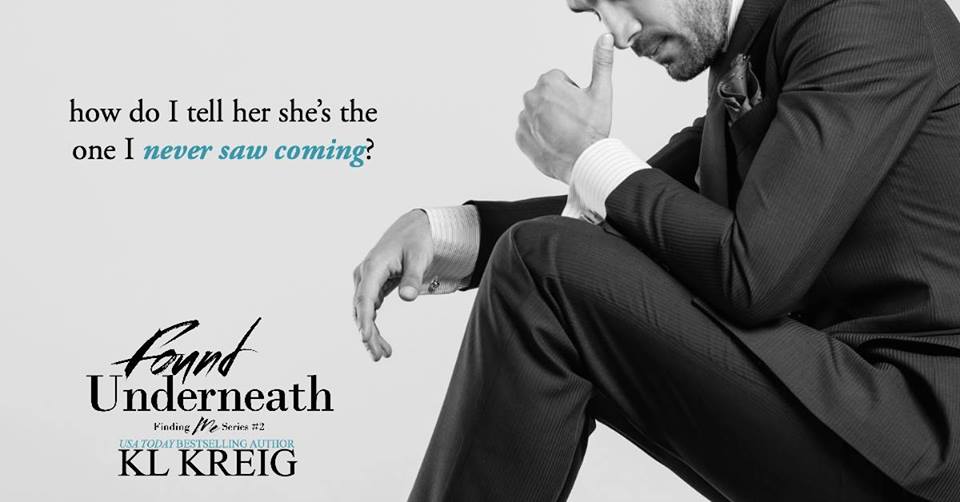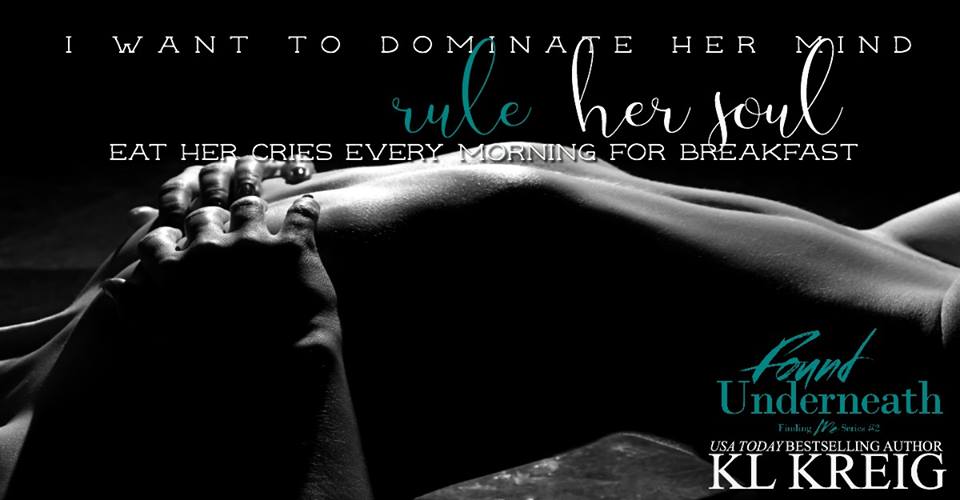 Check out the TRAILER for FOUND UNDERNEATH:
https://www.youtube.com/watch?v=cnCTiRb1A4Y&feature=youtu.be
[youtube https://www.youtube.com/watch?v=cnCTiRb1A4Y]
PREORDER FOUND UNDERNEATH TODAY!
Amazon US: http://amzn.to/2r8SsRa
Amazon UK: http://amzn.to/2rhNLRo
Amazon CA: http://amzn.to/2r8SeJX
Amazon AU: goo.gl/vsEIa9
iBooks: http://apple.co/2qJmjQw
B&N: http://bit.ly/2r91spt
Kobo: goo.gl/BjxZ2Z
YOU MUST READ BOOK 1 LOST IN BETWEEN FIRST TO GET THE FULL STORY:
Lost in Between (Book #1)
US: http://amzn.to/2riraFl
UK: http://amzn.to/2qk1OIo
CA: http://amzn.to/2r96thE
AU: http://amzn.to/2kEHTOC

*Giveaway now over – congrats to Marcy Meyer*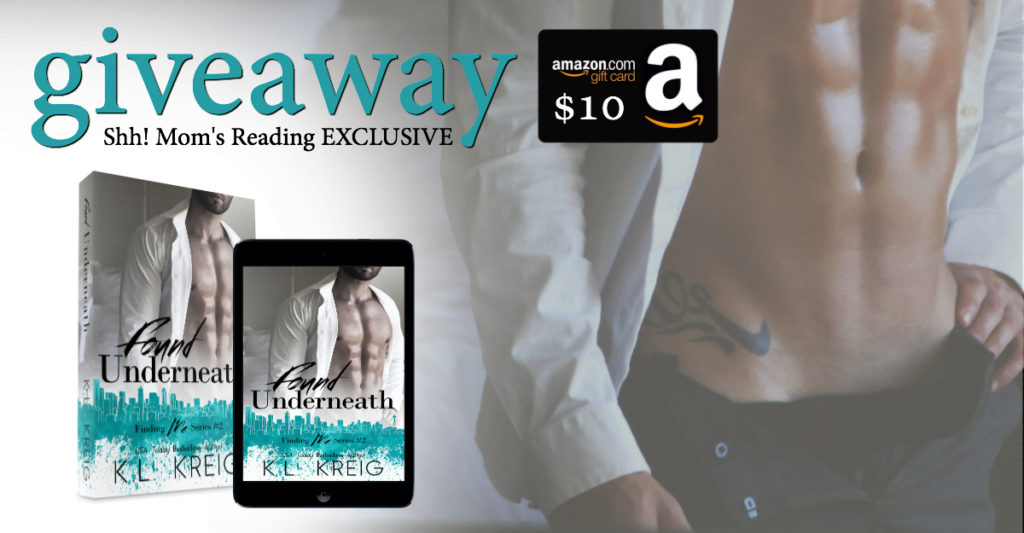 Enter to win a $10 Amazon Gift Card 
All you have to do is (any of the following):
➡ share this post and giveaway on your social media account(s) (Facebook, Twitter, Instagram, etc). Sample message below:
Found Underneath is #ComingMay30th #ExcerptAndGiveaway #alphamale #anticipatedread #shawismine
 @shhmomsreading @klkreig
➡ Add Lost in Between and Found Underneath onto your GR TBR:
Book 1: https://www.goodreads.com/book/show/32992611-lost-in-between
Book 2: https://www.goodreads.com/book/show/34355626-found-underneath
➡ Stop by KL Kreig's FB page, give her a like and let her know Shh Moms Reading sent you and how much you are looking forward to reading Found Underneath https://www.facebook.com/AuthorKLKreig/
 Please make sure to post a link to your shares below (the more you do the more chances to win!). One winner will be chosen Sunday, May 28th. Thank you for sharing!