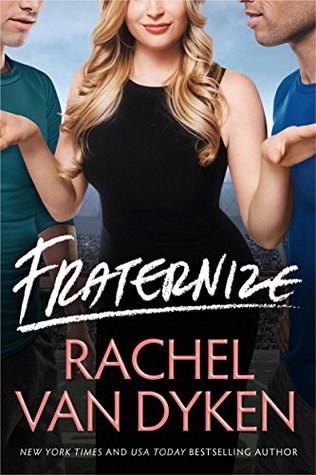 Fraternize

by Rachel Van Dyken
on September 12, 2017
Pages: 320
Buy on Amazon
Goodreads


New York Times bestselling author Rachel Van Dyken kicks off a brand-new series in which romance is a game and love is a touchdown.

Emerson just made her dream come true as a professional cheerleader for her favorite pro football team. But even though the plus-size athlete is breaking down boundaries, she still has to contend with the massive rulebook. Carbs? Nope. Chocolate? Definitely not. Still, Emerson loves her curves, and she'll rock the hell out of this job even if it kills her. Except for one mandate that is easier read than done…

No fraternizing with the players.

Problem one is Miller Quinton: Emerson's first love, first sex, and the guy who still ignites her daydreams and R-rated fantasies. Thrown back together, Miller and Emerson feel the undeniable pull of passion again, even if the conflict that tore them apart seems insurmountable. Then there's way-too-sexy Grant Sanchez. He has a serious reputation with the ladies, and when it comes to winning someone he wants, he doesn't let anyone stand in his way.

Now Emerson is breaking every rule in the manual. But what she doesn't know is that she's part of a wicked little game—one that could steal both her dream and her heart.
Happy Release Day to Rachel Van Dyken and her new book FRATERNIZE. Enter the giveaway below for a chance to win a signed paperback copy!
OMG I devoured Fraternize in ONE DAY despite me trying to read slow, I just couldn't stop turning the pages. This book was so addicting, just so damn good that I didn't want it to end.
Emerson and Miller were best friends growing up—until the day that Miller moved away and they severed ties never to speak again.
Fast forward years later and they are both living their dreams—Emerson is an NFL cheerleader and Miller has come home to play football for the Bellevue Bucks, his hometown's team.
When Emerson and Miller come face to face after so much time, I felt so heartbroken for them for all the time lost, the friendship and love that they once shared underneath the surface but both still feeling the pain of their disconnect.
And let's not even talk about the no fraternizing with the players rule or sexy as hell Grant Sanchez who likes Emerson's curves in the best possible way! OMG *fans self*
I loved Emerson's strength and her overall character. I love a woman with curves and was so excited to read a different story about a different character outside of the every day. I loved that despite her insecurities, she loved herself and her body and worked hard to get what she wanted. Emerson's loyalty and friendship is what really made me adore her because it's hard to find true, real people and Emerson was that and more.
Now there are a couple of things in the story that I wished were developed more—namely the secret that she had hidden from Miller. I felt like it was glossed over a bit and wanted more when it came to that.
Overall, I love Rachel's words… she makes me smile and laugh out loud, she makes me shed a tear when it comes to the emotions and feels she wants to evoke in readers and most importantly she makes me care about her characters that long after I close the book, I am still thinking about them and wishing I hadn't read through the story so quickly to have spent more time with them.
I am VERY MUCH looking forward to the next book in the series… and no I won't tell you who it's about but when it comes to love and romance, I know that Rachel will give us another hit that will be hard to forget.
I love LOVE and Fraternize was so much fun and a great start to a new series that I can't wait to read more about!!!
BUY FRATERNIZE TODAY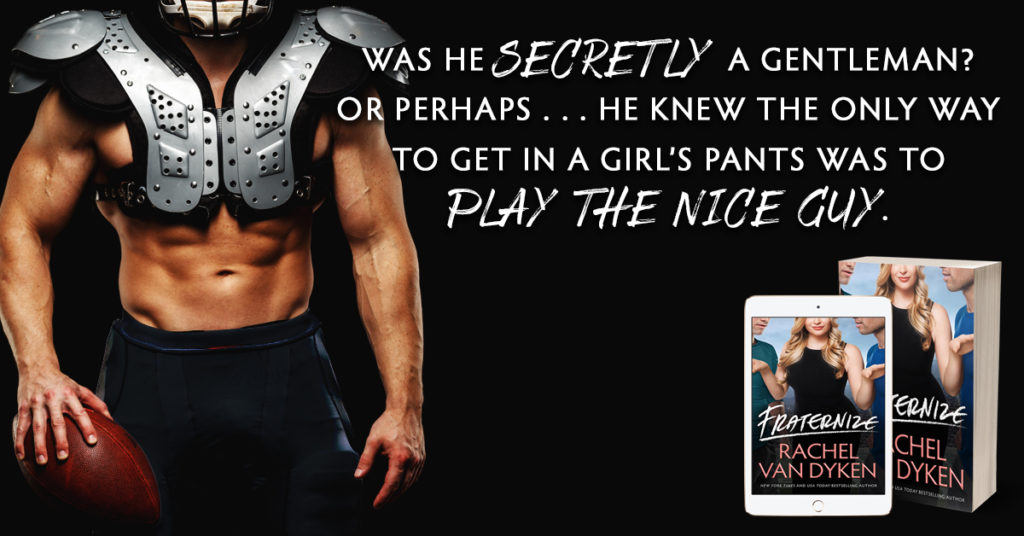 *Giveaway now over – congrats to Michelle Jenkins!*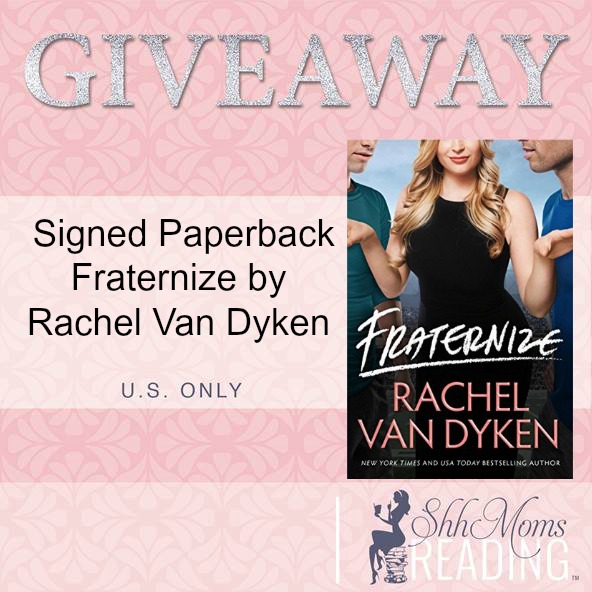 Fraternize by Rachel Van Dyken is here! Football lovers, sports romance readers, and every woman who has been told her size is an impediment to achieving her dreams, this book is for you! Enter to win a signed paperback of FRATERNIZE (US ONLY).
All you have to do is (any of the following):
– Add Fraternize to your Goodreads TBR https://goo.gl/47711z
– Follow Rachel on BookBub http://bit.ly/2gCSdGp
– Follow Rachel on Amazon http://amzn.to/2tuHq6y
– Comment on this post: Do you watch football and who is your favorite team?
– For an extra chance to win, share the release of Fraternize on your social media (Facebook, Twitter, Instagram). Sample message below:
Fraternize by @RachVD is LIVE! Enter the #Giveaway #SportsRomance #TopFave2017 @shhmomsreading
Please make sure to post a link to your shares below (the more you do the more chances to win!). One winner will be chosen Sunday September 17th. Thank you for sharing!