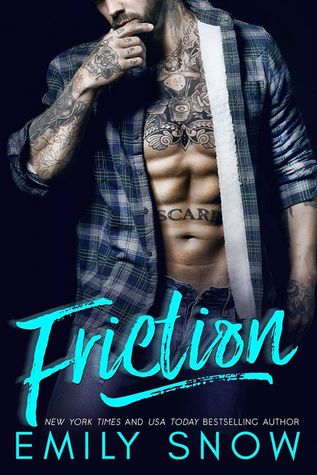 Friction

by Emily Snow
on January 17, 2017
Buy on Amazon
Goodreads


Former overachiever Lucy WillIams sucks at adulting.

Recent divorce, check.

Pending lawsuit, check.

A move back to Boston to live with her mother, triple check.

It can't get much worse, right?

When she starts her new marketing job at EXtreme Effects, she's positive shit's stopped hitting the fan. Sure, what she's advertising is a little ... unorthodox, but it pays the bills. And since she's seconds away from becoming Lucy Williams: Wednesday Night Bingo Enthusiast, she needs money to get the hell out of her mother's house.

The only problem is her boss, Mr. Extreme himself: Jace Exley. He's everything any sane woman dreams of—alpha, successful, ridiculously gorgeous. He's also Lucy's worst nightmare. Because like every overachiever, she has that underachiever she brushed off. The slacker who, once upon a time ago, was the object of her dirtiest schoolgirl fantasies.

Jace Exley—with his sarcastic smirk and delicious accent—just happens to be that guy.

And the friction between them?

Well, that's the only adulting Lucy seems to be winning at.
Happy Release Day to Emily Snow and her new book FRICTION! Make sure to enter the giveaway below for a chance to win a $25 Amazon Gift Card – good luck!!
What happens when you cross a sexy, cocky, sarcastic alpha with an overachieving prim and proper divorcee? You have FRICTION!!! Emily Snow is back people and she is back in a BIG WAY! Emily has given us another hero to love and sexual tension and heat that will blow your mind!!
So what's it about?
Well, Lucy Williams has recently divorced her husband and is back home in Boston living with her mother again. She needs to find a job and goes in for an interview with EXreme Effects – not knowing what the company does but excited to start her life anew.
Much to her surprise when she enters the office for her interview, she comes face to face with Jace Exley, someone she crushed on back in high school.
And what ensues is a battle of wills – Jace knowing that he has a no fraternization policy with his employees and Lucy facing her biggest crush knowing that nothing can happen between them. THE BEST PART – well of course the sexual tension that enters the room whenever they are in each other's space. I enjoyed learning what the company does as it added another provocative layer of heat to the already high tension between the characters, I loved witnessing the walls slowly crumble and even more so, I LOVED the banter and the emotions that evolved throughout the book as the characters feelings were revealed.
Snow proves again why readers fell in love with her in the first place – she gives us the push/pull, anxiety filled moments that make us beg for more and let's not even talk about the sexy times that are panty melting HOT, HOT, HOT! *le sigh*
★¸¸.•*¨*•★ Buy the Book ★¸¸.•*¨*•★

(Lucy POV)
I tilt my head to the side, marveling over the trees lining each side of the wide driveway. "Private collector?"
"Overachiever." He gives me a look that tells me he thinks I'm the same way. "He likes these parties held at his home, so he's willing to invest in the cause."
The cause? What the hell is he investing in—sitting around and watching the minute hand go around a pretty clock? I don't have time to ask questions, because as soon as he maneuvers his car between a sleek Mercedes and a Range Rover, he walks around to open my door for me.
I gawk up at him.
"Why's your mouth wide open?" he demands, rolling his eyes when I ignore his hand and grip the door frame to hoist myself out of the tiny muscle car. "Ahh, that's right. Germaphobe."
"I'm not a germaphobe," I hiss as we walk side by side up the staircase leading to the front door.
"When you stare at my hand like I've cocks for fingers, I automatically assume you're afraid of what filthy things they've touched."
I whip my head toward him, my nostrils flaring. "That's such an unprofessional thing to say. Which is what touching my boss is."
"Believe me, Williams, I have every intention of being professional with you." Continuing to stare at me like I've offended him by refusing his help, he rings the doorbell. "I was trying to help you out of a snug place, not asking you to choose between flavors of lube."


*Giveaway now over – congrats to Jaime*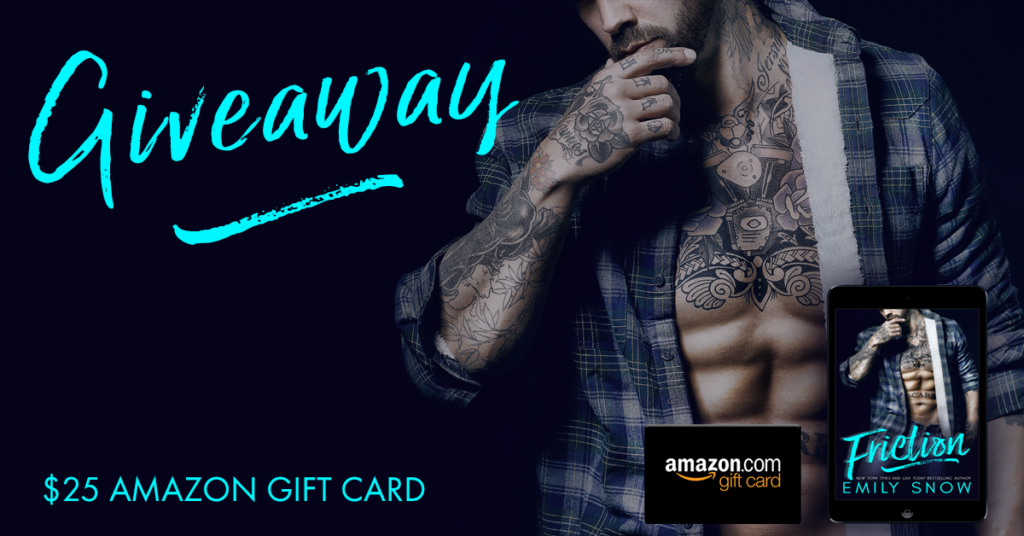 Enter to win: a $25 Amazon Gift Card
All you have to do is share this post and giveaway on your social media account(s) (Facebook, Twitter, Instagram, etc). Sample message below:
Friction is #Live #ExcerptAndGiveaway http://amzn.to/2k275OZ @shhmomsreading @EmilySnowBks
 Please make sure to post a link to your shares below. One winner will be chosen Friday January 27th. Thank you for sharing!