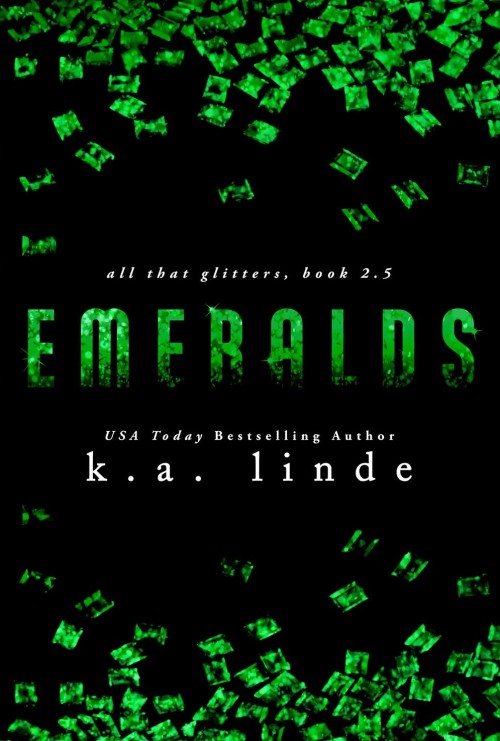 Emeralds

by K.A. Linde
on November 16, 2015
Buy on Amazon
Goodreads

Walking away from him was easy.

The first time at least.

Then he shows up late one night at Trihn's ballet company, and all bets are off. Trihn knows that she should be careful. But when it comes to Preston Whitehall, she throws all her carefully constructed reasons for not dating out the window.

He's cunning, charming, and hot as sin. And he knows exactly how to use those qualities to get what he wants. Soon, Trihn is dragged deeper and deeper into his rapidly intensifying whirlwind.

But where a storm is brewing…destruction and devastation follow.

Find out how Trihn goes from prodigy to party girl in this sexy full-length prequel to Platinum in the USA Today bestselling author K.A. Linde's All That Glitters series.
Christine is reading Trihn's story now and loving it! K.A. Linde gives us some fun facts about EMERALDS and make sure to enter the ARC giveaway too! Good luck!
Five Fun Facts about EMERALDS
Emeralds is primarily set in New York City. I went there for a weekend to do research for this book, and all of the places they go to (even if not specifically named) are real!
Trihn is a ballerina at a dance studio in the city. Name changed from what it is in real life, but based off of the New York City ballet.
I danced all forms of dance growing up and recently took up pole dancing. These are all centered around Trihn as she is a very accomplished dancer. All the moves she does in ballet or otherwise are real choreographed steps!
This is the first book I've ever written in romance where the main character has an older sister.
Trihn is basically the polar opposite of Bryna, the main character from Diamonds and Gold. She was really fun and difficult to write, because she is incredibly nuanced and has a personality that compartmentalizes her feelings and relationships depending on who she is with. I think that's why Bryna and Trihn work as friends. Bryna holds Trihn up, and Trihn holds Bryna back. You'll get to know Trihn so much more in this book and come to love her!

Enter to win an ARC of EMERALDS
All you have to do is share this exclusive promo post on your social media account(s) (Facebook, Twitter, Instagram, etc). Sample message below:
#Emeralds is coming #Nov16th #ARCGiveaway #IsWalkingAwayEasy #AllThatGlitters @authorkalinde @ShhMomsReading
Please make sure to post a link to your shares below. ONE winner will be chosen on Sunday November 15th at 10am EST! Good luck! And thank you for sharing!
♥READ THE SERIES♥
Diamonds
Amazon US
Amazon UK
B&N
Kobo
Paperback
Gold
Amazon US
Amazon UK
B&N
iBooks
Kobo
Paperback
Preorder Emeralds