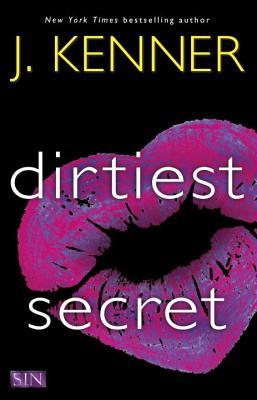 Dirtiest Secret

by J. Kenner
on April 19, 2016
Pages: 320
Buy on Amazon, Buy on B&N, Buy on iTunes, Buy on Kobo
Goodreads

From the New York Times bestselling author of such "racy, sizzling Stark novels" (RT Book Reviews) as Release Me and Say My Name comes the provocative first Stark International Novel—the beginning of the S.I.N. series.

It was wrong for us to be together, but it was even harder to be apart.

The memory of Dallas Sykes burns inside of me.

Everyone knows him as a notorious playboy, a man for whom women and money are no object. But to me, he's still the one man I desperately crave—yet the one I can never have.

Dallas knows me better than anyone else. We bear the same scars, the same darkness in our past. I thought I could move on by staying away, but now that we're drawn together once more, I can't fight the force of our attraction or the temptation to make him mine.

We've tried to maintain control, not letting ourselves give in to desire. And for so long we've told ourselves no—but now it's finally time to say yes.

Dirtiest Secret is intended for mature audiences.
Christine is so excited to read J. Kenner's Dirtiest Secret. We love reading new authors to us! Make sure to enter the giveaway below for a chance to win an ARC galley of this book (US ONLY). Get a sneak peek with an exclusive excerpt below. Enjoy!

A dull ache was building in his head, and he went to the bar and poured himself a scotch, just to take the edge off. He'd intended to sip it, but instead he slammed it back, then poured another. His cock was stiff again just from the memory of the way he'd gotten off while watching her finger-­fuck herself. He figured he'd toss this second drink back, too, and then go take an ice-­cold shower and see if that helped.
He stripped off his shirt, then did the same with his shorts and briefs. He wasn't even out of the smallliving room when he heard the door open. He cursed himself for not thinking to lock it—­when did he ever on the island?—­then turned instinctively, expecting Liam.
Instead, he saw Jane. A wildness in her eyes and raw fury on her face. "Just who the hell do you think you—­"
She stopped cold, obviously just now seeing him, and her strangled little gasp made his already heated skin burn even hotter.
He watched as she gathered herself. Blinking a little and then biting on her lower lip as her eyes roamed slowly over him.
He didn't think she did it on purpose, but when she reached his eyes, she actually licked her lips, like he was her own private candy stash. The thought curled through him, along with a delicious fantasy of how he'd like to order her to suck him off.
Fuck.
"Don't you knock?"
He saw the debate play across her face, along with an innocent pink blush that made him want to turn her over his knee and spank her, just to see if he could get the exact same color on her ass.
The indecision on her face lasted only for a moment. Then she burst forward as if she'd been shot and wrapped herself around him, her lower abs warm and soft against his cock, her mouth hard and hot on his.
He should have pushed her away right then, but he no ­longer had the strength. She'd won, maybe, but he'd damn well make the victory his own.
Wildly, he took her, kissing her deep. Hard. He slid one hand under her hair and untied the simple bow that held her bikini up. Then he slid his hand down and repeated the process with the bow at her back.
The two triangles of material stayed put—­held tight by the pressure of her breasts against his chest—­but he knew they would fall away if he stepped back, exposing her to him.
He didn't step back. Not yet. Not when he could still savor the moment.
Excerpted from DIRTIEST SECRET by Julie Kenner Copyright © 2016 by Julie Kenner. Excerpted by permission of Bantam Books, an imprint of Random House, a division of Penguin Random House LLC. All rights reserved. No part of this excerpt may be reproduced or reprinted without permission in writing from the publisher.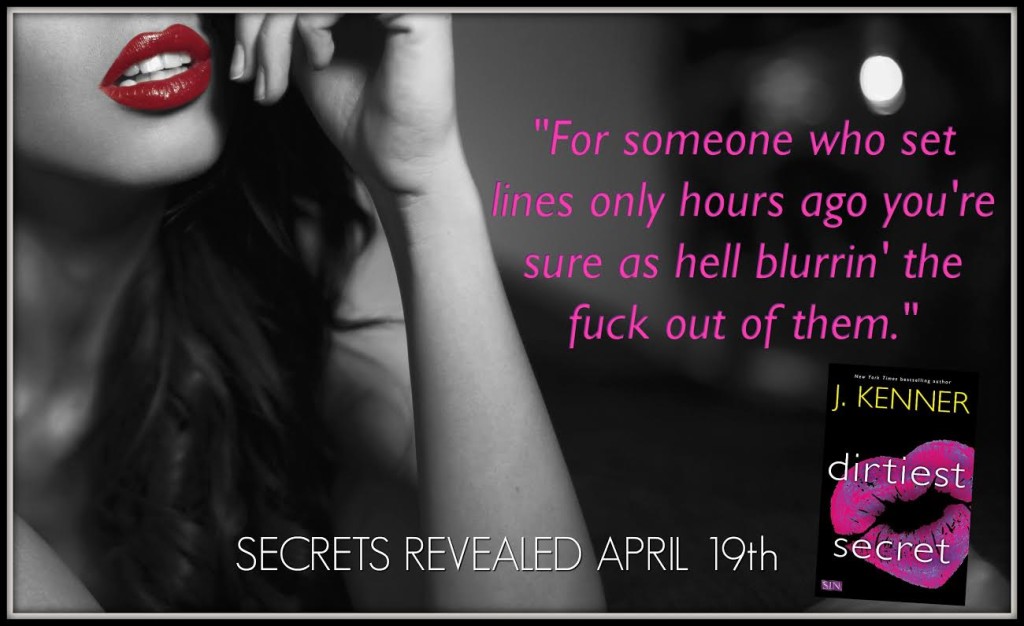 **Giveaway now over – congrats to Meagan Wells**
Enter to win an ARC Galley of Dirtiest Secret (US ONLY)
All you have to do is share this exclusive on your social media account(s) (Facebook, Twitter, Instagram, etc). Sample message below:
 Are you ready for Dirty with Dallas? #ComingApril19th #ExclusiveExcerpt #Giveaway @juliekenner @shhmomsreading
 Please make sure to post a link to your shares below. ONE winner will be chosen Thursday April 7th. Thank you for sharing!