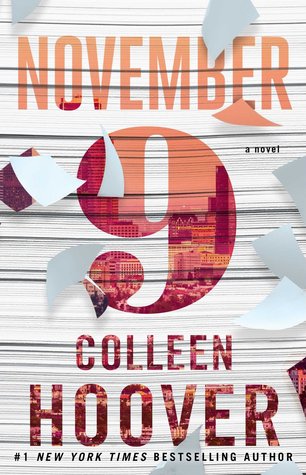 November 9

by Colleen Hoover
on November 10, 2015
Buy on Amazon, Buy on B&N, Buy on iTunes, Buy on Kobo
Goodreads


Beloved #1 New York Times bestselling author Colleen Hoover returns with an unforgettable love story between a writer and his unexpected muse.

Fallon meets Ben, an aspiring novelist, the day of her scheduled cross-country move. Their untimely attraction leads them to spend Fallon's last day in L.A. together, and her eventful life becomes the creative inspiration Ben has always sought for his novel. Over time and amidst the various relationships and tribulations of their own separate lives, they continue to meet on the same date every year. Until one day Fallon becomes unsure if Ben has been telling her the truth or fabricating a perfect reality for the sake of the ultimate plot twist.
We are so excited to be a part of an early read for this highly anticipated book. Colleen sat down with us and gave us her reasons why you should pick up November 9!
Visit www.November9book.com for bonus features on other blogs, tour dates and more!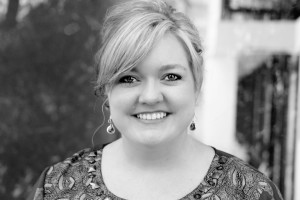 Top 5 reasons readers should pick up NOVEMBER 9 (I'm a bit biased, but here goes…)
1) Benton James Kessler is a writer.  Writers are sexy. I know, because I'm a writer and a sexy.
2) The book itself isn't very heavy, so it won't physically hurt you.
3) The cover. This is my favorite cover of all my books because Orange was my favorite color as a child (it's purple now), and it doesn't scream romance. I like books that don't really reveal the genre.
4) The plot twist. It's a doozy.
5) The excitement I feel for this book is through the roof. I haven't been this excited for a release day since Hopeless.

What I can always count on from Colleen Hoover is a story that is original, a story that will pull me in, where I will become invested in the characters while sharing in the ups and downs of their emotions and the story itself. November 9 was no different. What made this story even more unique was how it was written – an author (Colleen) writing about a character who was an author himself, writing his life's story.
It has been a tough year for books with me…or maybe its that I have become pickier over time, but I am completely addicted to Colleen and her writing. Time and time again, she is able to pull such feelings from me when I read her books..she is able to break my heart yet somehow always manages to build it up again. And while I may not always agree with where the story goes or if there is one piece that doesn't seem right to me, her writing is consistently beautiful…consistently perfection.
This is a full circle love story told in both character's POV that keeps you guessing until the very end. And in true Colleen Hoover fashion, we don't get one but TWO twists that were such a surprise and shock to my senses that it made my heart and pulse race as I frantically tried to catch my breath.
So what is it about without revealing too much?
Fallon is a teen star whose career did a complete 360 after a fire in her home scarred her face and body. Living in Hollywood where beauty is everything, this incident changed her life forever. She has a distant relationship with her father who is an actor himself and a pretty healthy relationship with her mother. Unfortunately because of her scarring, Fallon has lost her confidence in all things, hiding herself behind her hair and not really living life to the fullest.
Enter the gorgeous guy Ben, who looks beneath the scars and sees the true her..the poetic writer who wants to not only save her but as his secrets are revealed throughout the book, needs saving himself.
After their first meeting and day spent together, these characters decide to meet yearly on this date (November 9th), despite what is happening in their lives, with no contact throughout the year, to meet and catch up and to let each other know how their lives are progressing since the last they saw each other. A writer and a lover of books who with this special bond decide to meet over the next 5 years in the restaurant where they met because they aren't ready to let each other go and both hopeful that maybe one day this relationship could be something more.
Colleen works her magic and gives us a love story spanning years that will melt your heart and touch your soul. A friendship that even with the twists of fate shows us that in life anything is possible, that forgiveness can be given and most of all that love can overcome. What I am most impressed with is how Colleen has again given us something so different, original, and new and always succeeds in giving readers what they want – something heartfelt, meaningful and real.


Colleen Hoover's NOVEMBER 9 Giveaway

Don't miss Colleen on tour for NOVEMBER 9:
Dallas, TX
Monday, November 9th
HALF PRICE BOOKS
10:00 PM
5803 E Northwest Hwy
Dallas, TX  75231
RSVP and details: https://www.facebook.com/events/571747856307832/
Cincinnati, OH
Tuesday, November 10th
JOSEPH-BETH BOOKSELLERS
7:00 PM
2692 Madison Road
Cincinnati, OH 45208
RSVP and details: https://www.facebook.com/events/910564405703742/
Chicago, IL
Wednesday, November 11th
ANDERSON'S BOOKSHOP
7:00 PM
26 S. La Grange Rd.
La Grange, IL 60525
RSVP and details: https://www.facebook.com/events/877624532344894/
RIDGEWOOD, NJ
Thursday, November 12th
BOOK ENDS
7:00 PM
211 E. Ridgewood Avenue
Ridgewood, NJ 07450
RSVP and details: https://www.facebook.com/events/176661676006949/
White Plains, NY
Friday, November 13th
BARNES & NOBLE #2202
7:00 PM
230 Main Street
White Plains, NY 10601
RSVP and details: https://www.facebook.com/events/760158847428849/
Miami, FL
Saturday, November 14th
BOOKS & BOOKS
5:00 PM
265 Aragon Avenue
Coral Gables, FL 33134
RSVP and details: https://www.facebook.com/events/903716756377916/
Boston, MA
Sunday, November 15th
BROOKLINE BOOKSMITH
5:00 PM
279 Harvard St
Brookline, MA  02446
RSVP and details: https://www.facebook.com/events/1484734548495141/
Los Angeles, CA
Tuesday, November 17th
CHEVALIER'S BOOKS
7:00 PM
126 N. Larchmont Blvd.
Los Angeles, CA 90004
RSVP and details: https://www.facebook.com/events/1008186655868793/
AUSTIN, TX
Tuesday, December 8th
BOOK PEOPLE
7:00 PM
603 N. Lamar Blvd
Austin, TX 78703
512-472-5050
http://www.bookpeople.com/
RSVP and details: https://www.facebook.com/events/1642732965964748/