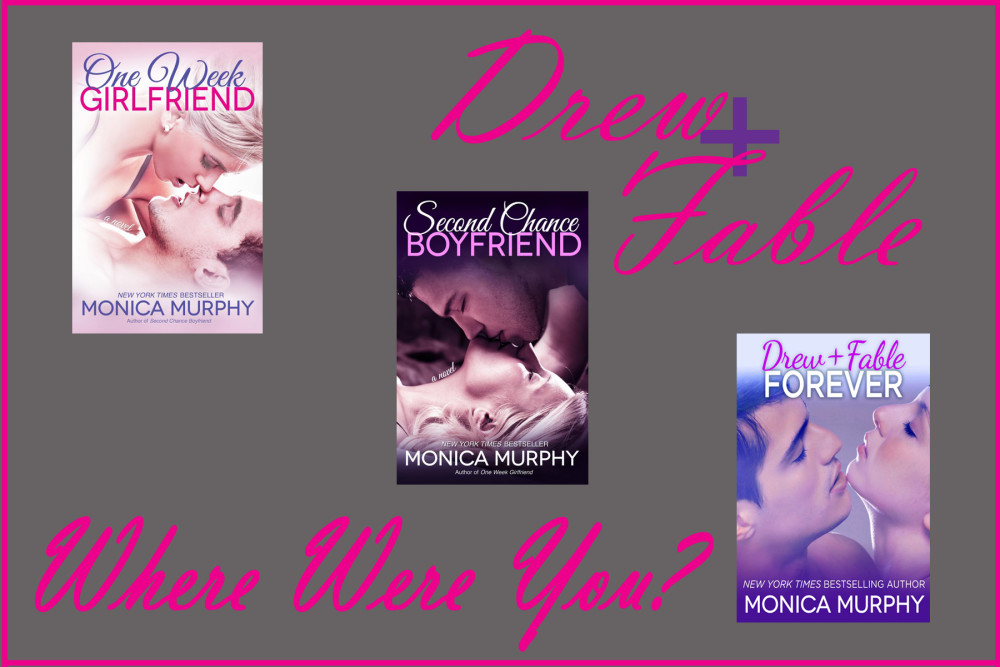 I remember when ONE WEEK GIRLFRIEND came out…I read it in one night and immediately contacted Monica and said "you have a hit…can I do your blog tour?" I was so excited about this book and LOVED LOVED LOVED Drew and Fable from the start. I contacted all of my blogger friends, threw together a tour and the rest as they say is history. I am so happy and proud of Monica's accomplishments throughout this series. Each book in the series even better than the last. The emotions she was able to evoke from her readers and the love that we felt with these characters is a true testament what a wonderful writer she is. So yes, I am extremely sad that Drew + Fable Forever is the last book in the series but I am beyond excited to see what else Monica has in store for us…if you haven't checked out this series yet, you need to – you will not regret it!
And in honor of Drew and his poems to Fable (which made me LOVE him even more!) here is my attempt to Monica…with lots of love!!!
Monica is
Amazingly gifted
Romantic at heart
Sexy and sweet
How happy am I that I
Met you online because I loved ONE WEEK GIRLFRIEND and
Endlessly stalked you because of my complete
Love for your characters that make me
Laugh and cry and put a constant smile
On my face….you are and always will be to me a
Writer extraordinaire
We love you Monica – Happy Anniversary to you! Drew + Fable FOREVER!
---
Synopsis
Breakout sensation Monica Murphy takes the New Adult genre by storm with the deeply emotional, completely addicting story of Drew and Fable.
Temporary. That's the word I'd use to describe my life right now. I'm temporarily working double shifts—at least until I can break free. I'm temporarily raising my little brother—since apparently our actual mother doesn't give a crap about either of us. And I always end up as nothing but the temporary girlfriend—the flavor of the week for every guy who's heard the rumor that I give it up so easily.
At least Drew Callahan, college football legend and local golden boy, is upfront about it. He needs someone to play the part of his girlfriend for one week. In exchange for cash. As if that's not weird enough, ever since he brought me into his world, nothing really makes sense. Everyone hates me. Everyone wants something from him. And yet the only thing Drew seems to want is . . . me.
I don't know what to believe anymore. Drew is sweet, sexy, and hiding way more secrets than I am. All I know is, I want to be there for him—permanently.
Christine's 4 STAR review can be found here 
---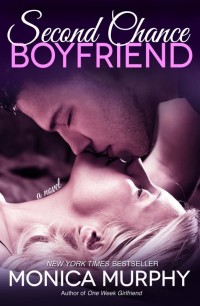 Book 2 – SECOND CHANCE BOYFRIEND
Synopsis
From breakout New Adult author Monica Murphy comes the exhilarating conclusion to Drew and Fable's story—the star-crossed young romance that began in One Week Girlfriend.
Lost. Everything in my life can be summed up by that one sickening word. My football coach blames me for our season-ending losses. So does the rest of the team. I wasted two whole months drowning in my own despair, like a complete loser. And I lost my girlfriend—Fable Maguire, the only girl who ever mattered—because I was afraid that being with me would only hurt her.
But now I realize that I'm the one who's truly lost without her. And even though she acts like she's moved on and everything's fine, I know she still thinks about me just as much as I think about her. I know her too well. She's so damn vulnerable, all I want to do is be there to help her . . . to hold her . . . to love her.
I just need her to give me one more chance. We may be lost without each other, but together, we're destined to find a love that lasts forever.
Christine's 4 STAR Review can be found here 
---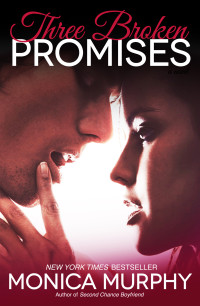 Book 3 – THREE BROKEN PROMISES
Synopsis
Breakout New Adult sensation Monica Murphy returns with a hot new contemporary romance—a heartfelt story of second chances, forgiveness, and redemption.
Commitment. That's what I really want from Colin. Ever since my brother, Danny, died in Iraq, Colin's done so much to help me, including giving me a job at his popular restaurant so I can leave my crappy waitressing job at the strip joint. But lying in bed with him every night to comfort him from his horrible nightmares isn't enough anymore. I know he feels guilty about Danny's death, about not going to Iraq, but I can't keep living this double life.
I love him desperately, but he's got so many demons, and if he can't open up to me now, then he'll never be the real partner I need him to be. I gave him a month, and now I'm out of here. If he truly loves me like he says, he knows where to find me.
Christine's 4.5 STAR Review can be found here 
---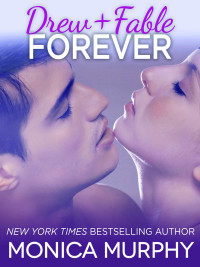 Book 3.5 – DREW + FABLE FOREVER Novella 
Synopsis
Monica Murphy returns with her most beloved characters, Drew and Fable, in this eBook original short story that brings her bestselling New Adult series full circle.
Fantasy. How I ended up with NFL player Drew Callahan, the guy every woman wants, is beyond my wildest dreams. All I know is that once he chose me as his one and only, I sure wasn't looking back. I had past wounds and he showed patience and concern—even accepting responsibility for my messed-up kid brother. Now, yet again, he's found a way to blow my mind: an exotic wedding and honeymoon miles and miles away from home. What else could a girl ever ask for?
Reality. Except now the honeymoon's over. Drew's football schedule takes him on the road constantly, while I need to stay put and look after my brother until he finishes high school—because God knows our sorry excuse for a mother won't. I know Drew loves me with all his heart, and I'll always be over the moon about him. This just isn't how I imagined life as newlyweds . . . dealing with the distance, missing him constantly. But we've gone through hard times before. We can get through this, too, right? We're Drew and Fable, together forever. At least I hope so. . . .
Christine's 4.5 STAR Review can be found here
---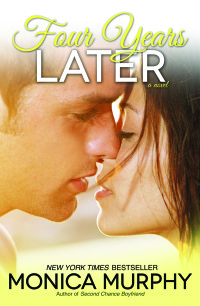 Book 4 – FOUR YEARS LATER (Releases February 25, 2014)
Synopsis
New Adult bestselling author Monica Murphy winds up her sensational series with this sexy story of two college kids with nothing in common but a bunch of baggage and a burning attraction.
Over. That about sums up everything in my life. Suspended from my college football team and forced to cut back my hours at The District bar because of my crappy grades, I can't keep turning to my sister, Fable, and her pro-football playing husband, Drew, to bail me out. I just can't seem to find my own way. Weed and sex are irresistible temptations—and it's messed up that I secretly hand over money to our junkie mom. A tutor is the last thing I want right now—until I get a look at her.
Chelsea is not my type at all. She's smart and totally shy. I'm pretty sure she's even a virgin. But when she gives me the once over with those piercing blue eyes, I'm really over. But in a different way. I won't deny her ass is killer, but it's her brain and the way she seems to crave love—like no one's ever given her any—that make me want her more than any girl I've ever met. But what would someone as seemingly together as her ever see in a screwed up guy like me?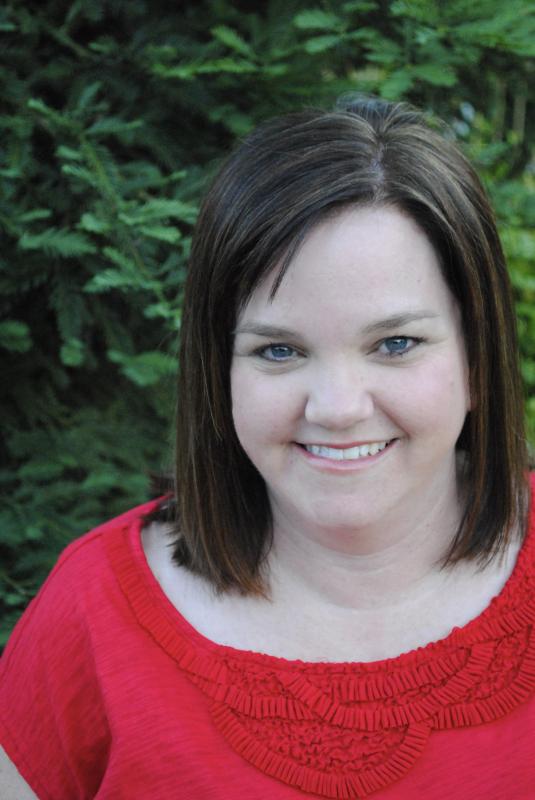 New York Times and USA Today bestselling author Monica Murphy is a native Californian who lives in the foothills below Yosemite. A wife and mother of three, she writes New Adult and contemporary romance for Bantam and Avon. She is the author of One Week Girlfriend and Second Chance Boyfriend.
---
Series Reading Order
Book 1 – One Week Girlfriend

Book 2 – Second Chance Boyfriend

Book 3 – Three Broken Promises

Book 3.5 – Drew + Fable Forever

Pre-ORDER Book 4 – Four Years Later