We LOVE you Abbi! Our obsession started with the GORGEOUS Vincent Brothers – Beau and Sawyer to the HOT characters of Rush and Woods! You have shown us everything from steamy young love and romance, to devastating and beautifully HOT bad boys to the perfect Woods Kerrington! And there is still so much more that are on our TBR lists! You ROCK our world and are TRULY an amazing author…we look forward to many more wonderful stories from you and want to wish you much HAPPINESS, HEALTH and LOVE on your birthday!
Here is one of our favorite scenes from Fallen Too Far! We are so excited to be sharing in this special day with you! Enjoy!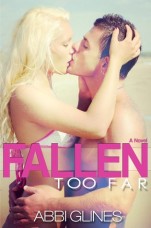 "Blaire," Rush said from behind me and his body was suddenly right there caging me in. His hands were on each side of the counter and all I could do was stand there adn look down at the sink in front of me. His hard warm body brushed against my back and I bit my tongue to keep from making a whimper. I would not let him see how he affected me.

"This wasn't an attempt to apologize for Nan. It was an attempt to apologize for me. I'm sorry about last night. I lay in bed at night wishing you were there with me. Wishing I hadn't pushed you away. I push people away Blaire. It's a protective mechanism for me. But I don't want to push you away."

Walking away from him and keeping him at a distance was the smart thing to do. Rush wasn't and never would be anyone's Prince Charming. I couldn't ever let myself think he was the one who would love me and cherish me. He would never be that guy for me. But my heart had grown a little attached to him. It didn't mean forever but for right now I wanted Rush to be my first. He wouldn't be my last. He'd just be a stop along the path of life. A stop I might never forget or get over. That was what scared me the most. Not being able to move on.

He reached up and brushing my hair from the side of my neck and then pressed a kiss to the curve of my shoulder. "Please. Forgive me. One more chance, Blaire. I want this. I want you."

Rush would be my first. It just felt right. Inside I knew he was meant to be the guy that taught me about life. Even if he broke my heart eventually.
---
Enter using Rafflecopter below for some amazing prizes!