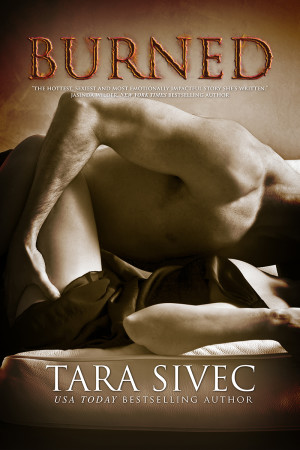 This is a 5 STAR read!! Enjoy a trailer and a look into the music behind Burned. You can join the release party HERE and make sure to enter the giveaway below! good luck!!!
---

Seventeen years old when he broke my heart.
Seventeen days later when another picked up the pieces.
Seventeen years together.
Seventeen thousand problems.
Seventeen days of reliving my past and finding a new future.
Seventeen minutes until it all went up in flames.
Seventeen breaths until I took my last.
This is my story…and it's going to burn.


I LOVED this new one from Tara Sivec…Tara does romantic comedy, mystery and drama so well so there was no doubt in my mind that she would knock it out of the park with erotic! Holy hot! Firemen! Second chance love! Need I say more…I devoured this book in 2 days and have been thinking about it ever since.  Admittedly my husband is a volunteer fireman where we live so this book was even more delicious to me because I am a sucker for a man in uniform 🙂
The insightful prologue had me from the start.  Poor Finnley has been burned so many times throughout her marriage with her husband Jordan, a man who can't and won't grow up, so addicted to his vices.  Finnley is the rock in her relationship always wanting to make it work, putting her marriage and her husband first.  When she finally has enough, and decides to put herself first, I want to hug her and give her a high five because honestly no one should remain in a marriage that is not mutually beneficial for both parties.
Enter hot fireman, Collin; someone from her past that she has never forgotten nor has he forgotten her.  There is still such a strong connection after being apart for so many years.  Though she tries to deny the scorching hot attraction, it is there; tangible, palpable and the reader can't help but get sucked right into it with them.
This is a beautiful, well written story of second chance love that shows us how sometimes mistakes in youth can come back years later to right themselves when fate is so strongly pushing for two people to be together…an even more important lesson learned is to never waste a moment not to tell someone you love them and to show them your heart because you never want to be too late.
Finnley may have been burned by her husband but another's love was forever burned in her heart and this story will surprise you, excite you and you may find that you need to fan yourself from the sizzling story of love that Tara has created for us. (WOW! the gym scene (dies!)..you will know what I am referring to when you get to it!)
Though this is a standalone, I loved every single secondary character and hope that Tara will give us more (hint hint!).  Job well done!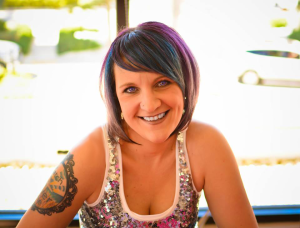 Tara Sivec is a USA Today best-selling author, wife, mother, chauffeur, maid, short-order cook, baby-sitter, and sarcasm expert. She lives in Ohio with her husband and two children and looks forward to the day when they all three of them become adults and move out.
After working in the brokerage business for fourteen years, Tara decided to pick up a pen and write instead of shoving it in her eye out of boredom. She is the author of the Playing with Fire series and the Chocolate Lovers series. Her novel Seduction and Snacks won first place in the Indie Romance Convention Reader's Choice Awards 2013 for Best Indie First Book.
In her spare time, Tara loves to dream about all of the baking she'll do and naps she'll take when she ever gets spare time.
Tara also writes under the pen name T.E. Sivec. Check out the page for T.E. Sivec for more information.
---