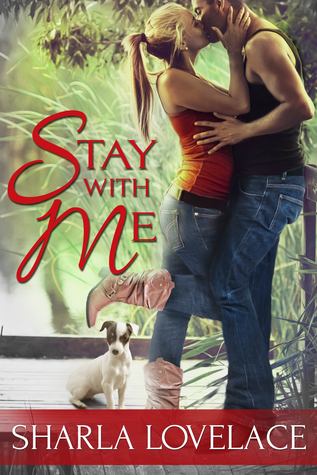 Stay With Me

by Sharla Lovelace
on August 22, 2014
Pages: 222
Buy on Amazon
Goodreads


From national bestselling author Sharla Lovelace, comes another romantic and heartwarming novel set in the heart of Texas.

"Sharla Lovelace's quirky characters and realistic Texas settings put her solidly on my auto-buy list."
—Kelsey Browning, author of the Texas Nights series

Ian was the wild boy every girl dreams of, a renegade who thrived on breaking the law and setting Savi's body on fire. It was all fun and games and hot excitement, no strings attached, until the one day he got serious—and then disappeared without a trace.

Savi has spent the ten years since committing herself to her work, her daughter, and to not thinking about Ian—or love. Just when it's possible she might have found the one man who can change her mind, Ian pulls into town, bringing with him all of the lust, danger, and excitement Savi remembers.

As Ian stirs up old feelings and draws Savi back into memories and passion she's too weak to fight, he's also digging up dirt on the man Savi is falling for, doing everything he can to prove that Duncan is not who he seems to be. And Savi, unsure whether she can trust either man, will be forced to decide between rekindling a love that never really burned out and building a new one that looks ready to catch fire.
Happy Release Day to Sharla Lovelace and her new book STAY WITH ME!
This was my first book to read by Ms. Lovelace and will certainly not be my last. What an unexpected delight! Well written, amazing characters, suspense and romance…everything a good book should have and more. Stay With Me was completely captivating and I enjoyed every moment.
So what's it about?
Savanna (Savi) is a grown woman, taking care of her daughter and concentrating on her work. It has been 11 years since she has let any man into her life after her childhood boyfriend left town and watching her swoon over the new veterinarian in town – Duncan Spoon had me giggling out loud. Ms. Lovelace created a Texas town painted so vividly in my mind that I could imagine it all – the small town gossip and annoyances, the setting and the characters – I was there with them living and breathing with the characters and experiencing their life.
Duncan Spoon seems to be the perfect guy, making Savi feel things she hasn't felt in a long time but how can Savi really choose when the man who holds her heart has come back into town to help his family's business stay afloat?
Ian, Ian, Ian – where do I even begin? He was Savi's best friend that eventually turned into more. He left town unexpectedly breaking Savi's heart in two. Reading the past scenes between them and with her daughter especially had me questioning A LOT and I couldn't help but feel that I was missing something, that there was more to the story than what Ian was telling us.
Things I LOVED….yes this is a love triangle, yes there is cheating…I don't mind these things when it makes sense in the story, when there are reasons and when there is history involved. What Ms. Lovelace did so well was making me feel the spark and connection that Savi had with both men showing how hard of a choice she would eventually have to make seeing that both men were good deep down inside despite the secrets and mystery. This story is not about the men really but Savi's choices and how she needs to live for HERSELF and not her child, not her family but for her.
I enjoyed reliving the past, finding myself smiling yet my heart breaking for the lost time.
Most especially I LOVED LOVED the romance combined with the mystery and suspense. No I won't tell you what because you have to experience it for yourself but it was SO GOOD and SO UNEXPECTED!
What can I say more than to just read it! Ms. Lovelace writes so well that you will definitely enjoy the ride!