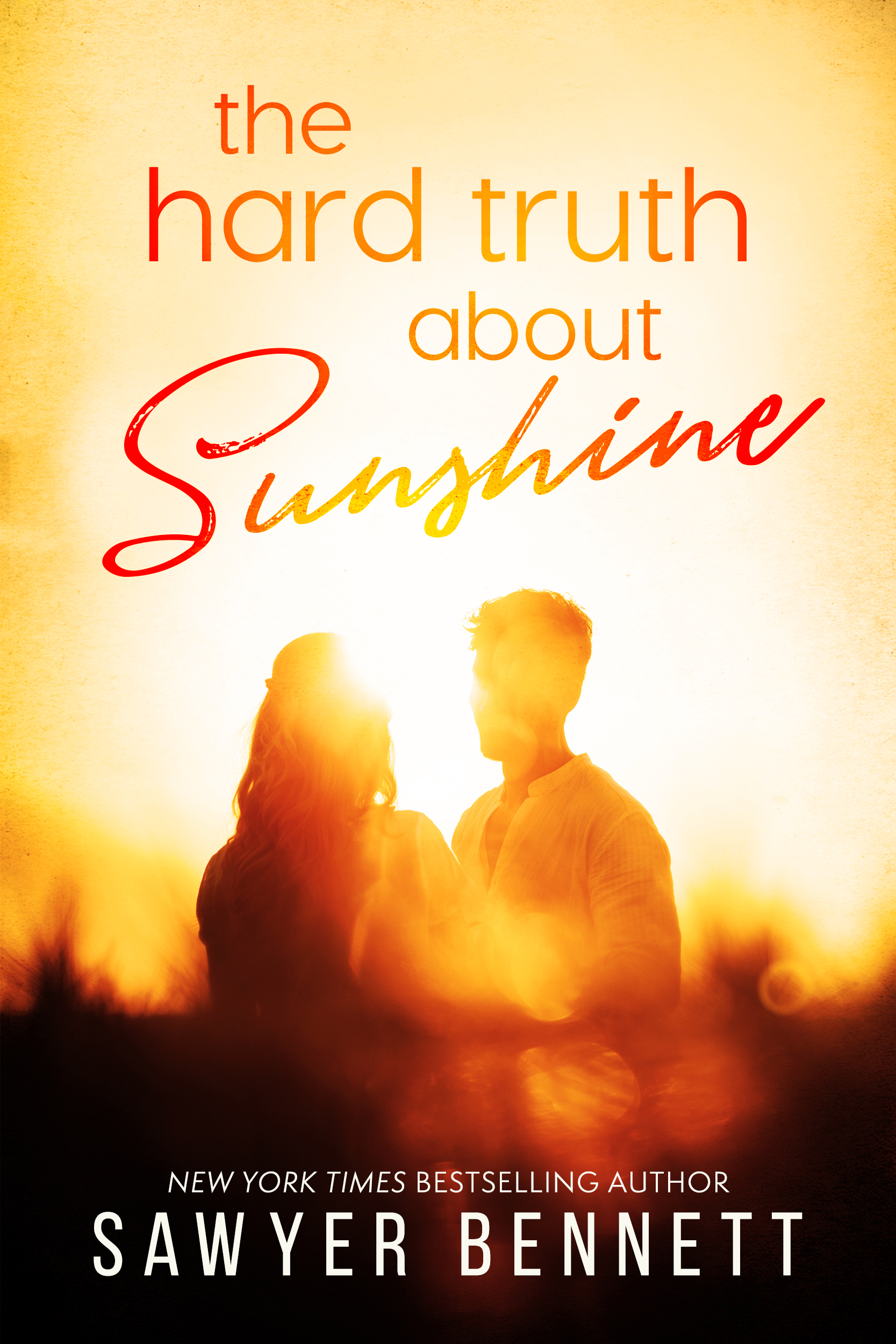 The Hard Truth about Sunshine

by Sawyer Bennett
on March 28, 2017
Pages: 226
Buy on Amazon, Buy on B&N, Buy on iTunes, Buy on Kobo
Goodreads


New York Times bestselling author Sawyer Bennett has written her most gripping and poignant tale yet. Provocatively heart-breaking, audaciously irreverent and romantically fulfilling, The Hard Truth About Sunshine exposes just how very thin the line is between a full life and an empty existence.

An angry, bitter amputee.
An optimist losing her eyesight.
A dying kid.
A suicidal thief.
Four people with nothing in common but their destination.

Despite having narrowly escaped death's clutches, Christopher Barlow is grateful for nothing. His capacity to love has been crushed. He hates everyone and everything, completely unable to see past the gray stain of misery that coats his perception of the world. It's only after he involuntarily joins a band of depressed misfits who are struggling to overcome their own problems, does Christopher start to re-evaluate his lot in life.
What could they possibly learn from one another? How could they possibly help each other to heal? And the question that Christopher asks himself over and over again… can he learn to love again?
He's about to find out as he embarks upon a cross country trip with a beautiful woman who is going blind, a boy with terminal cancer, and an abuse victim who can't decide whether she wants to live or die.
They will encounter adventure, thrills, loss and love.
And within their travels they will learn the greatest lesson of all.
The hard truth about sunshine…

Warning: This book deals with some tough issues including suicide and sexual abuse.
Enjoy a sneak peek into The Hard Truth about Sunshine below and Denise's 5 STAR review! Enter the giveaway for a chance to win a signed paperback of The Hard Truth about Sunshine AND a $25 Amazon Gift Card! Good luck!

Holding each other, Jillian and I watch Old Faithful as it comes to full eruption. The steaming water, which I'd read was over two hundred degrees Fahrenheit, shoots almost a hundred feet into the air.
"Wow," Connor says in amazement as he holds his iPhone out, taking pictures as it goes off. I'd also read that the eruption lasts anywhere from two to five minutes. I bet that kid will take about a thousand pictures in that time period.
"That is amazing," Jillian murmurs.
"You can fucking say that again," Barb says from my other side.
"That is amazing," Jillian repeats at her with a waggle of her eyebrows.
Barb rolls her eyes, muttering, "Har-har."
"Hey, let me get a picture of you two," Connor says, and he can only be talking about Jillian and me. We look over our shoulders at him, and he grins. "Turn around and face me."
Jillian doesn't hesitate, turning her entire body and pulling me around with her as she loops a thumb in a belt loop at my hip. Connor backs up a few paces and holds his phone out to frame us with Old Faithful spouting up high behind us.
"Okay, smile," Connor says goofily.
I don't have to look at Jillian to know her smile will be bright and full of sunshine. My scar pinches as I do my best to match her. I even pull her in a little closer, and we tilt our heads in toward each other.
"Oh, that's going to be an awesome photo," Connor says as he snaps a few frames. "Now, Barb… you get in there."
Barb jolts, spins to look at Connor, and says, "Fuck no. I hate having my picture taken."
"Pl-e-e-e-a-s-e," Connor whines with pitiful eyes. "I'm dying."
Jillian and I snicker, and Barb snaps at him as she stalks to my side. "You little shit… that's not always going to work with me."
Connor smirks as he takes our picture. Barb doesn't do anything but stand next to me stiffly. I think about putting my arm around her waist, but knowing Barb, she'd probably pull out a knife and cut it off, and well, body parts are a precious commodity to me.
"Okay, now we need a selfie with all of us," Connor says cheerily.
"Jesus Christ," Barb mutters as Connor trots up to us.
He hands me his phone. "You have the longest arms, so you take the photo."
I don't hesitate, because damn it… the kid is dying and why shouldn't we take a selfie together to commemorate this trip?
You've come a long way in three days, Christopher, you sappy son of a bitch.
Connor turns his back to me, grabs Barb by the arm, and pulls her to his side. He tugs her until she crouches as he does the same. I turn the camera to selfie-mode and hold it out. Bending a little too, I put my head close to Jillian's. In the camera's frame, Connor's face is just below Jillian's and Barb's is at my chest. Jillian and Connor are both grinning, and Connor's holding his fingers up in a "peace" sign. Barb is scowling while boiling water shoots up behind us.
"For fuck's sake, Barb," I say in exasperation. "Can you at least smile just once?"
Her scowl turns darker.
"Pl-e-e-e-a-s-e," Connor begs without losing his grin or peace sign as he looks at the camera. "I'm d-y-y-y-ing."
Simultaneously, Barb and I both erupt into laughter. I hold down the shutter button to snap multiple pictures while Old Faithful goes off behind us and Barb has a smile on her face.
After I'm done, we turn to continue watching the ecological spectacle, being no less wowed by it as time goes on. When the spout of water finally declines and then disappears, we start walking back to the Suburban. Connor flips through his pictures as we move along with the crowd.
"This is a great one," he says as he stops in place.
Jillian immediately goes to him, looking over his shoulder. I do the same. Barb just keeps walking.
And it is a great picture.
I can't stop staring at Jillian as the late afternoon sun lights her blonde hair up in the photo. Those blue eyes I can only see half of are crystalline… sparkling with joy… real life gemstones. Full lips spread into a wide and natural smile. Her temple rests against mine, our heads tilted together.
My eyes slide over to me in the photo. For a moment, I'm taken aback.
I'm smiling as well.
Big.
Bold.
Full teeth.
Light in my eyes.
Happiness in my expression.
I don't even recognize that guy.

The Hard Truth about Sunshine is powerful, poignant look about the human condition; a window inside of the four character's souls. This book written in the male POV will touch you deeply as the author elicits a wide range of emotions from the reader. There is no doubt this story will reside in your heart long after you finish reading it.
The blurb for this book is a bit vague so in the interest of no spoilers or more accurately allowing the reader to experience the pretty of this journey, I am going to keep this review short… I know I can't just write READ THIS BOOK but I wish I could.
I will start off by saying that this was not a sad book for me; though it had sad moments it was for me a story of taking what life gives you and moving forward.  This story is at times painful, it is raw and layered with feelings but it is also hopeful and beautiful.  The power of a smile, the power of friendship… it all bleeds off the pages. You can't always fix a friend, but you can support and love them; that is the truth this book highlighted for me.
These four character's lives intertwine with pure beauty as each brings something to the experience and each not only bonds but offers the others something. I know I know it is hard to imagine but it so works.
This book is filled with emotions as it takes the reader on a journey; one that will keep you glued to your kindle, as you smile, cry, laugh and in the end close the book with a full heart and smile on your face for this unique and powerful story.
Though some may consider it a spoiler, the romance masterfully woven inside of this beautiful tapestry ends happy.  I closed this book with a smile from ear to ear as these two move forward with a new vision of happy.
Ms. Sawyer proves in spades in this book that she can write! This book is a bit different than what she has written prior but if you are a fan, I am sure you will enjoy it and if you have never read a book by this author this one is a great place to start!
As a complete aside, the cover very poignantly portrays the theme of this book!
And …and….make sure to read the dedication in this book and the author note at the back, it provides insight into not only the story but the author's heart!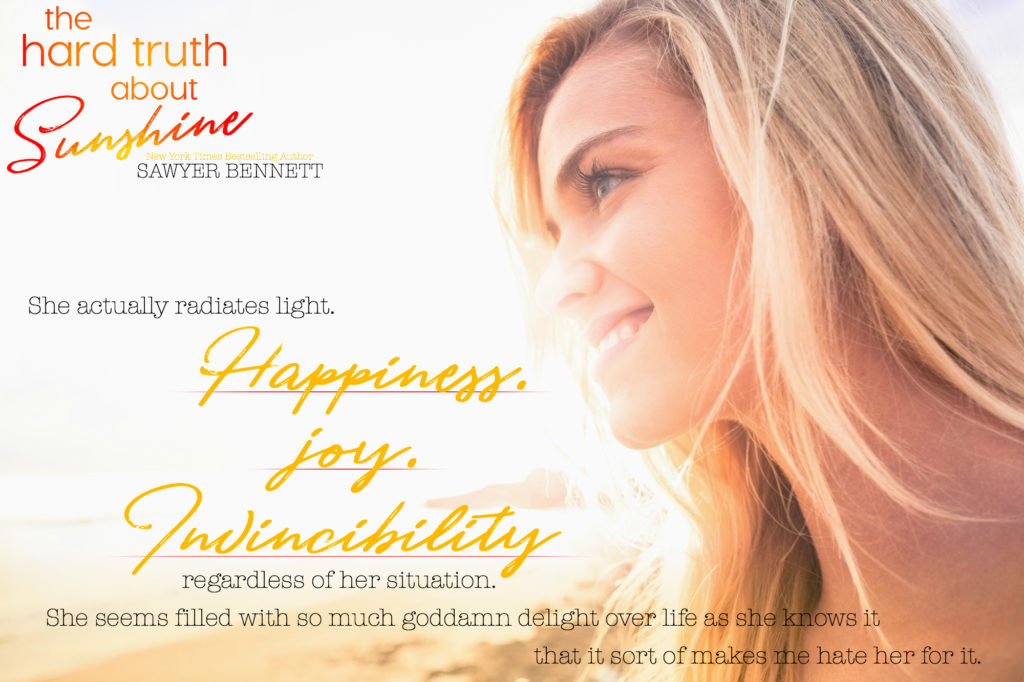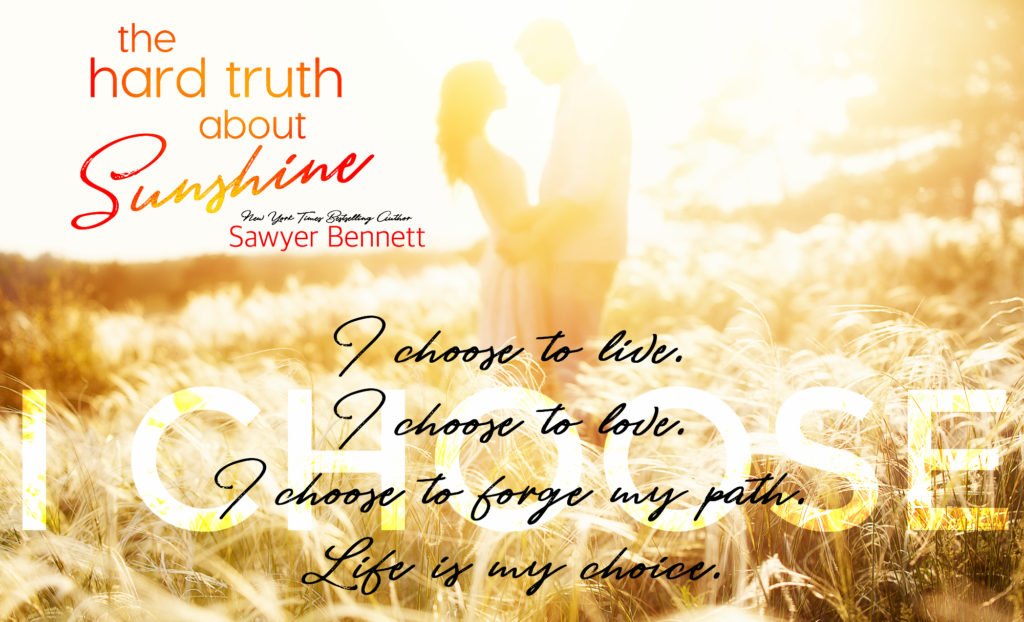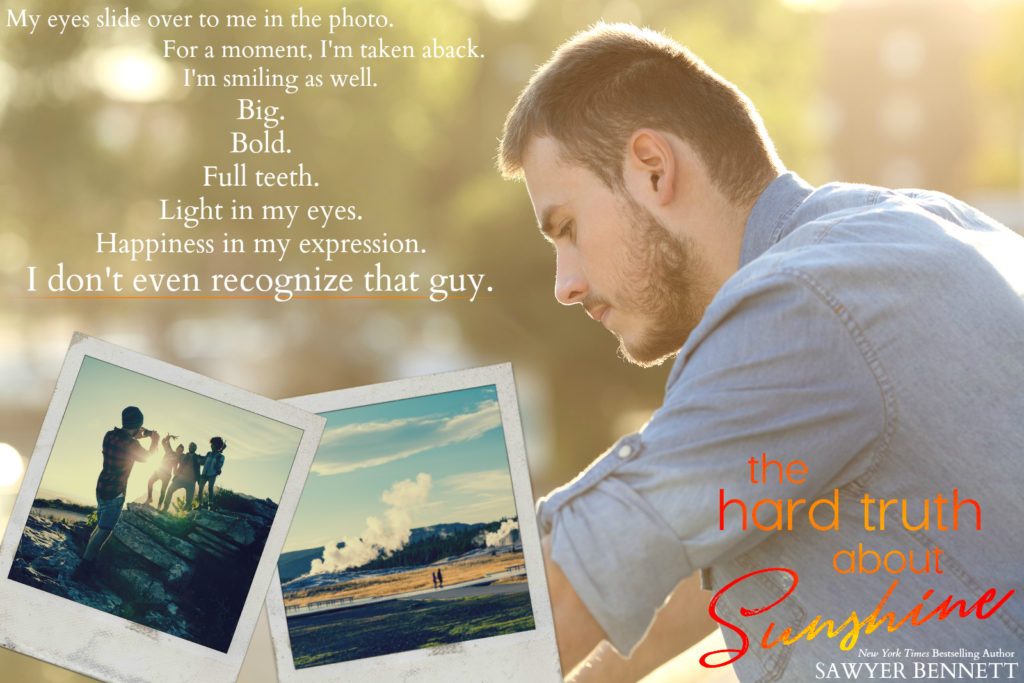 *Giveaway now over – congrats to Victoria*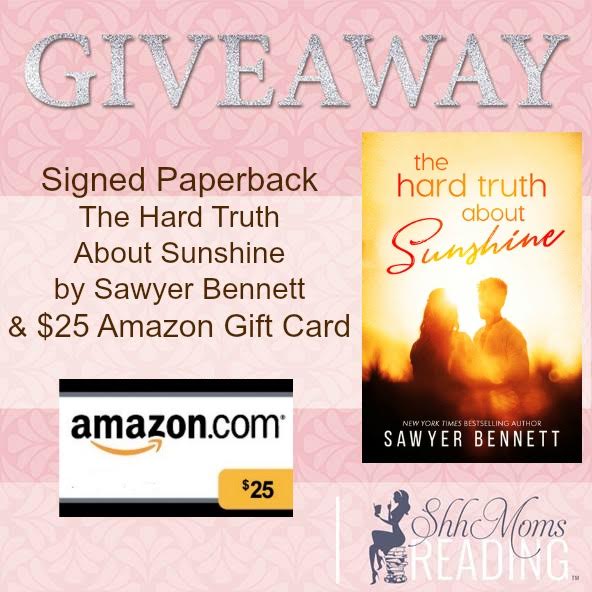 Enter to win a signed copy of The Hard Truth about Sunshine and a $25 Amazon Gift Card (open U.S. ONLY)
All you have to do is (any of the following):
➡ share this post and giveaway on your social media account(s) (Facebook, Twitter, Instagram, etc). Sample message below:
The Hard Truth about Sunshine is #ComingMarch28th #ExcerptAndGiveaway @shhmomsreading @bennettbooks
➡ Add The Hard Truth about Sunshine onto your GR TBR https://www.goodreads.com/book/show/34180861-the-hard-truth-about-sunshine
➡ Stop by Sawyer Bennett's FB page, give her a like and let her know Shh Moms Reading sent you and how much you are looking forward to reading The Hard Truth about Sunshine https://www.facebook.com/bennettbooks/
 Please make sure to post a link to your shares below (the more you do the more chances to win!). One winner will be chosen Sunday March 26th. Thank you for sharing!