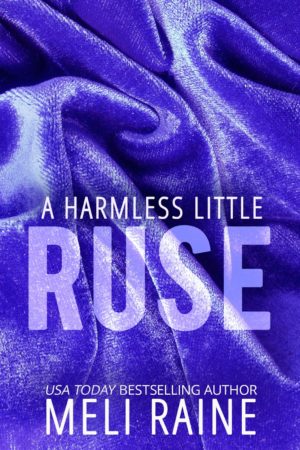 A Harmless Little Ruse

by Meli Raine
on November 18, 2016
Buy on Amazon, Buy on B&N, Buy on iTunes, Buy on Kobo
Goodreads

She has no idea what she's doing. Loose cannons never hit their targets.

And they take out plenty of collateral damage.

Four years ago Lindsay experienced the unspeakable right before me, and I couldn't stop them.

But that's all changed now.

When her father, Senator Bosworth, contacted me to ask — demand — that I protect her, it was a second chance. A shot at redemption.

An opportunity to right an unspeakable wrong.

Controlling Lindsay as she seeks her revenge on the monsters who hurt her won't be hard.

Containing my own out-of-control feelings for Lindsay and keeping up this ruse of cold-blooded distance will be.

Even harder than admitting to her what really happened that night four years ago.

It turns out I don't have to, though.

Someone else did it for me.

And I'll make sure they regret it.
* * *

A Harmless Little Ruse is the second book in this political thriller/romantic suspense trilogy by USA Today bestselling author Meli Raine, and is entirely from Drew's perspective.
Check out an exclusive first look at an excerpt of A HARMLESS LITTLE RUSE below and make sure to enter the giveaway for a chance to win a giftcard – GOOD LUCK!

I wake up to an empty bed.
It's not mine.
Lindsay's gone. I can feel a change in the air. I jump to my feet, instantly alert, blood pumping to arms and legs that are battle-ready. Her bedroom room smells like lavender and beeswax, mingled with the hot scent of sex. I swear her heat still lingers on the sheets. The ceiling fan is still, the room crackling with silence.
I grab my gun belt and –
What the hell?
My weapon is missing.
Gun's gone.
Lindsay's gone.
Oh, shit.
She didn't?
She did.
"Gentian," I bark as I shove my earpiece in. "Where's Lilac?" Lilac's her code name.
"With you," he responds.
"Negative." Dead air.
"Gentian?"
"I don't know, sir. No one's seen her. Last we knew, she was locked in her bedroom with you."
No trace of irony. No hint of teasing. If he had even one whiff of either, he'd have his ass handed to him.
And he knows it.
"She's gone, Gentian. Find her."
"Yes, sir." The instant flurry of activity in the house matches my organs. They rearrange themselves inside me as I assess the situation, which is pretty fucking simple.
Lindsay stole my gun and ran away.
Doesn't get much simpler than that.
Last night was the first time in four damn years that I slept. Actual REM sleep. The night those bastards tortured us was the first night of my new life.
A life without sleep.
And last night?
I slept like someone who had finally come home.
"Jesus," I mutter to myself. "Great job, Drew. She totally snowed you."
I have to hand it to Lindsay. She fooled me. I believed her act the entire time. She managed to outwit us all.
Damn smart woman.
Damn dangerous, too.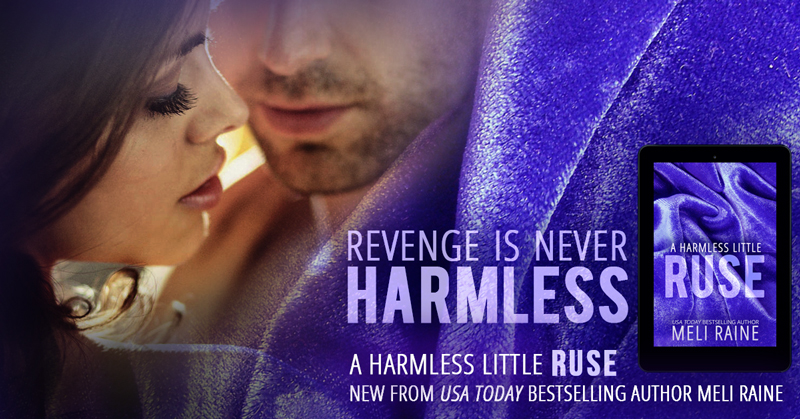 *giveaway now over – congrats to Bube*
Enter to win: a $10 gyft.com giftcard (which can be redeemed at over 200 stores listed on the site, winner's choice!)
All you have to do is share this excerpt and giveaway on your social media account(s) (Facebook, Twitter, Instagram, etc). Sample message below:
#AHarmlessLittleRuse is #ComingNov18th #ExcerptAndGiveaway #RomanticSuspense  @shhmomsreading @meliraineauthor
 Please make sure to post a link to your shares below. One winner will be chosen Sunday November 20th. Thank you for sharing!
♥ READ THE SERIES ♥
Book 1 – A Harmless Little Game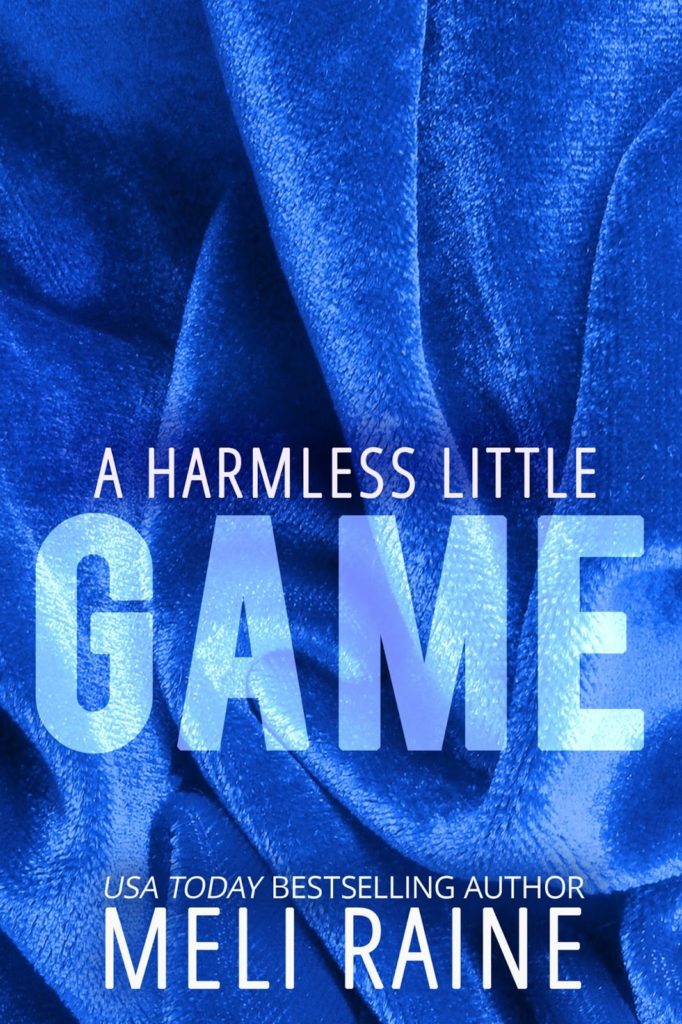 Four years ago I lost my virginity on live, streaming television.
Too bad I wasn't awake for it.
The video went viral. Of course it would. A Senator's daughter on camera? Wouldn't you click "share"? Besides, that's what three of the four guys in the video did.
Share.
They shared me.
But that fourth guy? The nondescript one in the background in the upper left corner of the screen, just sitting on the couch? The only one who did nothing?
Not one single thing.
That was my boyfriend, Drew.
And that was the last time I saw him.
Until today, when my father—now on a path to the White House—hired him as head of security for my new team as I return home after four years of "recovering" in an undisclosed location that involved white lab coats, needles, pills and damage control.
You see, the other three guys never went to jail. Never had charges pressed.
Never faced consequences.
Until today.
Game on.
* * *
A Harmless Little Game is the first in this political thriller/romantic suspense trilogy by USA Today bestselling author Meli Raine.
Add A HARMLESS LITTLE GAME to Goodreads: http://bit.ly/2dP1zPO
Purchase A HARMLESS LITTLE GAME (Harmless # 1), NOW AVAILABLE
Amazon: http://amzn.to/2eVY2iP
Barnes and Noble: http://bit.ly/2bNpPAM
iBooks: http://apple.co/2fLeMIm
Kobo: http://bit.ly/2bNpGh4
Preorder A HARMLESS LITTLE PLAN (Harmless #3), Available December 13th
Amazon: http://amzn.to/2g4W2aO
Barnes and Noble: http://bit.ly/2g4SWUd
iBooks: http://apple.co/2eVYldt
Kobo: http://bit.ly/2fLkMB9