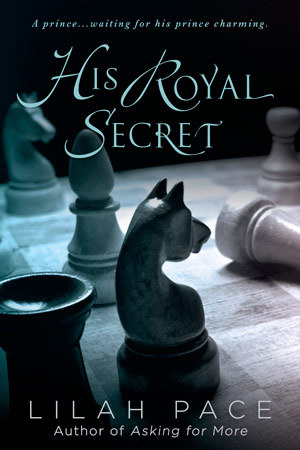 His Royal Secret

by Lilah Pace
on July 19, 2016
Buy on Amazon
Goodreads


The first in an enchanting new male/male romantic duology from Lilah Pace, author of Asking for More and Begging for It ....

James, the handsome, cosmopolitan Prince of Wales, is used to being in the public eye. But he's keeping a king-sized secret...James, next in line for the throne, is gay.

He's been able to hide his sexual orientation with the help of his best friend and beard, Lady Cassandra. Sometimes he feels like a coward for not coming out, but he daren't risk losing the crown. If he did, the succession would fall on his deeply troubled younger sister, Princess Amelia. To protect her, James is willing to live a lie.

While on holiday, he meets Benjamin Dahan—a rugged international reporter with a globe-trotting, unattached life—who catches far more than James's eye. And when Ben is transferred to London, it seems fate may finally be smiling on James.

But what began as a torrid fling grows into something far more intimate and powerful. Soon James will have decide who he is, what he wants from life and love, and what he's willing to sacrifice for the truth...
His Royal Secret pulled me in from the moment I opened it and it had me wanting to sit and read all day! This is my first book by Lilah Pace and I was impressed!
His
Royal
Secret
 is the story of James, the Prince that would be King; the Prince is feels he needs to hide who he is because he is a gay man.  Well, it is more than that really. It is the story of what happens when the Prince meets Ben and that what happens when you never expected to find something so right for you.
Yes, this relationship starts off under false circumstances but it was never malicious and that made me love it so much
 "I didn't lie to you to get a story. At least, not after the first few minutes."
"Then why?"
After a moment's pause, Ben said, very slowly, "Because I hoped I could get you into bed."
It is so clear from the moment these two meet that this is very different for both of them and that made me love this book even more!
This book does not have drama for drama sake but it is laced with so much as it weaves the rich history of monarchy with the landscape of today's modern world.  The news media, living under that microscope and trying to live your life while others judge in this case from close up and far away.
As this story starts to play out despite having to hide, James and Ben fall into this easy comfort, sharing each other's space, enjoying each other's company, simply being with each other, the real person not the persona portrayed to the outside world. I adored being a witness to these grown men find comfort in each other.
James' best friend Lady Cassandra plays so many great roles in this book; she made me laugh and makes it very clear to the reader that she supports him wholeheartedly.
James and Ben both have backstories that shape who they are when we meet them and when they meet each other. Though from different worlds and vastly different upbringing, they share a commonality that I think drawn them to each other.
As I read this book, I fell even more in love with James as he interacted with 
his
 sister Princess Amelia (Indigo).  Writing this review and having read 
His

 

Royal

 Favorite,
I must say WOW, the use of Indigo through the full story added to James' character (more on this point in my review of 
His

 

Royal

 Favorite
).
I truly loved the end of this book.. Why you ask. Because it wasn't the end…. there is a book 2 
His

 

Royal

 Favorite
so this end is just the beginning!  Yes, I am so happy I can read these back to back and can be immersed in all things James and Ben for hours on end.
**You can read an exclusive excerpt from His Royal Secret posted on our blog HERE**