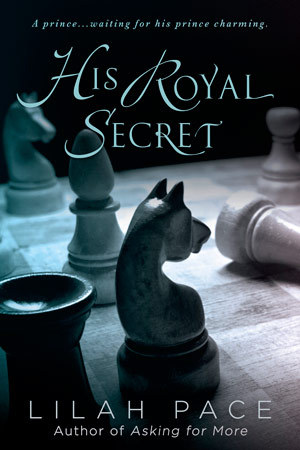 His Royal Secret

by Lilah Pace
on July 19, 2016
Buy on Amazon, Buy on B&N, Buy on iTunes, Buy on Kobo
Goodreads

The first in an enchanting new male/male romantic duology from Lilah Pace, author of Asking for More and Begging for It ....

James, the handsome, cosmopolitan Prince of Wales, is used to being in the public eye. But he's keeping a king-sized secret...James, next in line for the throne, is gay.

He's been able to hide his sexual orientation with the help of his best friend and beard, Lady Cassandra. Sometimes he feels like a coward for not coming out, but he daren't risk losing the crown. If he did, the succession would fall on his deeply troubled younger sister, Princess Amelia. To protect her, James is willing to live a lie.

While on holiday, he meets Benjamin Dahan—a rugged international reporter with a globe-trotting, unattached life—who catches far more than James's eye. And when Ben is transferred to London, it seems fate may finally be smiling on James.

But what began as a torrid fling grows into something far more intimate and powerful. Soon James will have decide who he is, what he wants from life and love, and what he's willing to sacrifice for the truth...
Enjoy a sneak peek from Lilah Pace's new m/m HIS ROYAL SECRET and enter the giveaway for a chance to win an ebook of this book! Good luck!

He betrayed not one hint that he was anything other than totally interested in the people nearest him until the moment Kimberley reappeared at his side. She said, just loudly enough for the others to hear, "Excuse me, Your Royal Highness, but we need you for about five minutes."
He made his apologies and let Kimberley steer him toward the back, where a small anteroom had already been cleared and secured. The idea was only that if he became ill or fatigued during the night, or had to take a confidential phone call, he would have a place of refuge.
Instead, pulse pounding so hard it seemed to shake him, James walked inside to find Ben standing in the center of the room, waiting.
James hadn't been able to stop thinking about this man. All his righteous anger, all his knowledge that their sensual afternoon had been a trick—none of that had been able to keep him from thinking of Ben. From wanting him. Yet none of it had prepared him to see Ben again: black hair slightly shorter, stubble accenting his square jawline, hands in the pockets of his elegant suit as if he didn't give a damn. He looked too rugged for this elegant place, this civilized gathering. Almost unreal.
Slowly James closed the door, heard the latch click. Ben bowed his head slightly, just within the bounds of politeness. "Your Royal Highness. Or is it Your Majesty now that you've become Prince Regent?"
"I don't think you've come all this way to discuss royal protocol."
"No."
How could Ben be so calm, so unruffled? They stood half a room apart, still as statues, and yet James knew his own reserve was only a mask. No doubt Ben knew it too; Ben could see through him, which was how James had gotten into this mess in the first place. Yet Ben was impassive and utterly unreadable. All James could see when he looked at him was the same damnably attractive stranger he'd first glimpsed through the rain.
Maybe he was about to be blackmailed after all.
James said, "How did you get here?"
"Global Media bought a table. I managed to snag a seat."
"Why?"
"I wanted to talk to you again." Ben squared his shoulders—and at that moment, James finally glimpsed that Ben too was uneasy. "To apologize. My behavior in Kenya was inexcusable. I lied to you. That's not how I live my life. Not the kind of person I am. I betrayed my own principles that day. You must have been . . . unnerved, and at what turned out to be a difficult time in your life. I sincerely regret having hurt you."
A thousand internal dialogues with an imaginary Ben, and yet James had never invented so satisfying an apology. It caught him off guard in a way defensiveness or aggressiveness couldn't have. After a moment, James managed to ask, "When did you change your mind?"
"About my behavior?"
"About reporting on me."
Ben paused. "I didn't lie to you to get a story. At least, not after the first few minutes."
"Then why?"
After a moment's pause, Ben said, very slowly, "Because I hoped I could get you into bed."
The thought made James reel. It was dizzying to be betrayed by his body this way—to feel an exhilarating rush of arousal at the mere thought of Ben wanting him, doing whatever it took to get James into his bed.
"You suggested I was a blackmailer." Ben's voice was harder now. A flash of his earlier wrath heated his gaze. "I thought that was outrageous. I still do. But when I deceived you, I gave you reason to think badly of me. So I had no right to object."
"No, you didn't." James felt as though he were on steadier ground. But the way Ben was looking at him—as if he too were surprised by their powerful reaction to each other—no, he couldn't speculate. Couldn't think about it. "I appreciate the apology. More than that, I appreciate your discretion."
"Your secret is safe with me."
James fought back the urge to say thank you. He'd be damned if he'd thank anyone for merely behaving decently. Instead he ought to walk out again and leave Ben behind forever, no more than a sensual memory and a cautionary tale. So why didn't he move?
But Ben wasn't done. "That doesn't mean your secret is safe. Only a fool would expect to keep this information hidden forever, and I don't think you're a fool."
"You treated me like one." His temper sparked anew. "I don't need your advice about how to manage this."
"You need someone's advice. The paparazzi search for you every moment, every day. It's a miracle you've gotten away with it up to now. But you had a moment of weakness in Kenya, didn't you? You'll be weak again. It's human nature. The next guy might not be as nice as I am."
"I beg your pardon?"
The nerve of the man: Ben looked pleased with himself, his cool superiority only stoking the fire within James "I didn't just get your clothes off; I also heard your secrets. You're lonely, James. That makes you vulnerable. Someone could play worse games with your head than I ever did." For a moment Ben hesitated, and then he added, more quietly, "Be careful."
James wasn't about to be preached to, not by Benjamin Dahan. "Don't forget, I know your secrets too." He arched an eyebrow. "I got as much on you as you got on me. That's what you told me to do when we started the chess match, isn't it? Don't imagine I've forgotten a word of what you said."
For a few seconds they stared at each other, equally angry. And yet the anger was in part only a mask for the other force in the room, the one that made James's breath come fast and shallow, the one that darkened Ben's gaze. It was dangerous to be so vulnerable to this man, but James couldn't feel ashamed. All he could feel was the triumph of realizing his hold over Ben was as powerful as Ben's hold on him.
"Be careful," Ben repeated, but now the edge had returned to his voice. "One day you'll go too far."
"With you?"
Ben grinned, an expression so fierce it startled James nearly as much as it aroused him. "I thought we'd already proved that you can't go too far with me."
They were on the brink now, and they both knew it. James came a few steps closer as he said, "Can't I?"
"Care to find out?"

*Giveaway now over – congrats to Misty Suloff*
Enter to win an ebook of HIS ROYAL SECRET (ebook to be sent on release day 7/19)
All you have to do is share this exclusive excerpt on your social media account(s) (Facebook, Twitter, Instagram, etc). Sample message below:
 His Royal Secret is Coming July 19th #ThePrinceHasASecret #JamesAndBenjamin @lilahpace @shhmomsreading
Please make sure to post a link to your shares below. One winner will be chosen Sunday June 19th. Thank you for sharing!