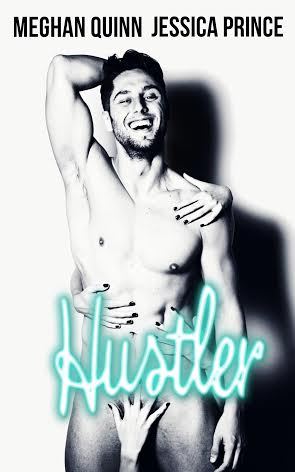 Hustler

by Meghan Quinn, Jessica Prince
on May 9, 2016
Buy on Amazon
Goodreads

I make my living as a hustler, and I'm great at it.
I don't have a single tell and I use that to my advantage to manipulate any situation.
I've always known what a person is about to do before they've even decided.

That is, until I met Penelope.
I can't get a read on her, and what's worse, she doesn't want anything to do with me.
Which only makes me want her more.

Now I'm in for the hardest hustle of my life.
Somehow I have to convince her she belongs with me.
Good thing I'm always up for a challenge.
Enjoy a sneak peek into HUSTLER by Meghan Quinn and Jessica Prince. Christine read this book and omg LOVED it!!! Readers looking for fun and sexy and will enjoy this seamless collaboration! Make sure to enter for a chance to win an ebook giveaway below! Good luck!

"Hello Miss Prescott. What brings you here this fine morning?"
Her eyes are glued to my chest, not a single word comes out of her mouth.
"Um, we're having a picnic," Page answers for her, poking Penelope in the back with a stick.
"Oh yeah, food," Penelope answers, shaking her head quickly and turning back around.
Not waiting for an invitation, I take a seat next to her and say, "Well, don't mind if I do. I'm famished." Grabbing a few grapes, I pop them in my mouth and then hold my hand out to Page. "Gavin Saint."
"Page," she answers, awe in her voice. "Nell has told me so much about you."
Grinning from ear to ear, I turn to Penelope whose face is bright red. "Is that so?"
"No!" she answers quickly, shooting daggers at her friend. "I have not said anything about you, at all."
"Not even about the storage closet?" I ask, not ashamed at all.
Davies throws her head back and laughs while Penelope coughs into her drink. I pat her back in a calming gesture, occasionally rubbing my hand over the thin material of her top, wishing it were her skin.
"From your reactions, it seems like our little friend here did tell you. What did she say? Give me all the dirt." I rub my hands together, loving the way Penelope is seething next to me.
Before any of the girls could cut in, Penelope says, "Just that you told me you had to use your fingers because you have a micro-penis and felt bad that you wouldn't be able to please me any other way. We all agreed, you can't have it all Gavin Saint," she finishes with a sympathetic wince.
Should have seen that one coming. Fucking woman keeps me on my toes.
I lean over to Penelope, placing my hand on her lower back, and speak directly into her ear, keeping our conversation private. "You and I both know that's a lie, but I'll let it slide because I look forward to the moment when I fuck that thought right out of your head with my long…thick…cock." I take my time speaking into her ear, eliciting goose bumps across the surface of her skin. With a quick glance, I also take in how her nipples have hardened.
Bluff all you want baby, I can read you like a fucking book.
OMG CHECK OUT THE TEASERS FROM THIS BOOK SO FAR *dies* We can't wait for you to read it!!!!!

*Giveaway now over – congrats to Sam!*
Enter to win an ebook kindle copy of Hustler!
All you have to do is share this exclusive on your social media account(s) (Facebook, Twitter, Instagram, etc). Sample message below:
 Hustler is coming May 9th #The HustlerHasMetHisMatch @JessPrince2013 @AuthorMegQuinn @shhmomsreading
 Please make sure to post a link to your shares below. ONE winner will be chosen Sunday May 8th. Thank you for sharing!