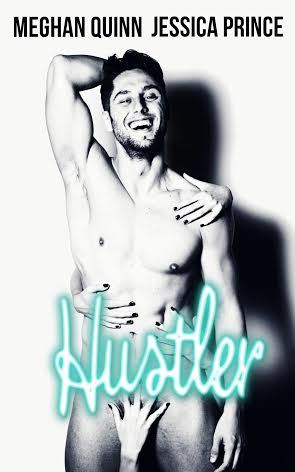 Hustler

by Meghan Quinn, Jessica Prince
on May 9, 2016
Buy on Amazon
Goodreads


I make my living as a hustler, and I'm great at it.
I don't have a single tell and use that to my advantage to manipulate any situation.
I've always known what a person is about to do before they've even decided.

That is, until I met Nell.
I can't get a read on her, and what's worse, she doesn't want anything to do with me.
Which only makes me want her more.

Now I'm in for the hardest hustle of my life.
Somehow I have to convince Nell that she belongs with me.
Good thing I'm always up for a challenge.

I LOVED my first experience reading this writing duo together. I love Meghan Quinn and this is my first time reading Jessica Prince. Their writing style was seamless and the reader couldn't tell that this was written by two different people which I absolutely LOVE!
You get an idea of what this book is about from the blurb. Gavin is a hustler and he is used to winning at everything. Gavin knows that he will never fall in love because of how his father was and he swore he would never succumb to feelings for a girl. Until he meets Penelope aka Nell. And I have to say that I enjoyed that the hustler has met his match!
I completely loved how cheeky Nell is with Gavin. Gavin is completely fascinated by her but can't get on a read on her and what she feels for him.  Nell is the type of girl you want to be your girlfriend. She is strong and not someone that will easily cave in for a pretty face. I loved their bantering back and forth and it only added to the fun I had while reading this book.
With these two, there is passion and heat, there is humor that will have you rolling on the floor laughing, there is romance and above all there is hope…because you see when you first meet Gavin, you will see a cocky player but as you watch this bond grow between Nell and Gavin, you will see these characters evolve and change and you will see the feelings grow into something so much more than infatuation…it's that hope that love will win.
So while there were so many things that I completely enjoyed about this book, there were a couple of things that didn't work as well for me. I wanted to understand their connection more. Gavin seemed to change his ways so quickly in the beginning and so fast for her but why? How could someone do a complete 360 so fast? Why was she so special and while I completely LOVED her, I just wanted to understand this more. I wanted to feel more if that makes sense.
Oh and I want to mention that I LOVED the secondary characters in this book..the lead ins for future stories were SO there and I hope that we get more from this cast of characters.
Readers looking for a quick read that is sexy and laugh out loud fun should give Hustler a try. I already love Meghan and now have another author to add to my #MustClick list and look forward to more from this writing duo!

 Casually, I sit on the side of the table and take a sip of my drink as I let her eyes peruse my body. It's a power move. Even though I'm eager to get to know this little hellion, I mask my reaction to her. Never show and tell, especially with women.
I can feel her eyes scanning me, focused on the bit of exposed skin near the collar of the shirt. They then travel down my stomach – little does she know what's hiding underneath my clothing – and then to my crotch, then she immediately refocuses on her hands. I caught her though, she's a goner as far as I'm concerned.
"Penelope Prescott," I start, but I'm quickly interrupted.
"Nell."
"Excuse me?"
"Everyone calls me Nell," she clarifies.
I set my glass down and study her before saying, "Too bad for you, I'm not everyone." Her mouth falls agape for a second before she closes it, trying not to let her shock show. I have a rather up front personality, it can catch some people off guard. Clearly, she's one of them. "Now tell me, Penelope, how long have you worked for Hotel Paragon?"
I know the answer to my question, but when you're holding the upper hand, you not only want to show power, but you also want to make the other person feel as though they have some control over the situation, when in fact, they don't. Poker 101.
She wrings her hands together on her lap. Tell number one.
She's nervous, but there's a confidence in her eyes that almost boasts a cocky air around her. Unfortunately for her, I'm a master at reading people, so she's doesn't fool me one bit.
With her head held high, she answers, "A little over a year now."
I nod. "And how long have you been working in the high roller room?"
She bites her lip before answering. Tell number two.
"It's my first day today."
I nod again. "And before you started, were you informed that the men playing at the table you would be serving are valuable members to this hotel, some of our most lavish and esteemed customers?"
She twirls a strand of hair around her finger. Tell number three.
"Yes, sir."
"Mr. Saint," I inform her.
"Sorry, yes, Mr. Saint." She grits out my name, as if it's painful for her to say.