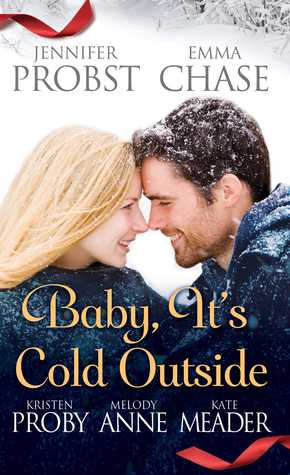 Baby, It's Cold Outside

by Emma Chase, Kristen Proby
on October 28, 2014
Pages: 544
Buy on Amazon
Goodreads


New York Times and USA TODAY bestselling indie authors Jennifer Probst, Emma Chase, Kristen Proby, Melody Anne, and debut author Kate Meader come together to write a sizzling romance anthology.

Outside it may be frosty, so turn the heat way up with these stories of desire!

Can a determined woman executive and a playboy billionaire survive being stranded together in a snowstorm? Jennifer Probst depicts an encounter almost too hot to handle...

Drew and Kate play an encore to Tangled in this sexy take on a "Christmas Carol" by Emma Chase. When a Christmas Eve argument condemns Drew to a troubled night, three dream women teach him that no gift could be more tantalizing than Kate...

With Kristen Proby, ski slopes are quite delightful. Grace Douglas is sure she'll never learn to ski, but instructor Jacob Baxter could teach her lessons of a different kind...

Can a southern California transplant survive Montana's deep snows?Melody Anne, author of the bestselling Andersons series, melts the icy drifts completely away with the heat between sexy Hawk Winchester and brand-new teacher Natalie Duncan...

What could be hotter than a firefighter? Kate Meader shows how, as Brett Farraday and heiress-turned-tattoo-artist Lucy Cochrane discover, nothing ignites holiday flames like rekindling a lost love...
I thoroughly enjoyed both of the short stories I read in this anthology; one was a story with characters I already adored and one was about new characters found in a series I already loved! Both were really well done.
A Tangled Christmas Carol by Emma Chase
I loved visiting with Drew and Kate during the Holiday season; just let me say that if you have NOT read Tangled by Emma Chase go 1-click now.
From the moment I opened this book, I was reminded why I loved Drew Evans' voice! Him in the middle of NYC Christmas shopping was classic!
Drew has always been an ambitious man; and I love how realistic Drew still felt. Yes, he loves his family, his wife, his son, his life but when a big deal calls, does it matter that it is Christmas Eve?
I think so many men need a reminder that life isn't about what you have but who you spend your time with.
The use of the Christmas Carol theme truly drove this theme home and although I loved each ghost and the visions they show Drew, the vision of James for me was so powerful.
Thank you Ms. Chase for a wonderful visit with a cast that lives in my heart!
Saving Grace by Kristen Proby
Saving Grace takes place inside of Ms. Proby's Love in the Big Sky series. This book can easily be read as a stand alone and is a great introduction to the cast of the Love in the Big Sky Series and to Ms. Proby's writing if you have not read her before.  From the moment I opened this story, I was reminded why I love this author's writing.  This is the story of Grace Douglas and Jacob Baxter (Jacob is  a new character to read and Grace you see briefly in another book so this can be read as a stand alone).
Jacob or "Bax" to his friends and employees is a billionaire though when Grace meets him, she has no idea.
Their chance meeting was adorable and the time they spend together hot while also very emotional.  The banter between these two was so well done and the connection was something the reader could feel.  The epilogue left me grinning from ear to ear.
For a short story, this one was well developed and had me even more sure I will be reading Falling for Jillian book 3 in the Love in the Big Sky Series.
We had the opportunity to sit down with Kristen Proby and Emma Chase to ask some questions and here is what they said. Enjoy!!!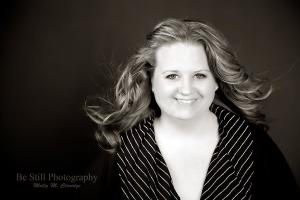 Q: What do you want readers to know about your Love Under the Big Sky series?
A: This series is super sexy, full of family and friendships.
Q: What has surprised you most since hitting publish for your first book?
A: I think the most surprising thing has been how voracious readers have been for the books. I love how enthusiastic the readers are.
Q: What is the last book you couldn't put down and where is your favorite place to read?
A: The last book I couldn't put down… Thoughtful by SC Stephens. It comes out in just a few months and trust me when I say you'll fall in love with Kellen all over again!
Q: What is your guilty pleasure?
A: My readers know this: Adam Levine! 🙂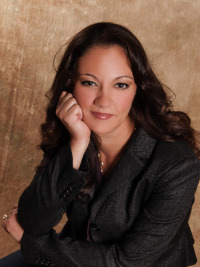 Q: Where did the idea for Drew Evans come from?
A: When I first started writing Tangled, it was in third person. I switched to first person because I wanted it to feel quicker, sharper. As soon as I started writing in Drew's voice, the character just came alive and all his asides just flowed so naturally.
Drew's advice and opinions are based on things I've heard, seen or learned from growing up with a great group of guys, from my brother, from my husband. Drew isn't based on any one man – he's my own little Frankenstein – a bit of all the men I've ever known. He's crude and arrogant, frustrating and self-centered, but he's also honest and loyal, passionate and good-hearted and very funny. That combination is magical – it's what makes readers love him – and makes his narration so entertaining.
Q: Have you been surprised by the amazing response to this male POV?
A: I was surprised! I'm thrilled, of course, that everyone is enjoying him so much (he makes me laugh too) and that readers find the POV authentic. But, I didn't realize that writing the first book in a series from the male POV was an unusual thing when I wrote it. Though I couldn't imagine it any other way – Drew's narration is as much a part of the story as the story itself.
Q: What is the funniest response you have received from a fan after reading Drew?
A: There's been a few. Lots of emails from ladies who asked their husbands/boyfriends if what Drew was saying/thinking was true (in all cases, the answer was yes). Many readers have also insisted their boyfriends/husbands read it. Lots of emails from readers who read Tangled in a public place and got some really strange looks because they were laughing out loud.
But I think the funniest response was: "I can't believe you wrote a book about me."
Q: What is the last book you couldn't put down and where is your favorite place to read?
A: Outlander by Diane Gabaldon. My favorite place to read is curled up on the couch with my husband on one side, the dogs on the other (and the kiddies fast asleep upstairs).
♥READ KRISTEN'S SERIES♥
Book 1 – Come Away With Me
Book 1.5 – Under the Mistletoe With Me
Book 2 – Fight With Me
Book 3 – Play With Me
Book 4 – Rock With Me
Book 5 – Safe With Me
Book 6 – Tied With Me
♥READ EMMA'S SERIES♥
Book 1 – Tangled
Book 1.5 – Holy Frigging Matrimony: A Tangled Series Short Story
Book 2 – Twisted
Book 3 – Tamed
Book 4 – Tied