Today, we welcome new indie author Claire Contreras to Shh Moms Reading as she celebrates the release of her new book, There Is No Light In Darkness.  Claire sat down with us to answer some questions.  There Is No Light in Darkness is book 1 in the Darkness Series.  Darkness Before Dawn, Book 2 in the series is scheduled for release Summer 2013.
 
---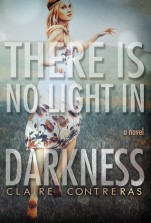 Summary
A past hidden in darkness. Her present cloaked in secrets. The future holds the only truth that cannot be escaped.

After the mysterious and violent death of her parents, Blake Brennan finds comfort with an unconventional family. As the dramatic loss of her parents continues to haunt her—and hinders her from reciprocating love that others give freely—Blake embarks on a harrowing journey in search for the truth.
Living in a constant state of fear and need for control, vivid nightmares reveal details that lead to perilous situations. The past begins to collide with the present, and Blake must decide if the truth is worth losing the ones she loves.
Can love conquer all as her past comes to light? Or will Blake realize that there is no light in darkness?
Book contains: Explicit language & sexual content
---
1.  Who inspired you?
This is difficult because there are SO many fabulous indie authors out there. I don't know in what order I read them, but I read: Slammed by Colleen Hoover, Beautiful Disaster by Jamie McGuirre, and The Thoughtless Series by S.C. Stephens, and thought, "How did I not know about this indie world before?!!?" So in a sense, all of those authors have served as inspiration. Along with Katja Millay, KA Linde, Tarryn Fisher, Madeline Sheehan. I can go on for days because in a sense they all have inspired me. Every time I read a book that I love, it serves as inspiration.
2.  Did you always want to write?
I've always loved writing, but I never thought I would write a novel. I wrote a story a while back about a rockstar stuck in a love triangle, and that story will never ever see the light of day because…it sucks, lol. BUT I wrote it mainly as entertainment for my friends and they loved it, so it served its purpose.
3.  What is your fave book?
The Bronze Horseman by Paullina Simmons
4.  Do u know how the story will end as you write or does it come along as you write?
I know what will happen at certain points. I've kind of mapped out situations, and I have an idea of how it will end, but I don't know for sure. I usually let the characters take themselves where they want to go. Then again, I knew the ending of book one before I wrote the rest of the story. For the second book, I have no idea how it will end.
5.  What is your process?
I'm not even sure you can call what I do a process. I'm the least organized person-ever, so I don't do well with timelines and things like that. I get a story in my head, create the characters and start writing. I have what I call "writers diarrhea", where I just write until I can't write anymore. Once I start, the characters take over. Originally, this wasn't even supposed to be a romance. Enter: Cole Murphy, he kind of took over my entire story. He tends to do that.
6.  Do you model characters after yourself or people you know and what makes a good main character?
I think each characters has a little piece of me in them, but I don't model them after anybody in particular. Blake has my strange humor. I see some qualities that my husband has in Cole. I think ultimately, what makes a good main character is their flaws and how they handle the situations life throws at them.
6.  Knowing what you know now – would you change anything, would you do something differently?
Not at all. This has been an amazing learning experience for me & thankfully I've had some established indie authors that have been willing to answer my questions.
7.  What do you hope readers get from your books? 
I hope they get transported from their every day lives and get lost in another world for a while. In the end, I hope they see a story of undying love and bonds that can't be severed.
8.  What words of advice would you give to a new author?
Write the story that you want to tell, not the one you think people want to read. Get good beta readers, and pay attention to their feedback. Ultimately it's your story, so you can't listen to everybody, but if more than one person is pointing the same things out, it's for a reason. Don't be afraid to contact fellow indies with your questions. Everybody starts out in the same place.
9.  Dream Cast
10. What is that one song that would sum up this book?
Tell me a Story by Phillip Phillips
Thank you for stopping by to speak with us today! We can't wait to read Darkness Before Dawn!
About the Author
Claire Contreras graduated with her BA in Psychology from Florida International University. She lives in Miami, Florida with her husband, two little boys, and three dogs.
Her favorite past times are: daydreaming, writing, and reading.
She has been described as a random, sarcastic, crazy girl with no filter.
Life is short, and it's more bitter than sweet, so she tries to smile as often as her face allows. She enjoys stories with happy endings, because life is full of way too many unhappy ones.
She is currently working on the second novel in her series.
Facebook http://www.facebook.com/CContrerasBooks
Goodreads http://www.goodreads.com/author/show/6655354.Claire_Contreras