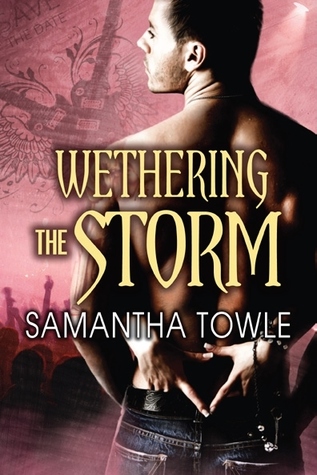 Read Christine and Denise's 5 STAR review here.
Christine and Denise had the opportunity to sit down with Jake and Tru following the epilogue from WTS to ask some tough questions – enjoy reading them below.
Ms. Towle also provided her dream cast and there is a giveaway – enter using Rafflecopter below!   Good luck!!!

---
Conversation Key
Christine and Denise – response in purple font
Tru- response in red font
Jake- response in blue font
Narrative – standard font
Hi Tru and Jake! Thanks so much for meeting with us. We LOVED following your story in The Mighty Storm and Wethering the Storm and you can imagine how much your fans want to know how you are doing since we last heard about you from Ms. Towle.
Q. Something that was missing from WTS, we wanted to know – can you describe the wedding night? 🙂
Tru: It was…everything a wedding night should be, and more.
Jake: Definitely, more *grins*
Q. How is JJ enjoying living between both countries? And be honest… traveling with toddler.. we know as Mom's that has to be interesting 🙂
Tru: He's still a little too young to be aware, all he knows that he has two sets of toys and two bedrooms, and he gets to fly on daddy's plane which he loves!
Q. Jake how is your relationship with in laws? Are you still afraid of being a good father?
Jake: Really great. Billy and I were always close. Eva took a little longer to warm up to me, but all's good now.
Q. Tru, how is Jake as a dad? Are the kids learning Spanish? Do you travel together for tours?
Tru: Jake is an amazing dad. Totally hands on. Changing diapers, bathing, feeding – Jake's involved in it all. He loves it!
Absolutely, I would love it if my kids spoke Spanish, but I'm going to let them decide if that's something they want to do.
Currently, we travel with Jake while touring. But once the kids are at school that's going to have to change. So I guess we'll just cross that bridge when we reach it.
Q. Jake, any more tattoos?
Jake: *laughs* No, not at the moment, but I will be getting some new ink soon – kids names.
Q. How did Jonny's parents react when they learned JJ's name?
Jake: They were really happy to know, and they absolutely adore JJ.
Q. How is post-baby intimacy for the two of you?
Tru: We make sure to find time for each other. We have date night every Friday. I think it's important to have time with just the two if us.
Lightening Round for both:
Q. You are happiest when…..
Tru: We're all together.
Jake: Same for me.
Q. What's on your IPod now (top 5 songs)
Tru: Broken Hearted – Lawson, High Hopes – Kodaline, Wake Me Up – Avicii, Love Me Again – John Newman and Let Her Go – Passenger.
Jake: High Hopes – Kodaline, Broken – Jake Bugg, It's Time – Imagine Dragons, Hey Ho – The Lumineers and Some Night – Fun.
Q. Jake, tell us something that only Tru would know…
Jake: If I did that then everyone would and it'd defeat the point of it being a secret between us 😉
Q. Tru, same question….
Tru: What Jake said!
*laughs*  Thank you SO much for sitting down to meet with us. We TRULY enjoyed your story and wish you and your family much happiness.
---
GIVEAWAY
---
Book 1 – The Mighty Storm

Book 2 – Wethering The Storm