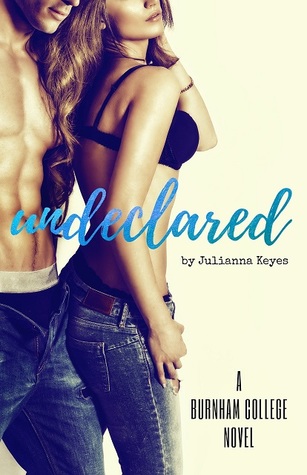 Undeclared

by Julianna Keyes
on February 27, 2017
Pages: 236
Buy on Amazon, Buy on B&N, Buy on iTunes, Buy on Kobo
Goodreads

Kellan McVey is Burnham College's most prolific athlete, partier, and ladies' man—and that's just how he likes it. Returning to reign for his third year, he wants nothing to change. Then Andrea Walsh shows up.

It wasn't too long ago that Andi and Kellan were lifelong friends, mortal enemies, and, for one hot summer, more. Then Kellan left and Andi stayed behind.

Kellan thought he'd moved past that last summer's heartbreak, but with Andi sitting next to him in class, befriending his friends, and battling for the same once-in-a-lifetime job opportunity, he's starting to remember why he hated her…and why he loved her.

Kellan has a long list of reasons that falling for Andi again is a terrible idea, though every new moment together challenges that theory. But Andi's all too familiar with Kellan's love 'em and leave 'em approach—and she's found someone else to get serious about.

Burnham's campus king has never had to fight for a girl, but if he wants Andi to give him another chance, he'll have to do the one thing he's never had the nerve to do: admit it.
If you love New Adult College Romances, you will LOVE the Burnham College series by Julianna Keyes. Undeclared (book 2) is releasing on February 27th and we have an exclusive excerpt and giveaway to share with you. You can catch up on the series and read Undecided which is #OnSale NOW for $1.99. Check out my 4.5 star review HERE. Enjoy the excerpt and make sure to enter the giveaway – Good Luck! #Kellan4Eva

I look at Andi again. The first time we had sex that summer we'd picked a day—it was a Tuesday—waited until her mother left for work that night, then I'd gone over to her house. We stared at each other awkwardly in the foyer, then I'd followed her awkwardly up the stairs to her room, where we'd awkwardly stared at each other some more.
"How do we start?" she'd asked.
"I guess we just start," was my answer.
If only it were that simple now.
The inning ends and a fried chicken commercial comes on. "Are you hungry?" I ask.
"Not really. You?"
"No."
We watch the commercials and when the baseball game comes back they're in the studio again, where Ray and his chuckling cohort inform us the rain has picked up, they've covered the field with a tarp, and they'll let us know when the game resumes.
"Ugh." Andi groans. "That was a good one."
"It'll come back."
"But how long can we wait?" she asks, mimicking my question from the car.
I cannot believe how foolish I'm being. If anyone reading the Student Union lists saw me now, they'd think they were looking at the wrong guy. I wanted Kellan 2.0 to be a better person than Kellan 1.0, but I didn't intend for him to be a complete pussy.
I scrub my hands over my face and tell myself to get a grip.
"What's wrong?" Andi asks, doing her best impression of a person who is more concerned about me than the baseball game.
"Nothing," I say, meaning everything. "I'm going to open a window. It's hot in here. Do you think it's hot?"
"Not really, but I'm still going to get more water."
We stand at the same time, stuck between the couch and the coffee table, bumping into each other when we try to pass.
"Sorry," Andi says automatically, the second syllable trailing off when the hand I put on her hip for balance slips over the waistband of her jeans to graze approximately one square inch of smooth, bare skin. She's wearing a plain white T-shirt and suddenly it's the sexiest thing I've ever seen.
We both look down, then I summon my nerve and instead of apologizing and taking my hand away, I curl my fingers slightly into her waistband and tug, very, very carefully.
I hear her inhale, the sound a tightrope walker hears at the very center of the line, the wind whistling past, the way forward just as difficult as the way back, nothing to catch him, no matter which way he decides to go.
Andi scoots her foot forward approximately one millimeter and I exhale. There wasn't much room between us to begin with, but we've kept our distance with less.
I tentatively move my hand, sliding the back of my knuckles over her hip as I raise my eyes to her face. She watches where I touch her, then lifts her gaze. I can't name the emotions swirling in her eyes any more than I can name the ones I'm feeling, but it's something.
I can work with something.
I've managed with less.

*Giveaway now over – congrats to Anna Bergman*
Enter to win a signed copy of Undeclared (open international – to be sent after release day)
All you have to do is share this post on your social media account(s) (Facebook, Twitter, Instagram, etc). Sample message below:
 #Undeclared is releasing #Feb27th #NewAdultCollegeRomance #Kellan #2ndChanceRomance @shhmomsreading
 Please make sure to post a link to your shares below. ONE winner will be chosen Monday, February 27th. Thank you for sharing!