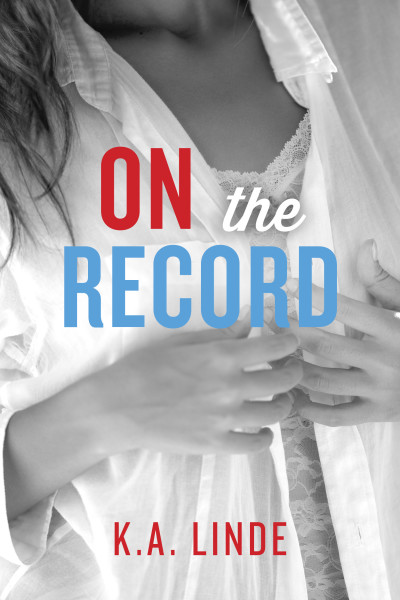 On the Record

by K.A. Linde
on August 26, 2014
Pages: 382
Buy on Amazon
Goodreads


For political reporter Liz Dougherty, election day—a day of looking toward the future and saying goodbye to the past—seems like a fitting time to start a new relationship. But feelings for her former flame still linger...

The sexy second book in bestselling author K.A. Linde's Record series decides whether it's better to pick up the pieces and move on...or to pick up right where you left off.
The queen of angst does her worst…get ready for the roller coaster of a journey that will give you heart palpitations and a realistic view of love and it's chance for survival in politics.
As I start On the Record, I am reminded again of my complete heart break watching Liz walk away from Brady because she doesn't want him to have to choose between her and his career.
By the way, as I write my review I am going to be as vague as possible since this book hasn't released yet and for those who have read Off the Record, you need to experience this on your own without spoilers.
Liz is trying to move on from the love that she felt for Brady in both her career and her love life. But how can someone completely move on when your heart belongs to someone else? Liz does the best that she can; not fully committing and there were times I felt bad but then other times that I didn't (sorry I know..so vague!).
What made this series so great for me was Brady Maxwell himself and he was absent for a lot of this book. At times, I just wanted to fast forward and get to any parts where there was interaction with him…I missed him…I missed his voice. I was still vested in the story but I missed the Liz and Brady connection.
I will say this…it is a tough journey that Liz will embark on being in politics and in the public eye. Relationships and matters of the heart are sacred and you want to protect that from others. In my mind and heart, there was only one way that this could end because there is no existence without the other, there was always "the one".
Kyla continues to write a well written albeit torturous and true look into what I believe a life in politics is like. She does what she does best and gives us angst and anxiety and an upset stomach but it was truly worth it in the end! I enjoyed this book though not as much as the first and I certainly look forward to For the Record for the conclusion to this story. I did learn something from On the Record….the man who deserves Liz's heart is the man that was always a part of her success. This special man always wanted what was best for her and never showed jealousy. This man never waivered, was always proud and in my opinion was always "the one" for Liz….you will have to read this book to find out who I am referring to!!! Enjoy the ride! <3

ONE OF MY FAVORITE SCENES FROM THE BOOK! AHHHHHH!!!!!!!!!!!!!!!
"Liz," he growled, "get. In. The. Car."
"I can't. I just can't get in the car with you," she said. She made the mistake then of lifting her eyes to meet his deep chocolate orbs. Fuck! His eyes were so intense and commanding. She just wanted to get lost in those eyes forever. She swallowed hard and licked her bottom lip. "It's not a good idea."
"Goddamn it, Liz. Get in the car!" he yelled. "I didn't get out of my meetings for the night and drive thirty minutes out of the way for you to tell me to go home. Now get in the car."
"Seriously, shut up," she cried, pushing off of the car door. "I made a mistake. People make mistakes." The car jerked into park and he popped the driver's-side door open. "What are you doing?"
"I said get in the car, Liz, and you're going to listen one way or another," he said, walking around the front of the car.
"What the fuck does that mean?" she asked, narrowing her eyes. "I'm trying to have a conversation with you. I'm not in the right frame of mind tonight, and being around you is a bad idea."
"I like bad ideas," he said, standing before her.

Please also join us for Kyla's RELEASE DAY PARTY for On the Record on Tuesday 8/26 from 3-8pm EST. Authors and bloggers will be stopping by to join in on the fun and we hope you will too!!
Facebook Event Page: https://www.facebook.com/events/887245854622300/
♥READ THE SERIES♥
Pre-Order For the Record