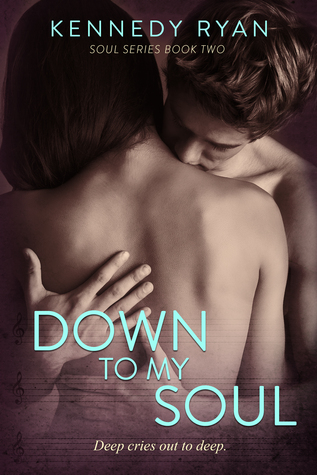 Down to My Soul

by Kennedy Ryan
on March 31, 2016
Buy on iTunes
Goodreads

RHYSON

She doesn't wear my ring.
We never stood before a preacher.
The only vows exchanged were between our bodies; between our souls.
But she was mine and I was hers until I ruined it. I have to believe that every day, every step, every breath brings me closer to making things right.
To making her mine again.

KAI

I've seen promises broken.
I know love makes no guarantees.
But things were different for Rhys and me, until he lied, and I walked away. Only there's a chain between our hearts that I can't break. Even if I forgive him, a shadow from my past hangs over us; over this love that reaches all the way down to my soul.
Kennedy Ryan talks music and her new book Down to My Soul. Enjoy an excerpt and enter the flash giveaway below for a chance to win an ebook of book 1 – My Soul to Keep!
---
Thank you to Christine and Denise for having me today. They are some of my favorites! The second book of my Soul series, Down to My Soul, releases tomorrow, March 31. I've been chatting all week about some of the things I think make it and book one, My Soul to Keep, special. There is a lot of me in these books. Obviously I wrote them, but some of the things that are most important to me inform these stories. Definitely music, since Rhyson and Kai are both musicians, and I played an instrument and have sung all my life. More subtle, but no less essential, are the influences of my small town Southern upbringing.
I grew up in a place with no name. So tiny we pulled our zip code from the town to the north and our area code from the town just south. We didn't have a traffic light. We'd walk to the general store, which sold, among other things, pickled pig's feet. The woods were our playground and a stream our refreshment. Many a morning I woke up with deer in the front yard and the smell of honeysuckle heavy in the air. We weren't just southern. We were country. And I loved it. From the freshest air you'll ever breathe, to the well water so pure it's almost sweet, I loved it. So when I started writing about this ambitious, driven, talented young woman, Kai Pearson, who follows her dreams of stardom all the way to Los Angeles, I made her beginnings as humble as my own. Even when she meets one of the most gifted musicians of her generation, Rhyson Gray, even when they become friends, even once they are lovers and she is grafted into the complex fibers of his supernova life, she never loses that simplicity. That humility. It grounds her, and ultimately it grounds the man she comes to love. I thought I'd share a scene from Down to My Soul offering a glimpse into that life. At various points, their journey bends and convolutes, but this they always have. This is always simple.

There are some days that bundle all your favorite things into a series of moments you'd live over and over again if you could. Today is one of those days. I'm surrounded by people I'd forgotten were my favorites, people I can tell aren't sure what to make of me now, but are trying to act normal. Trying to reconcile the little girl who sang in the choir and volunteered at the homeless shelter every Christmas Eve with the woman who's been on tour and in the spotlight. Whose well-documented relationship is speculated about on every blog and entertainment report. Whose rock star lover sits right beside her at the picnic table behind our little house, and can' t keep his hands to himself.
It's subtle. Maybe. Probably not, but Rhyson doesn't seem to care, reveling in the chance to be open with his affection. Arm around my shoulder and kissing my hair while we watch the kids play kickball. Showing off for me and yelling "Did you see that?" across the yard when he beats Mr. McClausky at horseshoes. Weaving our fingers together on the table while he talks football with a few of the guys. This is Georgia, where college football is a religion, and the SEC its mightiest denomination. The men's fervor about it breeds humor in Rhyson's eyes and around his mouth, and the more they forget he's famous, the more he relaxes, seeming as at ease in a group of strangers as I've ever seen him.
"Now what's so great about this chicken in the pot?" He holds a golden crispy drumstick poised at his mouth.
"Oh, just taste and you'll see." I lick my lips, eyeing the food piled high on my plate. Yams, corn pudding, black-eyed peas, potato salad, and the centerpiece, my favorite chicken fried in a big old grease-filled black cast iron pot.
To call his first bite rapturous would not be an exaggeration. I've seen Rhyson in orgasm, and I'm a little insulted that his response to a drumstick doesn't look much different.
"That," he says, pointing to the chicken he holds in a death grip. "Is the best thing I've ever tasted."
"Good, huh?" I bite into the huge, crispy breast Aunt Ruthie set aside for me.
"Good is a paltry word for it." He digs in, groaning over every morsel until his plate is nearly clean.
"Kai, will you cook chicken in the pot for me when we get back to LA?"
"What?" I laugh and scrape the last vestiges of corn pudding from my plate. "Set up a big ol' black pot by your fancy swimming pool?"
"Why not?" He grins, reaching for his third piece of chicken. "Grip would love this."
"How's his project going?"
"Okay." Rhyson shrugs, wiping his mouth with the paper napkin. "I'm supposed to be executive producing it, so I'll have to get back to LA soon."
I'm determined not to let my disappointment show. I shred a roll into tiny pieces on my plate, eyes glued to the remnants of my meal.
"Hey." Rhyson cups my chin, gently tilting until our eyes connect. "Not for a few days."
"It's fine. I don't want you missing commitments because of me."
"You're my only commitment today," he whispers across my lips. I should be self-conscious about the eyes on us, but I can't make myself care.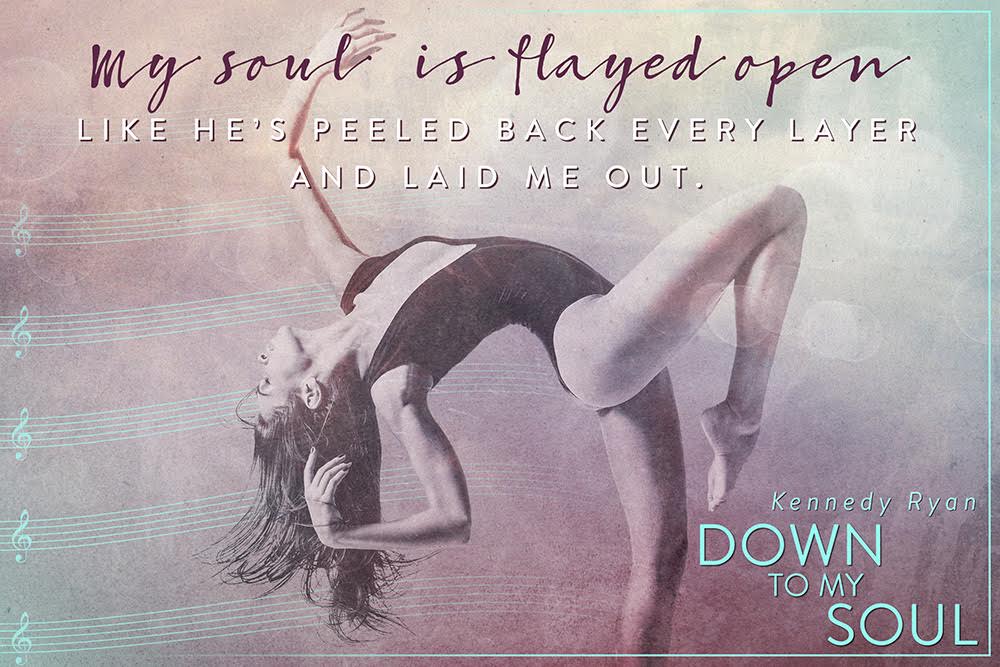 ♥ READ THE SERIES ♥
Book 1 – My Soul to Keep – $.99 release week sale!
Amazon | iBooks | B&N | Kobo | Audio Book
Book 2 – Down to My Soul

Enter to win an ebook copy of My Soul to Keep (Book 1)
All you have to do is share this exclusive on your social media account(s) (Facebook, Twitter, Instagram, etc). Sample message below:
 Down to My Soul releases tomorrow! #ExclusiveAndGiveaway @kennedyrwrites @shhmomsreading
 Please make sure to post a link to your shares below. ONE winner will be chosen TONIGHT at 10pm EST! Thank you for sharing!