by Kennedy Ryan

We are pleased to celebrate the one-year anniversary of Kennedy Ryan's debut, WHEN YOU ARE MINE!
Make sure to check out the rafflecopter giveaway!

AND…only if you've read WYAM, click at the very bottom of the post to catch up with where the characters are now! ***Spoilers if you haven't read!!!***

Happy Debutversary!
"Ryan's debut is rife with sexual tension, while her easy style and likable characters bring this unpredictable love triangle to life." —Karina Halle, NYT and USA Today Bestselling Author of The Pact
"When You Are Mine is exactly what I look for in a romance! Achingly beautiful with palpable, real characters, you cannot help but completely fall in love with. I cannot wait for more!" –A.L. Jackson, NYT and USA Today Bestselling Author of Take This Regret and Lost to You
"Holy hot love triangle! When You Are Mine is a beautiful, yet tragic, intense yet gentle story that grabs you immediately and does not release until the very end. I know a lot of readers get turned off by a love-triangle, but rest assured this one just works perfectly." –Brandi, Talk Books To Me
"You know the writing is suburb when you can laugh and cry and get so angry at the characters…My hands were shaking when I started writing this. I screamed at the ending. Going to end with BLOWN AWAY!!!" –Nelle, Nelle's Nightstand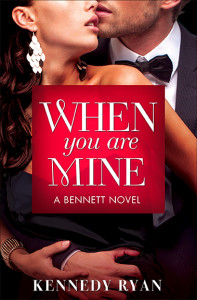 Forever is a heartbeat away . . .Kerris Moreton knows how to make things work. Bounced from foster home to foster home as a kid, she adapted; when opportunity arose, she thrived. Now, about to open her own business and accept a marriage proposal, Kerris is ready to build the life she's always wanted. The only thing missing? A passionate connection with her would-be fiancé, Cam. Kerris wants to believe that sparks are overrated-until Walsh Bennett lights her up like the Fourth of July
…but what about love?
As one of the East Coast's most eligible bachelors, Walsh enjoys financial independence, fulfilling work with his family's nonprofit, and plenty of female attention. But lately he's been distracted by the one woman he can't have. Lovely to look at and even sweeter to know, Kerris is the soul mate Walsh never thought he would find. The problem is, his best friend found her first . . .
 ♥READ THE SERIES♥
Book 1 – When You Are Mine
Book 2 – Loving You Always
Book 3 – Be Mine Forever
Click HERE for update on where life is now…MAJOR SPOILERS!!! Bonus material only for those who have read books 1 and 2!!!