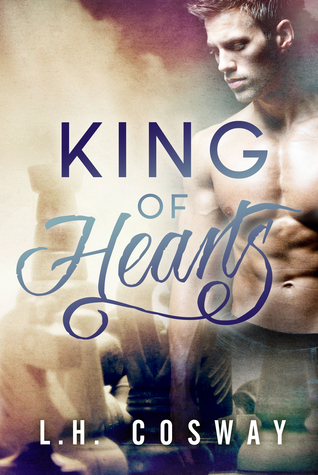 King of Hearts

by L.H. Cosway
on July 16, 2015
Goodreads

Welcome to the City, London's most prestigious square mile, where finance reigns and Oliver King is a rising prince.

I used to rule the world.

There might be wolves on Wall Street, but there were crocodiles in Canary Wharf. Some of us craved money. Some of us craved power.

I liked money, and power had its advantages, but what I really wanted was to excel, to surpass the men who came before me. I never cared much for love and romance until I met Alexis.

I could feel it the very moment she walked into the interview, with her outspoken charm and vivacious personality. She cast all the others in shadow, made me laugh when life held no humour. Our friendship should have remained professional, but it wasn't long before the lines started to blur.

You know what they say about the best laid plans of mice and men? Well, I never foresaw where my plans would lead, and only in my darkest hour did I finally see the light…

You can have all the money and prestige in the world and still be the poorest man alive. And love, well, I hate to use a tired old cliché, but love can be the thing that truly sets you free.
We LOVE L.H. Cosway and can't wait to read King of Hearts scheduled for release on July 16th. Get a sneak peek of Chapter 1 during L.H. Cosway's Blog Hop Promo Week from June 8th – June 12th.  And make sure to enter the giveaway below for a chance to win an ARC copy of this book!
Follow along the blog hop promo week by checking out Totally Booked Blog tomorrow or by using the following schedule:
6/8 – Back Off My Books
6/9 – Smokin' Hot Book Blog
6/10 – Under the Covers
6/11 – Shh Moms Reading
6/12 – Totally Booked Blog

When the lift stopped at our floor, both Oliver and I stepped off, leaving the crowded carriage behind us.
"Good morning, Alexis," he said in that refined accent of his that screamed of Cambridge and Eton, and all those other fancy places where the upper classes received their educations. He placed his hand on my lower back for a second as though leading me out.
"Mr King," I replied, making sure to step away and put an end to the touching. I wasn't sure if that was business as usual or what. I began removing my gloves and unwrapping my scarf from around my neck.
"Cold out there today," he went on, eyes scanning me and I nodded. We soon reached his office, which had a large atrium area with two desks, one for Eleanor and one for the other assistant, Gillian. Eleanor had told me about her on the phone but we hadn't met yet. The older assistant was already at her desk, tapping away at her computer, as was Gillian, who had short blonde hair and a slim build. She looked to be about my age, twenty-seven or so. When she spotted King she immediately jumped up from her seat, gathered a bunch of folders and walked alongside him. She barely gave me a second glance.
"These are the briefs for this morning's meetings, your coffee is inside and Kenneth Green called to schedule a lunch meeting on Wednesday," her voice trailed off as they went inside King's office and I looked to Eleanor who gave me a warm smile.
"Morning, love, come sit. You'll be shadowing me for the week, then next week we'll see how you do going it alone. I'll be here on and off for another month to make sure the transition runs smoothly."
There was something about Eleanor that put me at ease, and I began to wonder if she was the reason I got this job. When we'd spoken over the phone, she'd been really apologetic for what Mr King had said to me, and stated outright it was the kind of carry on that set the feminist movement back 50 years. Needless to say, I liked her already.
After I'd made myself comfortable, she ran through Mr King's morning routine with me. I'd be responsible for ordering his breakfast and giving him a rundown of the headlines in each of the countries' main newspapers, while Gillian took care of the morning and afternoon meeting schedule. I felt like I was getting the crappy end of the stick, because come on, did that mean I had to read, like, a million newspapers every morning? But then Eleanor assured me I'd get the hang of it quick enough and then I'd be glad, because it was far more interesting than the boring old job of scheduling. Apparently, Mr King had a knack for absorbing the news and making predictions on what way the markets would turn. I was sceptical of that, but we'd see.
I had a basic idea of the difference between an investment banker and a trader. Investors built their wealth over time by buying up stocks and bonds. They might hold onto these for years or even decades. They also arranged for companies to sell their stocks, determining the price and lining up investors. Traders bought and sold stocks more frequently, holding onto them for only a short period and selling them on for a higher price, therefore making a profit. This was the extent of my knowledge, but I was sure working at Johnson-Pearse would give me a quick education.


LH Cosway's KING OF HEARTS ARC Giveaway

♥BUY THE BOOKS♥
Book 1 – Six of Hearts
Book 2 – Hearts of Fire