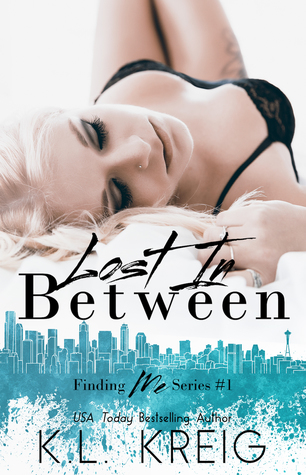 Lost in Between

on February 20, 2017
Buy on Amazon, Buy on B&N, Buy on iTunes, Buy on Kobo
Goodreads


We all have one.

A price.

That magic number that will get us to agree to do anything, be anything.

Don't sit on your gold-plated high horse and say you don't because you do. Everyone does. Each of us has something we covet enough that we'd sell ourselves to have it.

What's my tipping point, you ask? Apparently a cool quarter mil will do the trick.

What does one do for 250 large, you wonder? Anything the infamous, gorgeous playboy of Seattle wants. For the next four months I'll be Shaw Mercer's arm candy, his beck and call girl, his faux girlfriend. I'll be his to command, mold, push and pull in any direction he sees fit.

I'll fight falling into bed with him. I'll fight falling in love with him even harder. I'll fail at both. And when my past and present collide in the most unexpected of ways, I'll learn that while one man's love for me has never died, the only man's love I really want will never be mine.

*If dirty-talking, dominant alphas are not your thing, move along. Mature, 18+ only. Book 1 in a 2-part duet.
★¸¸.•*¨*•★ Lost in Between is LIVE!!!★¸¸.•*¨*•★ 
Read an exclusive excerpt HERE and find out why readers are LOVING Shaw and Willow!
Whoa!!! I have been DYING to read Lost in Between since I read Forbidden in the Alphas & Fairytales Anthology. There is something about KL Kreig's writing that is mesmerizing and holds a reader captive to her amazing storytelling. And once I met Shaw and Willow, I wanted MORE!
For the record before I say anymore…Shaw is MINE! Ok so there's that…LOL…
So what's this one about?
Rich, cocky handsome Shaw Mercer needs a girlfriend for the next couple of months and who better than Willow Blackwell who is in need of money to pay for her growing debt. This is the perfect situation as Shaw doesn't want any attachments and Willow, in her line of work, never gets close to her clients.
But as the reader journeys with this couple and watches their interactions, their ease with each other, their chemistry, the bantering and nicknames (aka Goldilocks *le sigh*), you will see firsthand how they will be each other's downfall as things that they never thought would happen begin to grow.
Both characters seeing more in each other, more than they bargained for and what started off as a business arrangement becomes something else entirely. And watching that fall is EPIC!
There is history that follows Willow and I have to say that this threw me for a loop and I wasn't sure how to react because that history was so emotional and heartbreaking. I genuinely felt bad. I know I am purposefully being vague but you have to READ THE BOOK! I loved seeing Shaw jealous hehehe
KL Kreig writes spellbinding stories that are sexy and smart and I am a forever fan. This book left me WANTING MORE and Found Underneath is my most anticipated book to read this year! Lost In Between is not only panty melting hot but the sexual tension is off the charts and the characters are to die for!!! A top fave of this year!!!