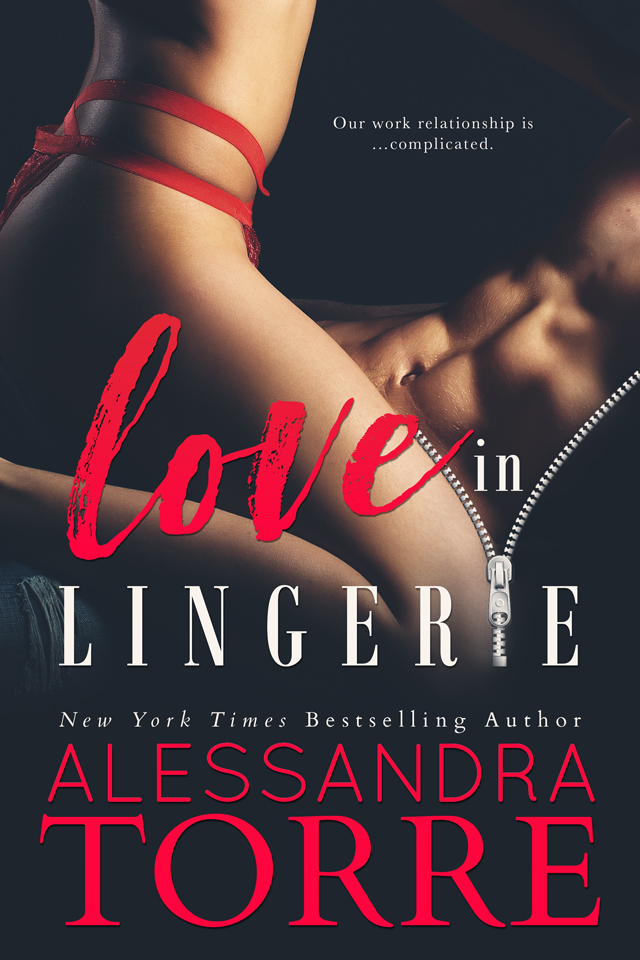 Love in Lingerie

by Alessandra Torre
on January 16, 2017
Pages: 250
Buy on Amazon, Buy on B&N, Buy on iTunes
Goodreads


I hired her to fix my company, to bring Marks Lingerie back to life. I didn't expect her to become my friend. I didn't expect to fall in love with her.

The first rule of business is to never touch your employees. I think there is another rule about not falling for your best friend—a rule against imagining the curves of her body, or the way her breathing would change if I pulled down her panties and unzipped my pants.

Now, I can't wait any longer. I'm tossing out the rules.

Damn the company.
Damn our friendship.
Damn my fears.
I LOVED LOVE IN LINGERIE by Alessandra Torre! Admittedly, this is only the 4th book I have read by this author but just in these four books, she has shown me how versatile she is in her writing style and that she can write just about anything and everything. I love her more and more with each book that I read and I love knowing that I will get something different each time. Authors who can do this time and time again are on my must read list because I love the unknowing, I love being surprised each and every time. It makes my book loving heart so very, very happy!
Love In Lingerie is a slow burn romance, it is not rushed and the angst level is not too crazy high but just enough to leave the reader wanting more, waiting in anticipation for something, just anything to happen!
So what's this book about?
Well, Trey Marks is in need of a new Creative Director at his company Marks Lingerie to help him revitalize his company and make it great again. The company is not doing well and this new Creative Director is his last ditch effort to make money and to get the company back to its A game.
Enter Kate Martin. Kate is a smart business woman (which I LOVE). She knows her stuff about anything and everything marketing wise and she is the woman to get the job done. Kate is in a loveless relationship with a boyfriend who cares more about her IQ than his actual love for her.
Which technically Kate being in a relationship is a good thing right?? Trey has a no fraternization policy with his employees too. But these two who start off as friends, then best friends who know everything about each other… is there a possibility for it to be something more???
Well, I am not going to spoil this read for you because you have to read it for yourself but I will say this – I LOVE, LOVE, LOVE taboo office romances, friends to more where the sexual tension is just OMG, OMG, OMG!! Yes, there is a cocky hero and a smart sassy heroine and the slow burn – DYING! Not a page went by where I was hoping and praying that something would happen between these two but seriously they have the patience of Saints – OMG LOL!
The push/pull between these two, the tension is seriously to die for…check out this excerpt *fans self* – Trey Marks is to die for!!!

He softly clicks his tongue against his teeth. "Stand up."
"I'm not standing up."
"Kate."
"Stop saying my name. I'm not standing up." If I stand up, then my panties are going to end up coming off, and this is going to go to a very bad place, a place that I have been wanting for two years, but that doesn't matter right now, none of that matters right now, because this isn't just Trey, this is the owner of Marks Lingerie, and if he—he slides his hands underneath my skirt, and I gasp when his fingers reach the bottom edge of my underwear. My other heel hits the floor.
He tilts his head, his fingers caressing the silk, then the top of my thighs, then the detailed edge between them. "Are these from the fall collection?"
"Winter." The word whispers out of me. "Please stop." I'm so wet. He hasn't even done anything, hasn't even kissed me, and I am so needy, so desperate.
"You want me to stop?" His fingers stop their play above my thighs, and he slides one slow, sure hand in between my legs, his touch soft and teasing, my legs opening wider despite myself, my hips thrusting upward, begging for him to—
He brushes his fingers across my clit, and I whimper. He slides his fingers lower, in between my legs, pressing into the damp area, and when he says my name, it is a swear across his lips. "Stop," I beg.
"I don't know if I can."
Love In Lingerie is well written and just pure delicious fun – I completely devoured this book! And I know new and old fans will love this quick read that will melt your heart (and your panties hehehe) <3
My Favorite Lingerie quote from the book:
"If our love was lingerie, it'd be leather, thin strips of binding that could withstand a hundred years of war and peace, fights, and love-making. It would yield and give, yet never rip or break. If would be built to last, to wear forever."