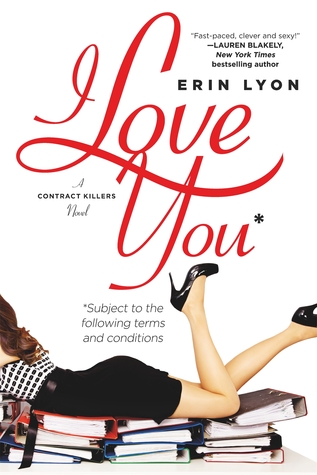 I Love You Subject to the Following Terms and Conditions

by Erin Lyon
on January 10, 2017
Pages: 336
Buy on Amazon, Buy on B&N, Buy on iTunes, Buy on Kobo
Goodreads


In a world where marriage doesn't exist—only seven-year contracts—you don't marry, you sign. You don't divorce, you breach. And sometimes, you just expire.

Kate is struggling to find her footing. She gave up a career she hated to pursue the law, and now she's buried in debt and unemployed. At least she's signed to an amazing guy—hot, sweet, and committed.

Enter the contract killer, the man who pursues only signed women. No commitment, no hassle, all the fun. But Kate has enough fun on her plate… until her partner doesn't re-up their contract.

After an epic but well-deserved meltdown, Kate gets practical. She accepts a job with her uncle's law firm, practicing signing law—the one type of law she swore she'd never do. And the contract killer? Now that Kate is single, she's no longer his type, but he still wants to be friends. Yeah, that'll work. Kate may be heartbroken, but she's not impervious to this sexy, smart, and complex man. But hey, it looks like he may not be impervious to her either—signed or not.

Hilariously relatable, with biting wit and charm, The Contract Killers is 27 Dresses meets Bridget Jones's Diary for the millennial set.
I Love You Subject to the Following Terms and Conditions was a fun, fast and unique read. The concept behind the book was different and not done before which is what intrigued me. This book came highly recommended from my friend Megan from Reading Books Like a Boss. And while I enjoyed aspects of the story, I was left at the end with a feeling of being left hanging.
Kate is in a 7 year "contract" with Jonathan until the day that he decides not to re-up the contract. Left devastated, Kate opens up to the thought of men as "just friends" and begins to relearn who she is again as a single woman and not a part of a relationship.
Enter the contract killers (aka Adam and Dave) – men who look solely at these women in contracts as someone to have an affair with, never wanting to be in a serious relationship or wanting something more. Please note that this is not a threesome or love triangle. These are men who don't do relationships but pursue women who are in relationships for some fun. Adam and Dave become good friends to Kate our heroine.
While I thought Adam and Dave both delicious in their own right, I found the way that they behaved in almost a complete 360 of being a "contract killer" a little unrealistic. I loved the idea of them wanting something more with Kate or the thought of either of them pursuing her for more than just fun but the whole jealous, protective, caveman type attitude seemed out of character than what the author initially intended. Almost like it was too fast for someone to just fall instantly for another person and change their whole persona. I loved seeing their jealousy streaks, but they were always around coming to her rescue for various reasons and I got almost annoyed that rather than being players, that it seemed that almost every guy in this book was falling at her feet.
So would I read the 2nd book – Yes because I want to know what happens and who she chooses. Because of course now ex Jonathan is back in the picture realizing the error of his ways (so a third guy wanting to sweep her off her feet). But I would have preferred for this book to be a standalone – a full complete story so that when I closed my kindle I was left feeling satisfied rather than left open ended up not knowing where it would all go and if I would be interested in picking up the 2nd book with the crazy that is my TBR.