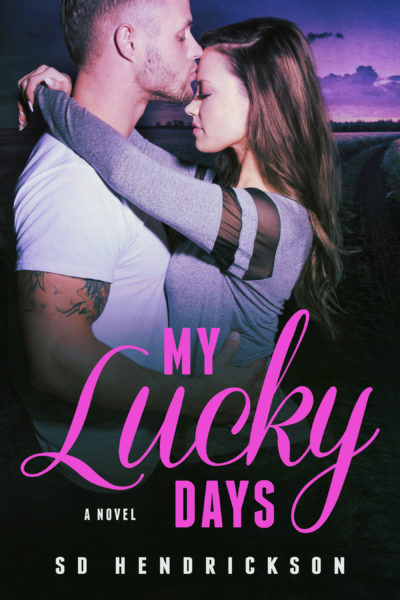 My Lucky Days

on September 20, 2016
Buy on Amazon, Buy on B&N, Buy on iTunes
Goodreads


He was an up-and-coming country singer.
She was the last girl you'd ever see in a bar.
But one night, under those neon lights,
Lucky and Katie found each other.

Beginnings are always exciting.
Always fun. Always hopeful.

Katie was in her last year of college.
Lucky was still playing local stages.
She fell for his voice. She fell for his words.
They fell in love.
It was beautiful.

But time changed their world.
She was alone. He was on the road.
Life happened.
And that love was torn apart.

Endings are always painful.
Always heart wrenching.
But not always final.

One day, Lucky came back to Katie.
And this is their story.

Author Note: My Lucky Days is a standalone novel with sets of original song lyrics that read as poetry. New Adult & College / Contemporary Romance / Coming of Age / Second Chance Love Story.
I have loved this author since her first book The Mason Jar. My Lucky Days is second chance love story which is my absolute FAVE type of read. To top it all off, our hero is a country singer and the author has crafted beautiful original lyrics that have added such depth to this already emotional journey of Katie and her Lucky. I absolutely LOVE LOVE when an author can give readers original lyrics for their characters because it just adds another layer to the story, allowing readers to feel the music in their hearts and minds, to know that every song just builds upon the love that the characters feel for each other and even more so to understand the depths of Lucky's heart through his music. *le sigh*
So what's this book about?
Landon Evans (aka Lucky) first meets Katie at a local bar. She is a college student while he is an up and coming singer performing his music. I loved their first meeting because right off the bat you know that this man is genuine, honest and so sincere. Even more that Lucky, I loved his family and experiencing with Katie what true family and laughter is like after her having a barely there family life.
Their relationship starts off slowly yet surely – there is an instant connection and bond and you know that with the lyrics that Lucky sends to Katie that this man will be big one day. And he makes it big…and that connection is tested and then severed with distance and fame and everything that comes in between.  With every journey there are bumps in the road and not everything is perfect, and I will say that the bumps in this story devastated me because I wasn't sure that this couple would ever find their way back to one another.
I love reading romance because I love watching people fall in love…and even more than that, I love when people fall in love again after being separated for a bit and remembering how much that first love meant to them, how that person is still embedded in their heart. My Lucky Days will appeal to readers who not only love this troupe but who are looking for different, who don't mind heartbreaking stories that will build up their hearts again to the point that they are bursting with emotion and love. Readers will love My Lucky Days because Lucky is one of the most heartfelt, true and endearing book boyfriends you will meet and he will steal your heart with his genuine and real love for his Katie.
S.D. Hendrickson is a favorite author of mine, she writes stories from the heart, and I look forward to more from her. Pick this book up – you will find a sweet book boyfriend to add to your list of heartthrobs 😉