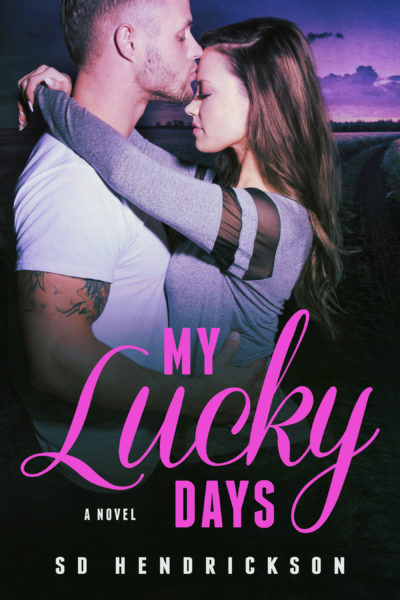 My Luck Days

on September 20, 2016
Buy on Amazon, Buy on B&N, Buy on iTunes
Goodreads

He was an up-and-coming country singer.
She was the last girl you'd ever see in a bar.
But one night, under those neon lights,
Lucky and Katie found each other.

Beginnings are always exciting.
Always fun. Always hopeful.

Katie was in her last year of college.
Lucky was still playing local stages.
She fell for his voice. She fell for his words.
They fell in love.
It was beautiful.

But time changed their world.
She was alone. He was on the road.
Life happened.
And that love was torn apart.

Endings are always painful.
Always heart wrenching.
But not always final.

One day, Lucky came back to Katie.
And this is their story.

Author Note: My Lucky Days is a standalone novel with sets of original song lyrics that read as poetry. New Adult & College / Contemporary Romance / Coming of Age / Second Chance Love Story.
Enjoy the prologue of My Lucky Days by S.D. Hendrickson. This sweet second chance love story contains beautifully crafted original lyrics that added such depth and heart to this breathtaking journey of Katie and her Lucky #comingSept20th Make sure to enter the giveaway below for a chance to win a $20 Amazon Gift Card – good luck!

PROLOGUE
Hello Darlin' – Conway Twitty
Present Day
I woke up suddenly, like the air had been sucked out of the room. My eyes darted around, seeing the flashing lights of the heart monitor next to me. I'd been in the hospital since I fell off the roof of my house while cleaning leaves out of the gutters. The damn cement driveway had to break my fall.
And then I saw him, sitting in the chair like he owned the place. I let out a deep breath as my heart beat faster, which I'm sure flashed in bright red on the monitor. He pulled himself from the chair, coming to my bedside.
A baseball cap covered most of his head, but that unruly hair still managed to stick out all around the edges. His jaws were lined with a layer of scruff like he hadn't shaved in a few days.
"Hey, Katie." I felt suddenly naked in the flimsy hospital gown, seeing the way his eyes trailed over my body. A slow grin slipped across his lips. "You're still just as beautiful as the memory in my head."
"Hmm. You should put that in a country song. It might make you famous."
He chuckled softly. "Yeah, it might."
"What are you doing here?"
"I came to check on you. How are you feeling?"
"I've been better. How did you even know I was here?"
His smile got a little softer. "I still keep tabs on you."
"Well, I guess you're big enough now to violate HIPPA laws. Or have your people take care of it for you."
His jaw clenched as the humor drained slightly from his eyes. "I told you it wouldn't happen again. I'd be here. No matter what."
My throat got tight at the reference. I took a couple of breaths to steady the surge of emotions. Why did he have to bring it up? I'd struggled enough ever since I was checked in to the hospital this morning.
"Well, I um. I'm okay. They are just keeping me overnight for observation. You've fulfilled your promise. You can get back on your plane and leave."
He was breathing hard, making his chest move up and down under the blue pearl-snap shirt. The top three buttons were left undone, leaving a large amount of exposed skin. On someone else, it would look silly. But on him, it was causal and sexy. Always had been.
"I know it's been a while." His brown eyes held mine for a moment, flickering something I couldn't read. He motioned toward the edge of the bed next to me. "Can I sit? I thought maybe we could talk."
As he gazed down at me, I felt that tug inside my heart. I nodded slowly, allowing him to take one more step back into my life. I hadn't seen him in years. Well, I'd seen him, splashed across my television and on magazines. But not in person. Not close enough to physically touch.
His weight crushed the side of the mattress as he sat down. "Is this okay? I don't want to hurt you."
"I'm okay," I whispered. His familiar scent filled the air around me. Why did he always have to smell so good? My eyes drifted to his hand that was just an inch away from my body. Trails of tattoo ink peeked out from underneath his rolled-up sleeves. He'd added more since the last time I'd seen him.
He eyed me closely. "You shouldn't be on top of that roof. It's too steep."
"Someone has to clean out the gutters."
"Hire someone. Or ask Colt. You know he'd take care of it or send Zach."
I shot him a nasty look. Letting out a deep breath, I stared into his troubled brown eyes. "So what did you want to talk about?"
"I don't know. Life?" He smiled sadly as he slipped his fingers around my hand, rubbing his thumb softly across the top. I felt the callouses right where they always stayed from playing his guitar.
The brim of his cap cast a few shadows across his face. But it wasn't enough to hide those transparent feelings. He was looking at me that way. I closed my eyes, shutting him out. I had to stop him.
"I saw your latest breakup all over the tabloids at the grocery store." I said the words, wanting to jerk him back to our reality. The one that existed for us now.
"Well, that's what I get for dating an actress. Unlimited drama." His voice was clipped and deep.
"I guess so." It still hurt, imagining him with someone else. The images had haunted me for years. I knew he would date. That was expected. But it was so damn hard, seeing it plastered across the headlines. Harder than I had imagined. But that wasn't what I had been thinking when I ended our relationship. Too many other things were going on at the time. Too much other pain.
He moved my hand, placing it lightly against his chest. The warmth of his skin seeped through his shirt. "I told you a long time ago. No one would ever be in here but you. No matter what happened out there after I left. I still mean that."
My eyes shot open, seeing my hand pressed over his heart. The sincerity of his words filtered deep into his eyes. That look used to melt me right on the spot.
I could still remember the first time I saw him. He was so self-assured. So arrogant. So sweet, standing there with that messy blond hair all over his head and that lazy grin.
But that was a very long time ago.
I pulled my hand free of his contact. "You should go before someone sees you here."
He stared at me a moment before slowly getting off the bed. "I bought some land north of Stillwater close to my mama's house. Colt's been building me a house on it. I've got a couple of commitments I'll have to fly back for, but other than that, I'll be staying here for a while. I just thought you should know."
My stomach tightened, hearing his words. He was back. He was living here again. Or he was going to try to live here again. I didn't want him this close. I wanted him far away so I didn't have to feel this again. It actually hurt inside, just seeing him. More than the cracked ribs and concussion from the fall off my roof.
"For how long?" I whispered.
"Well . . . I'm reworking some stuff." His eyebrows bunched up as he slipped away, deep in thought. I waited for him to pull his cap off, tugging at his hair. "I'm not sure what that will mean yet. I have more options now. And I need to do some things different with my life."
His words sent tremors under my skin. I couldn't take another fallout with him. My heart almost didn't recover last time. And maybe it never did. Big scars don't go away.
The memories were still so very strong. We had shared so much together before it all fell apart. Our relationship had been fun and beautiful before it had turned sad and painful. But part of me could never let go of him. No matter how much it hurt. And that was okay when he was in another damn state.
The hospital room door opened as my coworker and friend Hannah fumbled with a couple of takeout boxes.
"I thought since you were messed up from the accident, you could take a break from your diet. I got your favorite hamburger from Shortcakes. And don't worry. I made sure they put ranch in there with the tater tots . . ." Her voice faded out as she looked from me to the man standing next to my bed.
He chuckled. "Still eating tots and ranch?"
Our eyes locked as he said the words, my breath freezing in my lungs. It didn't take much for both of us to remember the night he taught me to eat tots correctly. Shortcakes Diner had been his place until he had shared it with me.
"Hi." She stepped closer, holding the boxes of food. "I'm Hannah."
And then it happened. I knew the moment the look flashed across her face. "Oh my gosh! You're um, you're um. Landon Evans. But that can't be. Why would you be here? I guess you could be here. I mean everyone knows that your family lives here, Landon. Or do I call you Mr. Evans?"
She continued to babble as I looked over at the guy who made women scream. He had never been Landon Evans to me. No, I had known the man way before he was ever some country superstar. To me, he would always be—
"Lucky." He took the boxes from Hannah as his troubled smile was replaced with that famous grin. "My friends call me Lucky."

*Giveaway now over – congrats to Salli Singleton**
Enter to win a $20 Amazon Gift Card (open international)
All you have to do is share this excerpt and giveaway on your social media account(s) (Facebook, Twitter, Instagram, etc). Sample message below:
My Lucky Days is coming Sept 20th #ExcerptAndGiveaway #SecondChanceLove @shhmomsreading @HendricksonSD
 Please make sure to post a link to your shares below. ONE winner will be chosen Monday September 19th. Thank you for sharing!