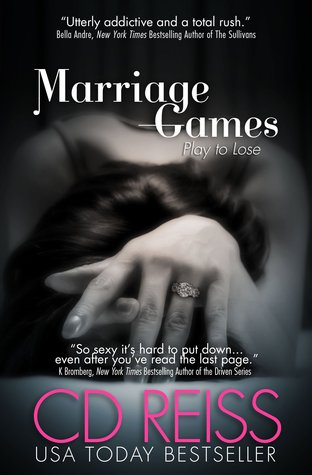 Marriage Games

on October 25, 2016
Buy on Amazon, Buy on B&N, Buy on iTunes
Goodreads

THIRTY DAYS
That's all Adam Steinbeck demands of his wife.
Thirty days in a remote cottage, doing everything he demands. After that, he'll sign her divorce papers and give her complete ownership of their company.

THIRTY DAYS
That's how long he has to rediscover the man he once was. The Dominant Master he hid when he fell in love with her five years ago.

THIRTY DAYS
She wants the business they built badly enough to go to the cottage for a month. Cut off ties to the world and do his bidding. She can submit to him with her body, but her heart will never yield.

She thinks this is his pathetic attempt to repair their marriage.

She's wrong.
Happy Release Day to C.D. Reiss and her new book MARRIAGE GAMES! This book is up next for Christine and she is so excited to read it – be on the lookout for her review coming soon!
There is one more exciting piece with the release of MARRIAGE GAMES!! CD is giving away a $400 Gift Card AND a Marc Jacobs bag! Check out the details at the end of Marriage Games and take the quiz. Let the Games begin!