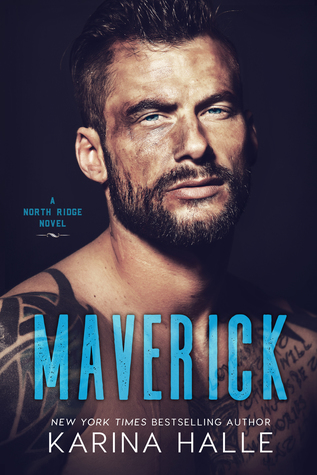 Maverick

by Karina Halle
on October 17, 2017
Buy on B&N, Buy on iTunes, Buy on Kobo
Goodreads

Forget playing it safe.

John "Maverick" Nelson likes to live his life on the edge – literally. A crucial member of the search and rescue team in the mountainous British Columbian town of North Ridge, Maverick's brash and bold attitude means he's the first one to ascend into danger, no matter the risk.

When it comes to women, though, Maverick errs on the side of caution. For all his cocky charm, rugged good looks and sexual swagger, he remains as unreachable as the surrounding peaks. Hot, wild sex? He'll tell you there's no better way to spend a cold, wintry night. Relationships? He'd rather freeze.

That is until he lays his eyes on American Riley Clarke. Trading in the crippling expenses of Aspen for BC, Riley is North Ridge's newest member of their search and rescue team and the only woman on the job, which means spending a lot of time with Mav in adrenaline-pumping situations.

With the chemistry between them hot enough to melt snow, keeping their hands off each other is detriment to the success of their team. Besides, Maverick's her boss and she didn't work her ass off in Colorado just to throw it all away for some mind-blowing sex.

But when the worst winter in years sweeps in, Riley and Maverick will have to battle the elements along with their attraction for each other. And if either of them slip up, both of them will be in for a deep freeze.
Happy Release Day to Karina Halle and her new book MAVERICK! Christine has one-clicked this book and is so excited to jump in! Enjoy a sneak peek into the exclusive excerpt below and make sure to enter the giveaway for a signed paperback – US only!! Who's ready to meet this wild alpha mountain man?!?!?!? I AM!!!

It's Sunday and I'm not the only one with the day off.
As soon as Fox leaves, I text Riley.
Hey little minx. Want to come for a trail run?
The thing about working for search and rescue is that in our downtime, we have to stay active, keep learning. So that means running through the snow and up mountains, it means doing climbs, it means breaking into ice ponds and rescuing each other for practice. So, really, what I'm suggesting is good for the both of us.
She responds back right away. I'm in. Where?
Come meet me at my house. Do you know where I live?
Three dots flash and disappear. Then flash and disappear. Finally, the text comes through: I wouldn't be a very good stalker if I didn't.
I laugh. Good girl. See you soon.
I stand there on the porch waiting about thirty minutes, and I see Riley running up along the sidewalk toward the house.
There's a smile on my face the whole time I'm watching her. I'm not sure if she's as klutzy as she proclaims she is but there's obviously some mind over matter shit going on as she tries to navigate the sidewalks that are slick and half covered with melting grey patches of snow.
My inner thirteen-year old has a moment.
Just as she's coming up the driveway, I scoop up a handful of wet snow from the railing, press it into a snowball and pelt it at her head.
Plomp.
It lands right on her beanie and she cries out, "The fuck?" and the moment she looks up at me to see where it came from, her feet start sliding on the driveway in every direction.
Oh shit.
She goes forward for a moment, then backward, then she just kind of throws herself into the snowbank on the side as a last-ditch effort to save herself.
I burst out laughing. I shouldn't and I should also feel bad that it was my snowball that brought her down, but that was probably the funniest thing I've seen in a long time.
Of course, I'm not a complete jerk. I quickly run down the stairs and in seconds I'm at her side, grabbing her by the elbows and hauling her out of the snow.
"Sorry," I tell her, "so sorry."
"You fuck," she seethes as I pull her to her feet. "What are you, twelve?"
"I believe I was having a thirteen-year-old moment."
"I bet you were," she says. Then she scoops up a bunch of snow in her glove and before I know what's happening, she yanks at the collar of my sweater and drops the snow inside my shirt, pressing it in.
The cold makes me yelp. Fuck!
"You dick," I tell her, waving the sweater, trying to get the snow out and off my skin.
She sticks out her tongue. "Tit for tat."
"I'll believe it when I see a tit," I tell her, still feeling the cold.
"So is your dog coming with us?" she asks.
"Huh?"
"On our trail run?"
"Oh," I say slowly. "You actually thought we were going for a trail run?"
She glares at me. "This is a booty call?"
I honestly didn't think she of all people would have a problem with a booty call, especially after we screwed the other night, but now I'm second guessing everything. Shit. What if that was it? Like, she got her fill of me and now wants things to stop.
"Uh," I fumble for words.
She rolls her eyes. "I'm down for a booty call, Mav. I just think we should actually go trail running as well. You said yourself that even when it looks like winter is on the way out, we're usually hit with one last wallop."
Man, she is way more on the ball than I am. And she has the right idea. If we're going to screw around in secret, then we might as well keep working hard as well. Otherwise it just feeds into the reason why there are rules to begin with: you get distracted and sloppy and when that happens, people die.
"Okay," I tell her. "Give me a few to get dressed. Want to come inside?"
"How about later?" she says, her stance firm, because she probably knows the second she steps inside my house I'll be tearing off her clothes.
Read the North Ridge Series
Book 1 – Wild Card
Book 2 – Maverick

**Giveaway now over – congrats to Diana Doan**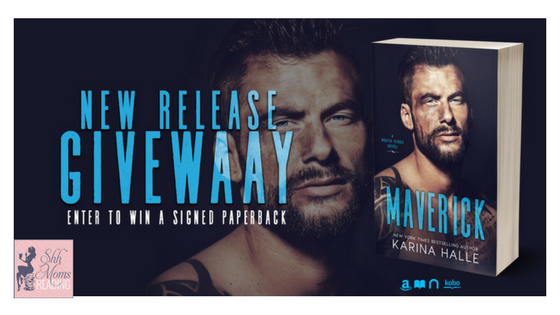 Enter to win a signed paperback of Maverick (US only)!
All you have to do is share the release and excerpt of Maverick on your social media (Facebook, Twitter, Instagram). Sample message below:
Maverick by @MetalBlonde is LIVE! I entered the #Giveaway #RuggedHero @shhmomsreading
Please make sure to post a link to your shares below (the more you do the more chances to win!). One winner will be chosen Sunday October 22nd. Thank you for sharing!