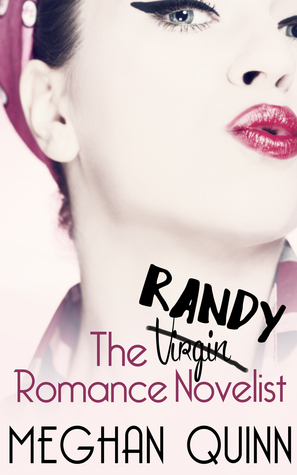 The Randy Romance Novelist

by Meghan Quinn
on April 12, 2016
Buy on Amazon
Goodreads

It finally happened, I lost my virginity. Cue applause and cheers.

For a while life was all rainbows and kittens prancing in a sky full of cotton candy clouds…that was until the demands of the real world set in.

My best friend is getting married and she asked me to be her maid of honor. She's not worried about flowers, or the dress, or the food at the venue. No, she's worried about the bachelorette party, what kind of penis crown she will wear, and the nipple size of the stripper who will be attending.

I'm in way over my head trying to balance life with a boyfriend, planning a penis party, and writing my romance novel. Something is bound to give.

This is my life after my happily ever after…
Enjoy a sneak peek into The Randy Romance Novelist by Meghan Quinn – we LOVE this author and can't wait to read this one! Make sure to enter the giveaway below for a chance to win an ebook of book 1, The Virgin Romance Novelist and book 2, The Randy Romance Novelist when it releases – good luck!

               "Are we doing The Titanic?" Henry asked, pulling me into his chest so he could look over my shoulder.
"Not quite," I breathed heavily, moving with him.
"Well, I'm satisfied with whatever this is." His hands ran up my stomach, grazing my skin softly until he found my breasts. Cupping them, he kissed the side of my neck and continued to move his hips.
His fingers played with my nipples, tantalizing them to small little peaks, and for a brief moment in time, my mind went blank and I was lost in the moment. It wasn't until Henry groaned in my ear that I was brought back to what I was trying to accomplish.
"As good as this feels, this isn't The Titanic." I sat up, and pushed down on Henry's lap, causing another groan to come from his chest.
"Easy, love."
"Listen up. If we are going to do this, we're going to do this right. Grab hold of my hips and plant your feet on the ground, so I can hook my feet around them."
"Okay," Henry said skeptically, shifting beneath me.
Once in position, I wrapped my feet around his calves and steadied myself. "Make sure you have a good grip on me." He obliged my command, and when I felt secure, I lifted my hands up into the air, spreading them to my full wingspan. Channeling Kate Winslet, I pushed my head back, stuck my nips out, and tried to feel the "breeze" in my face, aka the fan I set up beforehand.
Henry sat there silent for a second before he said, "This is cool and all, having your hair blow in my mouth, but maybe we can start moving again?"
"Yes, proceed," I answered him, still in the moment, pretending I was on the bow of a boat with Leonardo DiCaprio behind me.
"Just move my hips . . . with you, like that?"
"Yes, cue the thrusting."
Awkwardly, Henry tried to move in and out of me while I balanced on his rickety legs, swaying back and forth, side to side, catching myself occasionly from slamming my head onto the desk that rested right next to us.
"This is a good time." I could sense the annoyed tone in Henry's voice.
"Thrust, Henry. Just thrust."
Struggling, he said, "It's hard to thrust when I'm having to balance a naked woman while I'm sitting in a desk chair that refuses to stay still."
"Plant your feet. Are your feet planted?"
"Yes, they're planted. If they weren't planted, then I would probably be probing you on the ground right about now."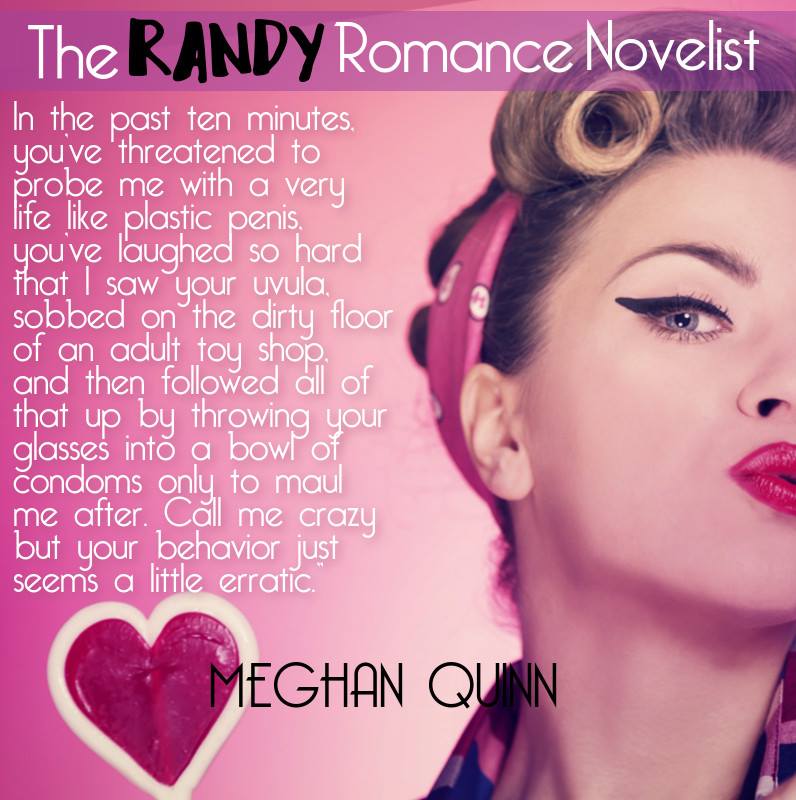 ♥ READ THE SERIES ♥
Book 1 – The Virgin Romance Novelist
Book 2 – The Randy Romance Novelist

**Giveaway now over – Congrats to Anna Bergman**
Enter to win an ebook of The Virgin Romance Novelist and an ebook of The Randy Romance Novelist (to be sent on release day)
All you have to do is share this exclusive on your social media account(s) (Facebook, Twitter, Instagram, etc). Sample message below:
 The Randy Romanve Novelist releases on April 12th #ExclusiveAndGiveaway @AuthorMegQuinn @shhmomsreading
 Please make sure to post a link to your shares below. ONE winner will be chosen Sunday April 10th. Thank you for sharing!