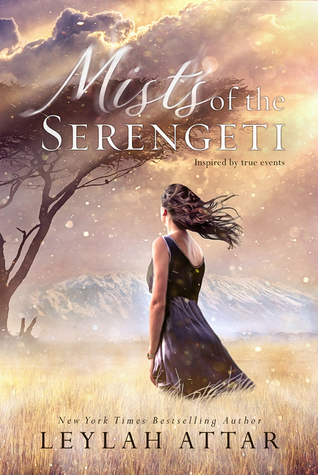 Mists of the Serengeti

by Leylah Attar
on January 31, 2017
Buy on Amazon, Buy on B&N, Buy on iTunes, Buy on Kobo
Goodreads


Once in Africa, I kissed a king...

"And just like that, in an old red barn at the foothills of Mount Kilimanjaro, I discovered the elusive magic I had only ever glimpsed between the pages of great love stories. It fluttered around me like a newly born butterfly and settled in a corner of my heart. I held my breath, afraid to exhale for fear it would slip out, never to be found again."

When a bomb explodes in a mall in East Africa, its aftershocks send two strangers on a collision course that neither one sees coming.

Jack Warden, a divorced coffee farmer in Tanzania, loses his only daughter. An ocean away, in the English countryside, Rodel Emerson loses her only sibling.

Two ordinary people, bound by a tragic afternoon, set out to achieve the extraordinary, as they make three stops to rescue three children across the vast plains of the Serengeti—children who are worth more dead than alive.

But even if they beat the odds, another challenge looms at the end of the line. Can they survive yet another loss—this time of a love that's bound to slip through their fingers, like the mists that dissipate in the light of the sun?

"Sometimes you come across a rainbow story—one that spans your heart. You might not be able to grasp it or hold on to it, but you can never be sorry for the color and magic it brought."

A blend of romance and women's fiction, Mists of The Serengeti is inspired by true events and contains emotional triggers, including the death of a child. Not recommended for sensitive readers. Standalone, contemporary fiction.
There is nothing that this author writes that I don't love and Mists of the Serengeti was no different. I had the privilege of early reading this book and it completely blew me away. Not only because many of the events within this book were inspired by true life events but because every word, every scene, and every character embedded itself within my heart and remained there when life took me away from the book or even after finishing the story, I couldn't stop thinking about it. Leylah Attar truly brought the Serengeti to life. The imagery, the characters, the daily life of these people – I could visualize it all in my mind. Ms. Attar is a poetic genius with her words and this book is complete and utter perfection. Just another of the million reasons why I love this author and she is one of my favorite authors of all time.
What truly inspires me about Ms. Attar is her ability to write outside of the box. I have read every one of her works so far from 53 Letters to My Lover, From His Lips, and The Paper Swan – each book I loved for its own brilliance and uniqueness. In a book world where there is so much of the same story told over and over again, this author is able to give us something extraordinary and fresh each and every time. I LOVE that when it comes to books and authors and Leylah Attar is a true gem and force to be reckoned with.
So what's this book about?
Jack Warden and Rodel Emerson are brought into each other's lives because of a common bond – both losing someone they love in a tragic bomb explosion in a mall in East Africa. Where Jack becomes a shell of himself because of the loss of his daughter and prevents himself from truly living, Rodel Emerson travels to Africa to pack her sister's things and learns what her sister has been doing in the Serengeti – finding and helping albino children get to an orphanage where they can find safety from the people who hunt them down because of who they are and what they are worth.
I want to pause here and say how much this affected me…how thinking how different our worlds are where something like this happens on a daily basis. I was an emotional basket case worrying about the lives of these children and how nothing has changed over the course of time to protect them from these people who are hunting them down.
Rodel has her work cut out for her when she tries to persuade Jack to carry on the mission work of her sister and that there is something more important than grieving their terrible loss but to save people that truly need them now. Yes the people who we grieve for will always will remain with us and forever change us but to be able to do something for children who are living now, who need us now- this was something that I hoped that Jack would be able to open his heart up to doing.
And here begins of the journey of Rodel and Jack through the Serengeti, both frightening and heroic where I admit that I was gripping my kindle in fear of what was to come. But through it all, there was a light that followed these two characters as I could see and feel the bond that was growing between them despite the danger and sadness – that somehow fate truly played a part in getting them to meet and help protect these children, that soulmates really do exist.
So yes, there is a love story weaved into this story combined with the challenge of surviving. And how it all came together was just magical <3
While there were characters I hated in this story, there were some that I loved completely who stole my heart – Scholastica, Bahati, the Grandmother….
Mists of Serengeti is emotional, captivating, unique, and utterly beautiful. It is a journey of the heart and soul that will leave you completely breathless.


"You missed a spot," I said, pointing out the smudges on the glass.
"They're not smudges," he said. "They're Lily's fingerprints. She was eating chocolate that day. When we got to the mall, my phone rang. She came around to my side and put her hand here. Like this…" He hovered his fingertips over the marks. "One, two, three, four, five. See? Five perfect little chocolate prints. I haven't washed them since. Every time I look out of the window, I see Lily there, holding her palm to the glass, making faces at me."
Whenever Jack spoke of Lily, his entire profile softened. In those moments, his innately captivating presence was like a flame, kindled from within. For a second, I was completely jealous, because I had never lived in someone's heart like that. And I wanted to. I wanted to make someone, someday, glow like that when they thought of me.
As Jack put the hose away, I realized that it wasn't true. I didn't want someone, someday. I wanted now. Today. And I wanted it with Jack.
No matter how many reasons I gave myself not to, I was falling for Jack Warden, more and more, with each passing day.


Leylah Attar's Release Day Giveaway