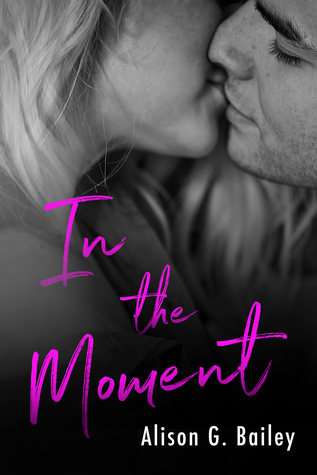 In the Moment

by Alison G. Bailey
on February 14, 2017
Buy on Amazon
Goodreads


Life is made up of moments. If you're not in one, then you're not living.

Cadence Fletcher wants to start a new chapter in her life. The problem is, the nightmare she's been living for the past two years has stripped away her identity, leaving behind only a shell of who she used to be. Until one night. One random meeting. And one moment, brought her heart, soul, and body back to life.

From the very first moment he saw her, Luken Schaffer couldn't get Cadence out of his mind. He wanted her. He needed her. And wasn't going to back down until he got her.

But when Luken reveals a family secret, Cadence is torn between living the life she always dreamed of, and sacrificing it all, so that Luken has a chance at the future he deserves.
It's no secret that I am a HUGE fan of this author. She writes with such grace and beauty in all of her stories – each word, each intricate detail selected with such care to give readers a beautiful and emotional experience when reading one of her books. In the Moment was no different.
Cadence Fletcher is starting over in life – new beginnings, new love after going through so much in her life. She doesn't expect anything but a fun night out with a friend when she meets Luken. Someone who clearly takes her breath away and makes her feel special; something that she hasn't felt in so long.
This is a novella so of course, I won't be giving away any part of the story, but I will say this…Alison G. Bailey packs so much in this short story. So much that it was hard for me to let these characters go because I wanted more. Readers who have never read this author that look for new stories, well-written words and characters who will touch your heart and soul should pick up on a book by Ms. Bailey – I promise that you will enjoy it!
In the Moment is a reminder to all to live in the moment "Life is made up of moments. If you're not in one, you're not living."
Amazon US | Amazon UK | Amazon CA