by Colleen Hoover


We had a chance to sit with Colleen to ask her some of our questions – both personal and book related 🙂 Colleen is one of our favorite authors and we are so honored that she took the opportunity to answer our questions. Enjoy the interview below and make sure to enter the giveaway at the end of this post for a chance to win a copy of IT ENDS WITH US (releasing on August 2nd). Christine read this 5 STAR book and LOVED IT! "Inspiring, complex, and completely unforgettable – IT ENDS WITH US is my absolute FAVORITE book of Colleen Hoover yet."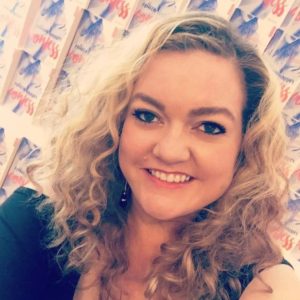 Hi Colleen! Thanks so much for stopping by our blog. We love reading your posts online about your books and your family and have some questions for you because we want to know more 🙂 So let's get to it!
The Moms:  How many tattoos do you have? What do they say and any meaning behind you can share?
Colleen: I have three. My first one is on my right wrist and it says, "And go be it." It's a lyric from one of my favorite songs by The Avett Brothers. The complete line of the lyric is, "Decide what to be and go be it." That song is one of the reasons I decided to write my first book, so after my first two novels released, I went and got the tattoo to celebrate. 
The Moms: One of our readers asked – If you could be any one of your characters (male or female) who would it be, and who would your opposing character be?
Colleen: That's a tough one. I think I'd want the least stressful life, which right now I believe would be Sydney. And I love Ridge so it wouldn't be so bad having to watch him write music and then make out with him. 
The Moms: What quote from all of your books is your absolute fave?
Colleen: Probably a line from Warren in Maybe Someday. "Sometimes in life we need a few bad days in order to keep the good ones in perspective."
The Moms: Book you have read recently that you would recommend?
Colleen: I just read One True Loves by Taylor Jenkins Reid and it was so good!
The Moms: When you wrote November 9 – did that particular date have any important significance to you (not sure if this has been asked before) That date is Christine's anniversary! 
Colleen: How cool! But no, not particularly. To be honest, I outlined that book and titled it a couple of years before I sold it to the publisher. I had planned on self-publishing it on November 9th of that year but ended up writing a different book instead. So when I sold the idea, the title stayed the same. Unfortunately, publishers release on Tuesdays and the closest we could get to a release date of November 9th was November 10th. 🙂 
The Moms: Are you writing anything now? Anything you can share 🙂
Colleen: I'm playing around with a few ideas. I have a couple of sequels I'm contemplating writing that would follow up past standalone novels. They aren't necessary, but I've had a lot of requests for them. I've also been working on a book called "Hate Letter" for about four years now. I only have an outline and it changes every few months, but I have so much hope for that one that I refuse to start working on it until I have the storyline perfected in my head, and right now it's not quite there yet. 
In all honesty, I've taken a much needed break for the past six months. It's been nice, but I'm ready to dive back in. 
The Moms: You have an amazing relationship with your children. What fun things have you done with your boys so far this summer? How do you get them talking openly and honestly with you? 
Colleen: Being a mother is my favorite part of life. Sadly, I work a lot so we haven't gotten to go on any vacations this summer. But we've had a lot of movie nights that sometimes also turn into movie days. I just travel so much, that when I get downtime, I want to stay in my pajamas at home and lounge around with them. It's our favorite thing to do. 
As far as getting them to be open and honest with me, I think the key is how I'm also open and honest with them. I've never believed that a parent shouldn't be their child's friend. Not only do I want to be my child's friend, I want to be one of their BEST friends. In order to build that relationship with them, I treat them as an equal most of the time. Don't get me wrong, they know my husband and I make the rules and they need to follow them, but we're a family unit. We try to keep our kids involved in a lot of our decisions and in turn, they keep us involved in a lot of theirs. I don't shy away from talking to my kids about anything and I don't feed them opinions. I give them facts. When they were four years old, if they asked me how a baby was made, I told them. If they ask me about a current event, I tell them both sides, not just the perspective of the political party I favor. When they ask me if God exists, I don't feed them MY thoughts. I tell them about many different religions and what each religion believes to be true and I allow them to choose what feels right to them. I didn't give birth to children so I could have mini-me's running around. I gave birth to humans with minds of their own and I think it's our job as parents to allow them to grow up in a way that best suits them, not us. 
I think my kids can see that I respect them and want what's best for them as individuals. And in return, they have a lot of respect for me. So far, it's a beautiful relationship. The oldest is about to be 16, so that may change once the drivers license interferes with the serenity. But until then, I'll say that my children are my greatest accomplishment in life. 
The Moms: Do your kids like to read and if so what are their favorite books/series? I am always looking for good things for my kids to read.
Colleen: They do. They read a lot for school and they love the typical middle grade books like Diary of a Wimpy Kid, 5th Wave, etc. I'm trying to get them to branch out but the only things I have in my office is romance and that's not up their alley. 😉
The Moms: Do you cook? Do you have a kid friendly recipe to share?
Colleen: I do not cook. I'm a terrible cook. Like REALLY terrible. There are three things I cook and that's chicken tacos, homemade pizza and chicken and dumplings. But I will say one thing my kids love is when we take biscuits and make "biscuit pizza cups." You flatten out the biscuits inside cupcake tins and let the kids fill them with whatever pizza toppings they want and then bake them. It's super easy. 
The Moms: One thing you want readers to know about It Ends With Us? Why should they pick it up and read it?
Colleen: I've written a lot of books in the past several years and they've all been strictly for entertainment. I enjoy writing and it's fun for me. But this book was not very fun to write. It's very personal and I had to really dig deep to finish it. I've never written something that means this much to me. With that being said, I could sell one copy or a million copies and I would feel the same about this book. It's not the potential success or failure of this book that makes me connect with it. It's the fact that it took an emotional toll on me and in the end, it became exactly what I wanted it to be. I'm very proud of this book and for that reason alone, I hope my readers will give it a chance, especially if they've loved one or more of my books in the past. Because ten or twenty years from now when a stranger finds out I'm an author and asks me which books I wrote, I'm going to smile and proudly say, "It Ends With Us." Because I feel all the books I've written before this were stepping stones, leading up to this one.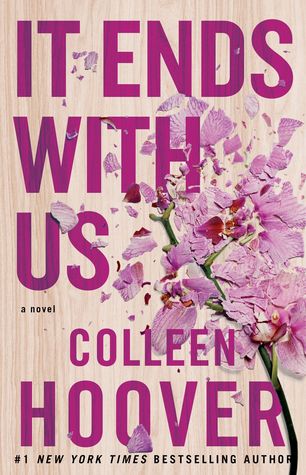 Visit www.ItEndsWithUsBook.com for teasers, tour dates and more.
ABOUT IT ENDS WITH US:
Lily hasn't always had it easy, but that's never stopped her from working hard for the life she wants. She's come a long way from the small town in Maine where she grew up—she graduated from college, moved to Boston, and started her own business. So when she feels a spark with a gorgeous neurosurgeon named Ryle Kincaid, everything in Lily's life suddenly seems almost too good to be true.
Ryle is assertive, stubborn, maybe even a little arrogant. He's also sensitive, brilliant, and has a total soft spot for Lily. And the way he looks in scrubs certainly doesn't hurt. Lily can't get him out of her head. But Ryle's complete aversion to relationships is disturbing. Even as Lily finds herself becoming the exception to his "no dating" rule, she can't help but wonder what made him that way in the first place.
As questions about her new relationship overwhelm her, so do thoughts of Atlas Corrigan—her first love and a link to the past she left behind. He was her kindred spirit, her protector. When Atlas suddenly reappears, everything Lily has built with Ryle is threatened.
With this bold and deeply personal novel, Colleen Hoover delivers a heart-wrenching story that breaks exciting new ground for her as a writer. Combining a captivating romance with a cast of all-too-human characters, It Ends With Us is an unforgettable tale of love that comes at the ultimate price.
Preorder your copy of IT ENDS WITH US:
Amazon: http://amzn.to/2axxrFL
Barnes & Noble: http://bit.ly/29F2fWU
Books-a-Million: http://bit.ly/29v3dBz
iBooks: http://apple.co/1PBTd6h
Indiebound: http://bit.ly/29BOZ2V
Kobo: http://bit.ly/1PBT7f1
Google: http://bit.ly/29OkBCI
Nook: http://bit.ly/20aafzY
Don't miss Colleen on tour for IT ENDS WITH US: 
BOSTON, MA
Tuesday, August 2nd
BROOKLINE BOOKSMITH
7:00 PM
279 Harvard Street
Brookline, MA 02446
RSVP and details: https://www.facebook.com/events/1765869680321385/
MADISON, NJ
Wednesday, August 3rd
SHORT STORIES COMMUNITY BOOK HUB
7:00 PM
23 Main Street
Madison, NJ 07940
RSVP and details: https://www.facebook.com/events/1816436548588340/
NEW YORK, NY
Thursday, August 4th
STRAND BOOK STORE
7:00 PM
828 Broadway
New York, NY 10003
RSVP and details: https://www.facebook.com/events/1266828406680888/
CINCINNATI, OH
Friday, August 5th
JOSEPH-BETH BOOKSELLERS
7:00 PM
2692 Madison Road
Cincinnati, OH 45208
RSVP and details: https://www.facebook.com/events/277088292641430/
CHICAGO, IL
Saturday, August 6th
ANDERSON'S BOOKSHOP
2:00 PM
Meiley-Swallow Hall
On the campus of North
Central College 31 S Ellsworth Street
Naperville, IL  60540
http://www.andersonsbookshop.com/
RSVP and details: https://www.facebook.com/events/260878437616737/
LOS ANGELES, CA
Sunday, August 7th
CHEVALIER'S BOOKS
6:30 PM
126 N. Larchmont Blvd.
Los Angeles, CA 90004
RSVP and details: https://www.facebook.com/events/260712770964176/
PHOENIX, AZ
Monday, August 8th
CHANGING HANDS BOOKSTORE
7:00 PM
6428 S. McClintock Drive
Tempe, AZ 85283
RSVP and details: https://www.facebook.com/events/1188482081195713/
HOUSTON, TX
Tuesday, August 9th
BARNES & NOBLE – Town & Country
7:00 PM
12850 Memorial Drive
Houston, TX 77024
RSVP and details: https://www.facebook.com/events/1755063464713808/
DALLAS, TX
Wednesday, August 10th 
HALF PRICE BOOKS
7:00 PM
5803 E. Northwest Hwy
Dallas, TX 75231
www.halfpricebooks.com
RSVP and details: https://www.facebook.com/events/1714556692137769/

**Giveaway now over – Congrats to Katie Lowden*
Enter to win a copy of It Ends With Us (open US ONLY)
All you have to do is comment below and/or share this post on your social media account(s) (Facebook, Twitter, Instagram, etc). Sample message to share below:
It Ends With Us is coming August 2nd Enter the #Giveaway @shhmomsreading @colleenhoover
 Please make sure to comment below and/or your share post link below. ONE winner will be chosen Monday August 1st. Thank you for sharing!