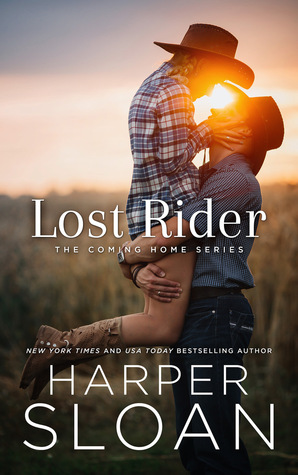 Lost Rider

by Harper Sloan
on April 25, 2017
Pages: 400
Buy on Amazon, Buy on B&N, Buy on iTunes, Buy on Kobo
Goodreads


In Lost Rider, the first Western romance in New York Times and USA TODAY bestselling author Harper Sloan's Coming Home series, an injured rodeo star encounters an old flame but will she be just what he needs to get back in the saddle?

Maverick Austin Davis is forced to return home after a ten-year career as a rodeo star. After one too many head injuries, he's off the circuit and in the horse farming business, something he's never taken much of a shine to, but now that it's his late father's legacy, familial duty calls. How will Maverick find his way after the only dream he ever had for himself is over?

Enter Leighton Elizabeth James, an ugly duckling turned beauty from Maverick's childhood—his younger sister's best friend, to be exact, and someone whose heart he stomped all over when she confessed her crush to him ten years back. Now Leighton is back in Maverick's life, no longer the insecure, love-stricken teen—and Maverick can't help but take notice. Sparks fly between them, but will Leighton be able to open her heart to the one man who broke it all those years ago?

Written in the vein of Diana Palmer and Lindsay McKenna, this Texas-set series is filled with sizzle, heart, and plenty of cowboys!
We love being able to read books together and sadly it doesn't happen as long as we would like. Lost Rider by Harper Sloan caught both of our eyes. While we both enjoyed the book, we had different opinions after reading – enjoy our review of Lost Rider below!
Denise's Review
4 stars!!!
I enjoyed my time at the Davis ranch and I can't want to return…. not because this was cliffhanger but because I am excited to see how a happy plays out for the oldest Davis sibling, Clay and the youngest sibling, Quinn.
Lost Rider told the story of middle child Maverick Davis.
Maverick's love interest Leighton is not only someone he has known his whole life she also happens to be his sister's best friend. This is not a second chance love story so to speak but there was a connection and deep hurt and I like that Maverick set about making that right.
I really like Leighton's character. She built her own life and her own way in this small town despite experiencing deep personal loss.
She pushed Maverick to open up, her pushing him to open up to his siblings brought a tear to my eye, his lady making his family stronger what more could you ask for.
Speaking of his lady… I freaking LOVED the restaurant scene… enough said!
love, LOVED the back story here —why Maverick had to leave town, what he learned about himself during the departure and what he decided to do upon his return.
Clay and Quinn played an integral part in this story and as they wove in and out scenes, their stories built as did Maverick's character and the readers connection.
There was a bit too much inner dialogue for me personally… as it did distract from my reading experience. I found myself craving more dialogue.
The Davis Ranch sits in the small town of Pine Oak which also had some great supporting characters.
In this story there was something in the epilogue something I have never read before someone so perfect for Maverick and Leighton's happy; I think I let out an audible sigh. So amazing, let's just say names mean so much and NO it is NOT a baby at the end.. not telling read the book!
I am excited for Quinn's book coming up next – Kiss My Boots http://amzn.to/2oXXOwQ
Christine's Review
3-3.5 stars!
I am not known to read a lot of cowboy romance but the blurb caught my attention and I was excited to pick this book up. This is my first Harper Sloan book and while I enjoyed it once I got into the story, there were some things that didn't work for me.
I LOVE 2nd chance romance especially when the love interest stems from a childhood crush that becomes more.
Maverick Davis left his hometown ten years ago running away from his demons and pain and chasing a dream to become a rodeo star. Maverick left behind Leighton James, his younger sister's best friend, someone he knew had a crush on him growing up. But he didn't leave quietly. He crushed this girl's heart and spirit so deeply that as she grew up, she closed herself off to the potential of love however never forgetting what he meant to her.
Seeing him 10 years later as a broken man returning home because of injury is hard for Leighton but she is determined to keep him at arms length not realizing that he is back to not only find himself again but to win back the one person who has always instilled a calm inside him, who made him feel safe…her.
While I loved the story and the writing, there were some things that didn't work for me. I don't love a lot of internal monologue/narratives and there was a lot in this book that made me skim parts of the book. The bigger thing for me was that after Maverick was so, so, SO mean to Leighton, and I wanted her to make him work for it, maybe even grovel a bit. I understood his story once he explained more of what he went through growing up and why he wanted to leave so badly but I wish that it wasn't so quick for some things to happen. I almost wanted that to be more of a slow build, more romance, more words if this makes sense.
Overall though I did enjoy this story and I absolutely LOVED Mav's siblings Quinn and Clay. I would definitely be interested in reading their stories to see them find their happy. Hopefully we get to see more of Maverick and Leighton as the other stories continue too