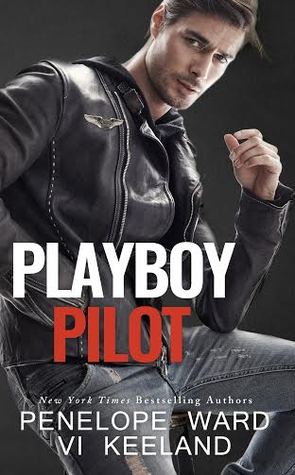 Playboy Pilot

by Penelope Ward, Vi Keeland
on September 19, 2016
Pages: 300
Buy on Amazon, Buy on B&N, Buy on iTunes, Buy on Kobo
Goodreads


From the New York Times bestselling authors of Stuck-Up Suit and Cocky Bastard, comes a sexy new standalone novel.

Money or love? Which would you choose?

You probably just answered the question in your head thinking it's an easy decision.

For me, it's not. Did I mention it's a lot of money? A hell of a lot.

I needed to go far away to think it through.

As I embarked on an impulsive trip, I hit a detour when I met sexy Carter in the airport lounge. We struck up a heated conversation.

Then, he left.

I thought I'd never see him again.

But fate had other plans.

Surprise! He was the pilot of my flight.

The bigger surprise was the adventure that followed after the plane landed.

Carter was dangerous and always on the move.

Even though our connection was magnetic, I knew it was only temporary.

He would give me tickets, and I would follow him around the world to exotic places.

A bevy of flight attendant exes and rumors about Carter's reputation were never far behind.

I didn't know what to believe.

But I was addicted. Nothing else mattered anymore. And I was going to get hurt. Because a part of me wanted to be the one to finally ground the playboy pilot.

At the very least, he was taking me on a thrilling ride.

All good things must come to an end, right?

Except our ending was one I didn't see coming.
Captain Carter and Kendall's highly anticipated romance is finally here in Playboy Pilot by Penelope Ward & Vi Keeland! Enjoy the mom's dual review below, a sneak peek into the book and make sure to enter the giveaway for a chance to win a $50 Amazon Gift Card – good luck!
Denise: 
Pretty woman faced with a life crisis finds herself face to face to a gorgeous man in an airport lounge… such is the set up for Playboy Pilot.
This chance meeting sets Carter and Kendall on an adventure neither could ever dream of.
The authors did a good job at allowing the reader to feel that this was different for Carter. Despite his "playboy" ways before meeting Kendall from almost the moment they meet it felt different and then as the story developed there were so many was in which the reader could feel this woman was so different in Carter's life in both big ways and small.
As a side note up until the very end I was touched by the use (and once the non-use) of the Beatles song "Lucy in the Sky with Diamonds."
Oh and while we are on the topic of Lucy which was a heart pulling part of this story line, I want to say I loved the use of Brucey.  He shows the reader and Kendall so much about Carter, and in the end the new Brucey had me grinning from ear to ear (yes I know that is cryptic).
Rating: 3.5 STARS!
Christine:
Playboy Pilot was definitely a fun and engaging read. I enjoy Ms. Ward and Ms. Keeland's collaborations very much and look forward to reading more from them. There were moments of fun and witty dialogue and some emotional scenes as well. Unfortunately I feel that I am in the minority because this wasn't my favorite of this duo's collaborations.
You see, I am not a huge fan of insta anything – whether it be love or attraction or whatever. The title says that he is a playboy and though I completely loved Carter, he was nothing what I expected him to be. Upon meeting Kendall, he did a complete 360 and was totally cured of his manwhore/playboy ways.
I love when I am reading a book to be wrapped up in the emotional moments – the moments that steal my breath away and make my heart flutter. And while there were moments that Carter was sweet and endearing, I just wanted to feel more from them.
This is a 3-3.5 star book for me – there was a bit too much drama for me, it took me a bit to connect with Kendall but the shining star for me was Carter who though he started off as a playboy ended up being more than meets the eye. I agree with Denise and the use of "Lucy in the Sky with Diamonds"  was so well done <3
Rating: 3 STARS-3.5 STARS!

"Carter? What are you doing?" Shit. I laughed under my breath and banged the back of my head against the wood. "Praying?" "Do you always breathe like that when you're praying?" "It's an intense prayer." "What are you really doing?" "I think you might know what I'm really doing, Kendall." "Can I come in?" Still fully erect, I tucked my cock back into my pants as best I could before opening the door. Her eyes trailed down to my massive erection. "I'm sorry….to make you resort to that." "It's okay. My hand and I haven't spent time like this since I was a teenager. I think he missed me." "What were you thinking about?" "You." "Yeah…but what specifically?" "It was this fantasy of fucking you on the dance floor back at the club." She looked down at me again. Her expression was serious when she asked, "You need some help?" "I thought you said we weren't going to go there." "I can't have sex with you. But I want to touch you. I could take my clothes off, let you finish what you started. You know…help you." Looking up at the ceiling, I shook my head. "You have no fucking clue, do you?" "What do you mean?" "How crazy you make me. There's no halfway with you. Jerking off with your naked body right in front of me…not being able to do what I really want to you…would be torture. I don't have that kind of willpower, not with you, not anymore. Even when I kiss you, all I can think about is burying myself inside of you. But you naked in front of me? Too much, Kendall. When you strip down for me, I want it to be when you're ready to let me have you. Otherwise, it's better if I don't know what I'm missing out on." Looking filled with remorse, she waved her hands. "Okay. I get it. I'm sorry…for interrupting." "Go back to bed. I'll be right there." After Kendall left, I closed my eyes in regret. Was I crazy for turning her away like that? Now that she knew what I was up to in here, I couldn't relax. Still needing release like a motherfucker, I turned on the shower and got in. Ironically, I jerked myself to thoughts of her naked body against the bathroom door and imagined she was watching me.
Fuck my life.