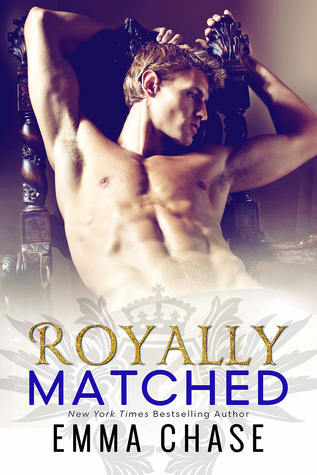 Royally Matched

by Emma Chase
on February 21, 2017
Pages: 276
Buy on Amazon, Buy on B&N, Buy on iTunes, Buy on Kobo
Goodreads


Some men are born responsible, some men have responsibility thrust upon them. Henry Charles Albert Edgar Pembrook, Prince of Wessco, just got the motherlode of all responsibility dumped in his regal lap.
He's not handling it well.
Hoping to force her grandson to rise to the occasion, Queen Lenora goes on a much-needed safari holiday—and when the Queen's away, the Prince will play. After a chance meeting with an American television producer, Henry finally makes a decision all on his own:
Welcome to Matched: Royal Edition.
A reality TV dating game show featuring twenty of the world's most beautiful blue bloods gathered in the same castle. Only one will win the diamond tiara, only one will capture the handsome prince's heart.
While Henry revels in the sexy, raunchy antics of the contestants as they fight, literally, for his affection, it's the quiet, bespectacled girl in the corner—with the voice of an angel and a body that would tempt a saint—who catches his eye.
The more Henry gets to know Sarah Mirabelle Zinnia Von Titebottum, the more enamored he becomes of her simple beauty, her strength, her kind spirit…and her naughty sense of humor.
But Rome wasn't built in a day—and irresponsible royals aren't reformed overnight.
As he endeavors to right his wrongs, old words take on whole new meanings for the dashing Prince. Words like, Duty, Honor and most of all—Love.
The moms LOVED Royally Matched by Emma Chase. Enjoy a (funny lol) sneak peek into the book below and make sure to enter the giveaway for a chance to win a signed paperback copy!!!
This is "the tale of an unruly prince who found the queen of his heart, and learned how to be a King."
Denise: I should start by saying I loved Royally Screwed (book 1) in this series and I think you should read it before diving into Royally Matched as it provides great insight into Prince Henry and frames how he is heir to the throne and in line to become King.
Christine: Yes, I SO loved the first book and totally fell for Prince Henry and couldn't wait to read his story. And Emma really delivered in Royally Matched. I really love this series; a look at the behind the scenes of the royals and their quest to find love and happiness.
Denise: Before I start I should say I am not a fan of the TV series The Bachelor, and if you are this book may be higher ranked for you.
Christine: I, on the other hand, love reality TV and though I haven't watched The Bachelor in some time, I have watched other reality dating shows so enjoyed this different take on finding the next Queen.
Denise: For me I loved LOVED that Lady Sarah was NOT a contestant and the reason why she at the Castle for filming. The attraction between Henry and Sarah is one the reader can feel. It warmed my heart that it was clear this was different for Henry as he is somewhat of a … ok he was manwhore prior.
Christine: I so agree Denise. Often times, I feel that women put on a show or give the guy what they want rather than being who they really are. For me, Sarah was the only one who ever saw the real Prince Henry – who he was inside.
Denise: In the end the use of the Queen, the use Henry's brother, Nicholas and sister-in-law Olivia and the use of Henry's friend Simon and his wife Franny all added to the story! And in the end brought about a happy I loved.
Christine: Prince Henry stole my heart and watching him navigate and find his place in a position he never wanted…watching his character grow and learn while still remaining true to his cocky, witty self was so fun to be a part of. And Sarah the girl with the heart of gold ended up being his perfect match. 
Denise: The epilogue to this book warmed my heart, this I will say I would have loved to have seen more between the last chapter and the epilogue, I wanted to live the journey with these two a bit more.
Christine: I loved the ending – watching Prince Henry come full circle, showing that he truly listened. Above all I loved their service to their country. And yes, I agree with Denise, I would have enjoyed being with them a bit more as a couple.
Denise: I am not sure who book 3 Royally Endowed is about.. but I am excited we get to return to this cast. I do hope we get a prequel of sorts and I so want to live the journey Franny and Simon took to their happy!
Christine: Yes, I WANT MORE!!!


The next time I open my eyes, I'm on the floor, on my back, staring at the water-stained ceiling of The Horny Goat. And . . . I think there's gum up there. What kind of demented bastard puts chewing gum on the ceiling? Has to be a health hazard.
My brother's face looms over me, blocking out everything else. And sweet, blessed relief surges in my chest. "Nicholas? You're really here?"
"Yes, Henry," he says gently. "I'm really here." His big hand rests on my head. "You took quite a fall—are you well?"
Well? I could fucking fly.
"I had the most ridiculous dream." I point at my brother. "You were there." I point at Simon beside him. "And you." Then Franny, all of them huddled on the floor around me. "And you too. You . . . abdicated the throne, Nicholas. And they all wanted to make me king." A maniacal laugh passes my lips . . . until I turn to the right and see dark blue eyes, sweet lips, and black, swirling hair.
Then I scream like a girl. "Ahhhh!"
It's Olivia. My brother's wife. His very American wife.
I turn back to Nicholas. "It wasn't a dream, was it?"
"No, Henry."
I lie back down on the floor. "Fuuuuuck."
Then I feel sort of bad.
"Sorry, Olive. You know I think you're top-notch."
She smiles kindly. "It's okay, Henry. I'm sorry you're having a hard time."
I scrub my hand over my face, trying to think clearly.
"It's all right. This is a better, new plan—I won't have to live under the stage now."
"You were going to live under the stage?" Nicholas asks.
I wave my hand. "Forget it. It was Potter's stupid idea. Boy Wonder Wizard, my arse."
And now my brother looks really worried.
I gesture to him. "But you're here now. You can take me with you back to the States."
"Henry . . ."
"Give me your tired, poor, huddled masses yearning to be free—that describes me perfectly! I'm a huddled mass, Nicholas!"
He squeezes my arms, shaking just a bit. "Henry. You can't move to America."
I grasp his shirt. And my voice morphs into an eight-year-old boy's, confessing he sees dead people. "But she's so mean, Nicholas. She's. So. Mean."
He taps my back. "I know."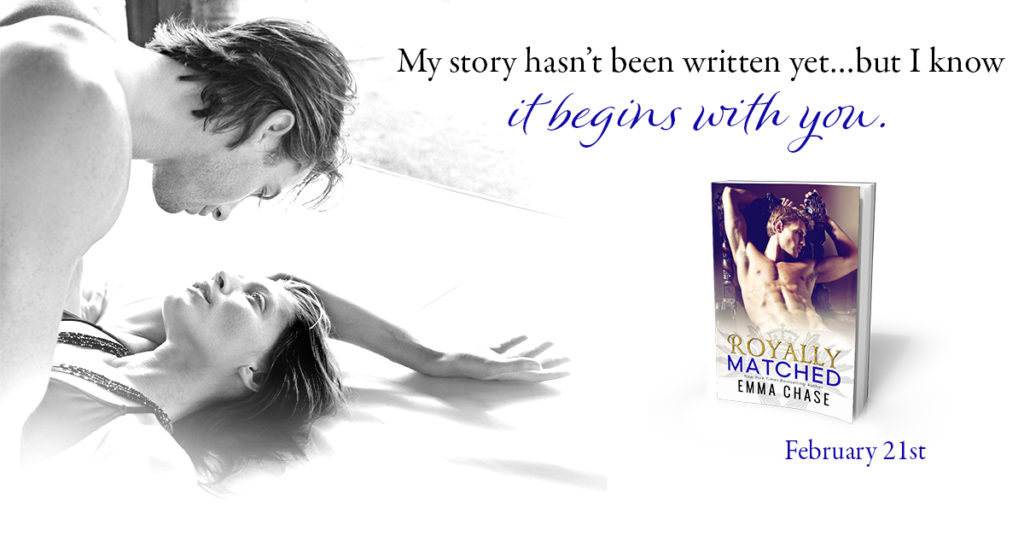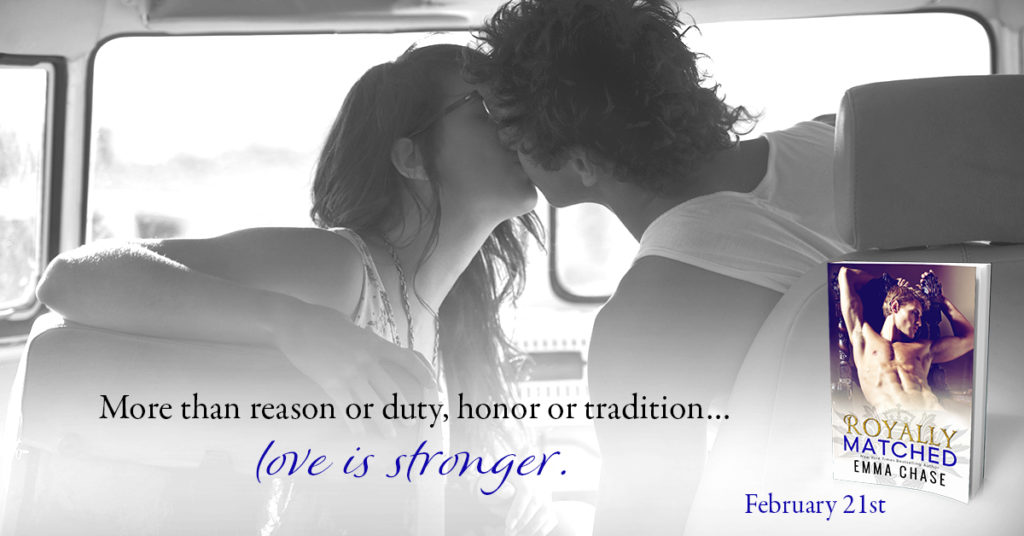 ★¸¸.•*¨*•★ PREORDER NOW!!★¸¸.•*¨*•★ 
Kindle: http://amzn.to/2kNpwb4
Amazon Paperback: http://amzn.to/2kBYFhh
iBooks: http://apple.co/2kWjpn2
Nook: bit.ly/RoyallyMatchedNook
B&N Paperback: bit.ly/RoyallyMatchedBN
Kobo: bit.ly/RoyallyMatchedKobo
BAM: http://bit.ly/2lSsqwc
IndieBound: bit.ly/RoyallyMatchedIndieBound

*Giveaway now over – Congrats to Michelle*
Enter to win: a signed copy of ROYALLY MATCHED (US ONLY)
All you have to do is (any of the following):
➡ share this post and giveaway on your social media account(s) (Facebook, Twitter, Instagram, etc). Sample message below:
Royally Matched is #ComingFeb21st #ExcerptAndGiveaway @shhmomsreading @emmachse
➡ Add Royally Matched onto your GR TBR https://www.goodreads.com/book/show/29991718-royally-matched
➡ Stop by Emma Chase's FB page and let her know Shh Moms Reading sent you and how much you are looking forward to reading Royally Matched https://www.facebook.com/AuthorEmmaChase/
 Please make sure to post a link to your shares below (the more you do the more chances to win!). One winner will be chosen Friday February 24th. Thank you for sharing!