Day 4 of our Mother's Day Event celebrating the wonderful women we love is a bonus scene from K. Bromberg's Driven Trilogy.
Make sure to enter the giveaway below!  Enjoy!!!
---
Mother's Day Colton's POV Post
Fucking Rylee.
I adjust myself some, morning wood flying full fucking staff, as I sit down on the foot of the bed and stare at her. Tanned skin against white sheets. She's on her side, the fabric is resting across her abdomen and is pinned between her thighs – right where I desperately want to be. My eyes devour her perfect tits – nipples pink and tight – then make the logical descent down to that sweet fucking V of her legs. Fucking perfection.
Nothing but sheets? Not anymore…more like nothing but Rylee.
Skin, sweat, and hot fucking damn.
I shake my head and fight my grin. The one that says how in the fuck did I get to the point where one woman and a lack of designer-ass sheets would make me happy as fuck?
I don't know and I don't care because hell if I don't want her right now. But having sex with her – waking her up by licking my way between her thighs until her hands are fisted in my hair and my name is a goddamn scream on her lips, would only take a little bit of the sting away of today's significance. The question is, what exactly can I do, can I say to make it right for her? Ease the pain in her heart and soul?
And then I see her diamond glint from the sun's rays. Sparkles of light around the room…of the one thing signifying the only thing that matters anymore, us. The one that says she's mine. It still punches the air from my lungs when I think about it, about the vows I'll be making in a few months. How this selfless saint can love an irredeemable sinner like me. But fuck if I'm going to question it anymore. I'm balls deep already, I might as well go all in.
I reach out to touch her, touch that spot on her hip, her mark telling me that we – us – are permanent. I don't want to wake her up, but I can't fight it anymore.
Never can when it comes to her.
I crawl my way up her body, and begin tugging on the sheet, sliding it softly from between her thighs. The friction just enough to draw that sigh from her that turns me rock hard faster than fuck.  A soft moan falls from those bee-stung lips of hers as I run the sheet back and forth until her eyes startle awake and her breath hitches.
She looks at me, sleep-drugged violet irises locked to mine and a sluggish smile tugs up one of the corners of her mouth. My God. Fucking Kryptonite.
"Hey," she murmurs, her body stretching against mine. She turns onto her back, the sheet falling completely off of her now – her heat, my heaven and every fucking inch in between on display.
"Good morning." And that's all I can say. Tongue gets fucking tied in my mouth as I stare at her, the pang I wanted to ease from her, hitting me out of the blue. And fuck, the unexpected punch of emotion swamps me momentarily. I know she sees it, can see her eyes widen, register the look on my face, the occasion we'd planned on avoiding mentioning today.
I clench my jaw, my eyes unable to look away from her – my whole fucking alphabet – and  I do the only thing I can think of. I know she'll be surprised later by the bonfire that the boys and I have planned…but right now, I need to tell her. Need to show her. Need to ease the fucking ache just beneath the surface.
Over what we lost.
For the unknown of if we'll ever get it back.
I hold her eyes as they narrow and try to ask questions I can't fucking put into words. I lean down and press a kiss to her bare abdomen. The smooth skin with the faint and jagged scars there reminding us both about how quick fate can change lives. For the worse. For the better. For us.
I keep my lips there, her stomach stills as she holds her breath. I look up to her, see the tears filling the eyes that hold my heart like a goddamn vice, and say, "It may not be today. It may not happen the old fashioned way…but fuck Ry, it's going to happen someday. If we can't have any, then we get a surrogate, or we adopt…I'll do anything to give you that dream of yours. Anything."
"Colton…" her voice drifts off, a sad smile on her lips, but her eyes never leave mine.
"When it happens…I know you'll be incredible. I know our child will be the luckiest kid in the world…" I press another kiss to just above her navel, my dick telling me to hurry the fuck up because the scent of her vanilla, the taste of her skin is dragging me under its addictive haze. "… and I think one day a year will never be enough to tell you how great you'll be…so I'll start now…and every year after…"
I slide up her body, her taut nipples dragging against my skin, scarring lines of straight up lust into me. I hold her chin still, my whole fucking world in my hands, and smile. "Happy Mother's Day, Ry."
Her breath catches and her eyes widen, surprised by my comment but when I press my lips to hers, when I take what's mine, fuck if I don't doubt we'll get there someday.
Somehow.
Someway.
Shit, she deserves nothing less, she's my checkered flag.
---
BUY THE BOOKS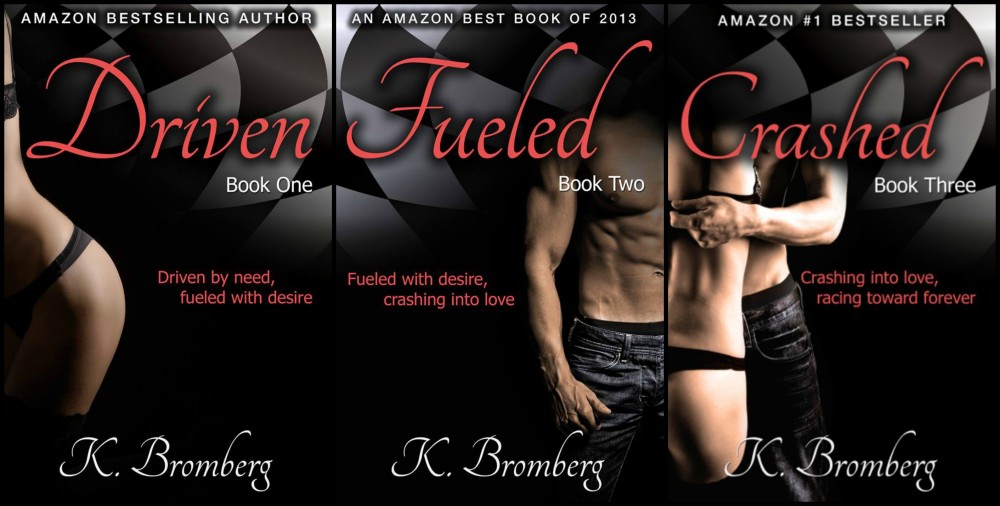 ---