Day 2 of our Mother's Day Event celebrating the wonderful women we love is a bonus scene from Katy Evan's Remy.
Make sure to enter the giveaway below!  Enjoy!!!
---
Remington pulls the oversize hood of the warm gray sweatshirt I borrowed from him down to my chin. "Race you to the trail."
He chuckles because that easy move—blinding me—gives the devil a head start, and it takes me a moment to shake the hood back and start running, pumping my arms to catch up with him. It's not easy to catch up with my husband. He's a trained fighter who not only fights like a beast unleashed, he trains like one too. His body is made for running, fighting, and MORE. But he's a natural born protector and I know my man down to a T. So I come up with a strategy.
"Ouuuuuuch," I cry as loudly as I can, stopping and bending over to rub my knee. I'm still wearing a knee brace when I run due to a previously torn ACL, but I truly don't feel like I need it anymore. It doesn't matter. He's running back at full speed.
"What the fuck, Brooke?" He's immediately by my side, over six feet of pure protective male suddenly all over me. Biting back a smile, I moan and whimper when he starts rubbing my knee with his big, callused hand. My heart grips when he circles his hand around my knee and starts massaging harder, a concerned frown furrowing his forehead.
I pull his hood over his head. "Gotcha!" I cry, and start running, squealing when he laughs behind me and then starts after me, his sneakers pounding behind me. The moment we reach the shaded trail, he tackles me and pushes me up against the tree, knocking the wind out of me.
"I ought to take you over my knee," he whispers huskily in my ear, giving my bottom a yummy little squeeze.
He smells so good I feel lightheaded as I whisper in his ear, "Only if you kiss my bum after you're done."
That delicious chuckle runs through his chest again, and he whispers back, "I'll kiss it right now with my eyes if you get a head start and let me see you." He pats my bum and urges me to start trotting, and I grin because he always wants to see me in my tight running gear. He's such a boy. I start jogging, and I feel his deep stare like a tangible graze caressing down my spine and all along the curves of my ass. I feel his blatant male admiration so much, I call behind me, "Getting a good eyeful, husband?"
"Hmm. Very much, wife."
Once we're back to the penthouse suite after our run, I head straight to check on Racer. Remington goes to shower, and when I slip into our bedroom, there's a song playing on our iPod/speaker combo. Lots of roses scattered across the bed, a long red dress spread out—collar to ankles—and a card with my name on it.
Date night. You and me and our son.
7 p.m.
I lift the dress and its pure silk and Riptide red, my favorite color. I slip outside into the living room and adjoining kitchen. "Diane, can I borrow your room to pretty myself for a very special date tonight?"
"Oooh, that will look phenomenal on you," Diane, Remington's personal chef and nutritionist, says.
I point worriedly at the heels. "I'm going to fall flat on my face with those."
"No you won't. And if you do, you've got your man there, ready to catch you."
"That's probably why he sent them, he'll only be too happy to do so. Will you tell my boys I'll meet them at the restaurant at 7, and ask Pete if he can drive me?"
"Absolutely. Here's the key."
"Thank you, Diane!"
A little before 7 p.m., I'm all made up and hopefully look as dazzling as possible when Pete, Remington's assistant, drives me to the restaurant. Once inside the steakhouse, I spot my pair of dark-haired devils already waiting for me at the far end of the formal dining room. Racer is sitting in a special high chair, wearing this adorable white buttoned shirt, like his father. Formal and adorable. Remington's dimples pop out, and Racer's one dimple pops out in unison as he flails in the air and giggles, "Da!"
Yeah, he calls us both Da, the sneaky little chipmunk.
My heart melts as Remington stands up and comes open my chair, kissing the back of my ear, his voice rumbly. "You look good enough to eat."
Hmm. That's exactly what I hoped to hear.
"Didn't you know?" I whisper, turning my head so I can brush his earlobe with my lips. "For you, every part of me is edible."
He turns his head and does the same, his voice causing my legs to turn warm and watery. "And I'm tasting every inch before the night is over." He grins as he takes his own seat. "Racer, what do you say to your mother today?"
"Da!" Racer offers.
"Mom," I correct.
"Da!" Racer repeats.
I laugh, and Remington hands him a rose, jerking his chin in my direction. "Give that to your mother, Racer."
Racer waves it in the air, nearly poking one of my eyes out with the stem. "Da!" He watches me with that sparkling blue stare—identical to Remington's—as I take the rose from him.
"Why thank you, Racer, your father's coaching you very well. He knew the way straight to my heart was through tons of these and he has a penchant of having other people give them to me." I bend over to my right and kiss his little ear, "I love you even if you call me Da!" Playfully I tweak his nose and he just grins at me with the smile that makes the world fall away—that grin as heart-melting as his father's—then I lean the other way and kiss Remington's scruffy jaw. "I love my boys. I love you so much."
"Happy Mother's Day, baby." He squeezes my hand, his ocean blue eyes dark with promise as he bends his dark head in my direction, his voice low and intimate just for me. "I want to have a thousand babies with you."
"Oh, God, one at a time, please!" I burst out laughing. His lips curl enough that his dimples show, then he lifts my hand to brush a kiss across my knuckles, his dark, heavy-lidded stare still on me. My whole body feels little bitty earthquakes because that's what this man does to me. And because I know that look in Remington's eyes, and I know I'll have him deep and hard inside me tonight. Biting my neck, licking the sore spots, claiming me in the most primitive and primal way a husband can claim his wife.
I. Can't. Wait.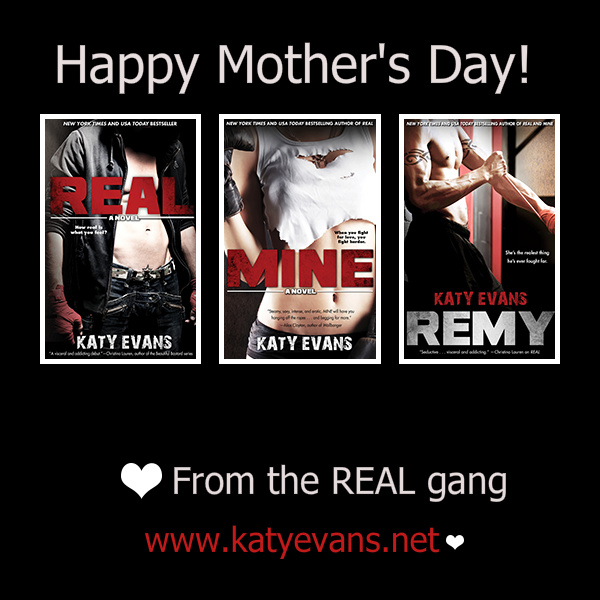 ---
BUY THE BOOKS
---