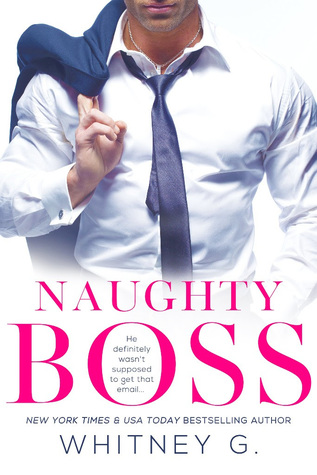 Naughty Boss

on December 15, 2016
Goodreads


A steamy, office-romance novella from New York Times bestselling author, Whitney G...

He definitely wasn't supposed to get that email…

Subject: My Boss.

Have I already told you that I hate my boss today?

Sexy as hell or not, this pompous, arrogant, ASSHOLE asked me to pick up his dry cleaning the second I walked through the door. Then he told me that I needed to take his Jaguar to a car wash that was ten miles outside of the city, but only after I needed to stand in a never-ending line to buy some type of limited, hundred-dollar watch.

I honestly can't wait to see the look on his face two months from now when I tell him that I'm quitting his company and that he can kiss my ass. KISS. MY. ASS.

All those former fantasies about him kissing me with his "mouth of perfection" or bending me over my desk and filling me with his cock are long over. OVER.

Your bestie,
Mya

PS--Please tell me your day is going better than mine…

Subject: Re: My Boss.

No, you haven't already told me that you hate your "boss" today, but seeing as though you've sent me this email directly, I know now…

Yes, I did ask you to pick up my dry cleaning the second you arrived to work to day. (Where is it?) And I did tell you to take my Jaguar to the car wash and pick up my thousand-dollar watch. (Thank you for taking five hours to do something that could be accomplished in two.)

You don't have to wait two months from now to see the look on my face when you tell me you're quitting. I'm standing outside your office at this very moment. ( Open the door. )

No comment on your "fantasies," although I highly doubt they're "long over."

Your boss,
Michael

PS—Yes. My day is definitely going far better than yours…
Naughty Boss by Whitney G. is #LIVE and only $0.99!!!
♥ BUY THE BOOK ♥
Amazon US | Amazon UK | Amazon CA
With a blurb like that, how can you not pick this book up!
Naughty Boss was a little too short but super fun and sexy as hell! Whitney is one of my favorite authors. She writes amazing characters, great dialogue, and stories that make you want MORE, MORE, MORE. Whitney writes book crack – addictive and pleasurable for ALL the senses. Check out this short excerpt…(it's a dirty one so feel free to move past it, if you don't like dirty!)
"For the record, per your email with the subject heading, 'I wonder If He Eats Pussy'…" He looked me up and down. "I do eat pussy, and if I ever was going to eat your pussy…If that thought had ever been filthy enough to cross my mind and certain circumstances between us were different, you wouldn't be able to walk for days after I was done with you…"

o.O *fans self*
If you have read my reviews, I am not your typical insta love/insta anything type of reader, but I would read this Author's grocery list lol – so while yes, this book was on the shorter side, the author still piled in enough to not make it feel that way. I was still able to experience how this couple grew from the boss/employee relationship to something more. You will LOVE IT!
Another must read and if you take a peek at the author's Goodreads page, you will see that she has some new things coming in 2017 and I CAN'T FREAKIN WAIT! I am completely in love with her writing and am a HUGE FAN!