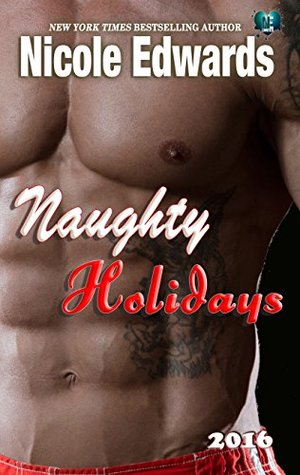 Naughty Holidays 2016

by Nicole Edwards
on December 1, 2016
Buy on Amazon, Buy on B&N, Buy on iTunes, Buy on Kobo
Goodreads


The readers voted and the winners for the 2016 holiday book are: Alluring Indulgence: Ethan & Beau; Sniper 1 Security: Trace & Marissa; Pier 70: Hudson & Teague. Come and see how they are heating up the holidays this year!

A HOLIDAY GETAWAY...
Ethan Walker knows exactly how blessed he is. He's still overcoming pain from his past, but he knows with Beau by his side, he can do anything. This year he wants to give the man he loves the ultimate gift.

EARLY CHRISTMAS PRESENT…
Trace Kogan has one Christmas gift that he wants to give his beautiful wife. He knows she's ready and he is too. Now, it's time for some action.

THE ULTIMATE SUBMISSION…
Hudson Ballard and Teague Carter will spend their first Christmas together. What kind of trouble will they find themselves in? Whatever it is, it's sure to be a wild ride.
Reading Naughty Holidays was like coming home, well to be clear all three holiday stories were. I was so absorbed in this read that I didn't want to put it down!!
5 stars
Ethan and Beau's story was just WOW, I love these men so much! Witnessing them living their happy, relying on each other, continuing to intertwine their lives and facing major life decisions about their future was amazing to watch. I loved this piece, yes it left me wanting more! I hope we soon get a book named BEAU as part of Ms. Edwards' Coyote Ridge series. No worries this is not drama for drama as this is two men whose love for each other you will never question working their way through life decisions and the future they want to craft for themselves. As a side note, this story is broader look at the whole Walker clan. Their Christmas was beautiful, filled with tradition, hope, and love!
4 stars
Trace and Marissa were enjoyable to visit with. I loved seeing three families intertwined and I sooooooo want Hunter's story soon. The look at him and the hint of backstory was perfect and will keep readers engaged and wanting more from this series.
5 stars
Teague and Hudson (and Charger oh I can't forget this furry secondary character who plays an adorable and integral part) stole my heart yet again! The happy we see Teague and Hudson living and the very end of this story was so perfect for them!!!! Though this is a m/m branded series, I truly hope we get a story for Milly! She cracks me up and given her current state I hope we get to see her happy play out, yes I know it's vague. Read the Pier 70 series if you haven't already.