Check out the UPDATED cover for Sweet Thing by Renee Carlino.  You can read Kim's 5 STAR review here.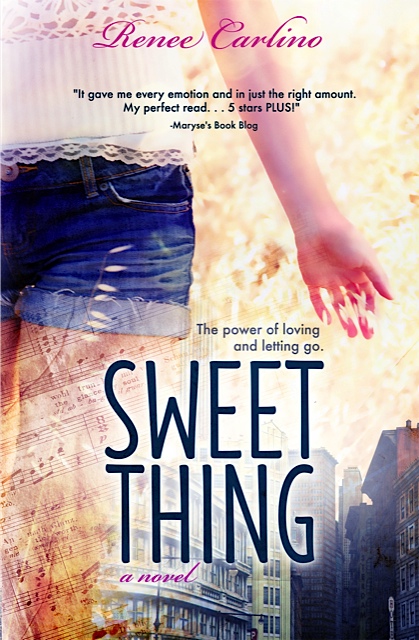 See what everyone is saying!
"This is 5 HUGE stars ~ a soul searing beautifully written book that now owns a piece of my heart."  -Shh Moms Reading
 "Sweet Thing was a sweet, heartbreaking and romantic story that kept me up reading all night!"    –Aestas Book Blog
"I was hooked and hanging on every word from the Prologue all the way to the Epilogue, I had a hard time steering my eyes away from the story it had a fierce grasp on me and I happily obliged to ride the journey alongside the characters." – The SUBCLUB Books
"This book consumed me to the very core…" –Amber's Reading Room
"Her writing style is so fresh, the tone, the dialogue, the plot, the characters…. everything… just everything was marvelous she is definitely an author to watch out for."
– Jelena's Book Blog –
"This book made me FEEL; it made me yearn for a happily ever after."
-The Book Addicts
"All I can say is that if you are looking for a new author, a new read or might want a bit of a cry, I highly recommend you one click Sweet Thing." –A Love Affair With Books
"It gave me every emotion and in just the right amount. My perfect read. . . 5 stars PLUS!!!!"  – Maryse's Book Blog
Sweet Thing will be $0.99 for a limited time in celebration of the new cover and added bonus scenes. The two scenes from Will's POV that were so graciously shared last week have been added to the end of the book for all to read and enjoy.
If you haven't read it yet, buy it today!  This deal is too good to miss out on!